My Montenegro guide was animated. 'You should have been here when this was part of Yugoslavia. It was a fine country and tourists loved it,' he said.
There's a word for those who share his view... 'Yugonostalgics', and they remember Josip Tito as a great leader, who ruled the country with a benevolent air and a successful PR campaign.
'I, too, remember Yugoslavia,' I told him, without elaborating.
My memories of pre-1980 Yugoslavia run more along the lines of cheap and nasty, concrete-clad, mass-market hotels aimed at Eastern Bloc tourists, unimaginative food and undrinkable wine.
There was bog-standard nightlife and exotic luxuries such as fiery slivovitz plum brandy, which gave you the mother of all hangovers; and Yugo cars for taxis, which made East Germany's Trabants seem like Ferraris.
It's very different now, as each of the former Yugoslav states strives to come up with new and inventive ways to attract tourists. Montenegro is right up there, with a curious mix of flashy super-yacht marinas and glitzy hotels, combined with good value seaside resorts.
The marina complex of Portonovi, on a 60-acre site on Boka Bay between Dubrovnik, in Croatia, and the Montenegrin coastal town of Tivat, might just be the glitziest of them all when it opens next year. Look out for luxurious apartments, available for sale and rent, as well as a yacht club, spa and a new One&Only resort hotel, the first in Europe.
At the other end of the scale, and not in a bad way, is Ribarsko Selo, a rustic fish restaurant with just a handful of guest rooms, tucked away on the Lustica Peninsula between Miriste and Zanjice beach, where a bottle of Savina white wine costs 15 Euros.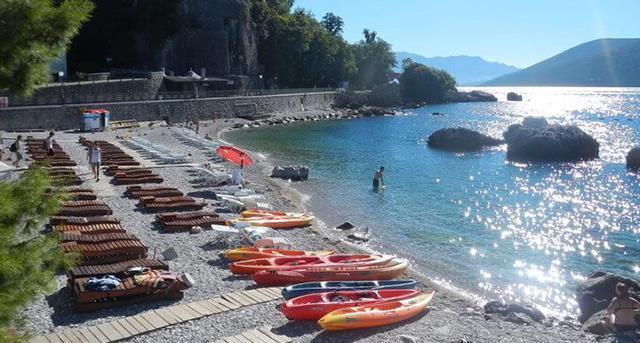 Rent a kayak from the town beach at Herceg Novi
Those in the know book the restaurant's sole harbourside apartment, with its own small pool, a favourite with visiting oligarchs in need of privacy. At just €150 a night for two, it's a bargain.

But there is also much in between these extremes in Montenegro. Its 620,000 people are fiercely proud of the independence they gained following the break-up of Yugoslavia, a process which began in 1991. The following year Serbia and Montenegro became an entity, under the name the Federal Republic of Yugoslavia.
In 2003, it officially renamed itself Serbia and Montenegro and in 2006, after  a referendum, Montenegro declared independence. It was officially named the Republic of Montenegro in 2007.
Its credentials as a forward-looking highly progressive country have been underlined since then by such achievements as being classified by the World Bank as an upper middle-income country, becoming a member of the UN, NATO, the World Trade Organization and the Council of Europe. Not to mention seeing many of its resorts gaining a definite air of high-end sophistication.
The town of Budva, for example, once with a whiff of mass market Spanish Costas about it, is now filled with atmospheric bars and restaurants in the shadow of the ramparts, and there's a crescent-shaped beach, too.
Even more spectacular is Kotor, with its high city walls, tiny alleys, churches and Italianate mansions, all a reminder of Montenegro's Venetian heritage. Visit in the early evening, after the cruise ships have rounded up their passengers, order something at an outside cafe, and bask in its beauty.
For real luxury, try the island of Sveti Stefan, once home to fishermen, whose atmospheric houses now serve as guest rooms for the Aman Sveti Stefan hotel, reached by a pedestrian causeway.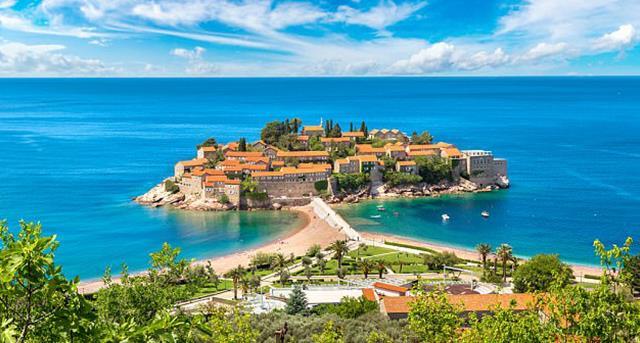 Be sure to visit the island of Sveti Stefan
Following local advice, I checked out the resort of Herceg Novi, just along the coast, where the modern beach-side Palmon Bay Hotel and Spa provides a good base from which to explore the coast and the black mountains. Service is slickly efficient - not always the case in this part of the world - and rooms are excellent, if a touch clinical.
Heaven knows where Montenegro is heading. It might not know itself. For the rest of us, it's well worth visiting a place that's in such dramatic transition.
First published in the Mail Online -  March 2018
More articles below...