You've heard of parachuting and paragliding and quite probably parascending… but I have just discovered a new and very rewarding experience and it's called paradoring.

It involves driving around Spain and staying in luxurious accommodation in stunning, historic and elegant hotels.

There are 94 paradors in Spain, in extraordinary natural settings, full of history and culture, and including former palaces, ancient convents and medieval castles.

I was familiar with the south of Spain but had never explored the north and the central plains around Madrid, so this was my chance.

You can fly to any of the big cities, pick up a hire car, and plan a parador to parador route of your choice. I began in Santander, on the north coast, and managed to fit in eight on a round trip.
Parador Fuente De in the dramatic Picos de Europa
First stop was the parador at Fuente De, in a dramatic setting in the beautiful Picos de Europa mountain range with a backdrop of towering limestone peaks. A nearby cable-car will take you to the top where the views are awesome.

This is great walking country, but it's even better at the wheel of a car and the next day I headed south over the 6,000-ft San Glorio pass in search of parador number two, driving for several memorable hours on roller-coaster, winding, but perfectly maintained mountain roads, where you hardly see another car.

I hadn't planned to stop at Leon, but one look at the parador 'Hostal San Marcos' in the heart of the city and I quickly changed my mind. This former 16th century monastery has been converted into a living museum. If you can tear yourself away from these superb surroundings it's worth taking a tour around the impressive cathedral, which has some of world's best stained glass windows.

Still heading south, my next stop was at the beautiful old town of Salamanca, with its architecturally perfect square. It also has a fascinating Art Nouveau and Art Deco museum rolled into one. The parador here is comparatively new, has been refurbished throughout and is in a great spot on a hill across from the city.
A former 16th Century palace is now a stunning parador in the charming town of Avila
Next was the charming walled town of Avila, where a former 16th century palace would be home for the night. Walking the sandstone ramparts and walls is memorable experience.

The parador at Toledo was also on a hill overlooking the old city, with views across the Tagus River. The huge cathedral is truly mind-blowing and the alcazar is something special.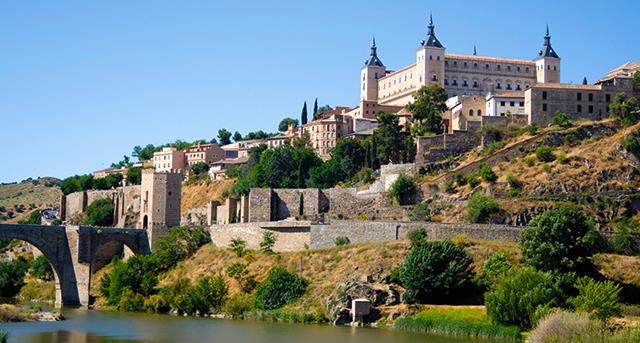 The parador at Toledo with commanding views of the city
I was close to Madrid now and took a train into the capital - 30 minutes later I was at the Prado museum.

Visits to several other art galleries dotted along the wide tree-lined avenues followed, before indulging in a boyhood fantasy with a tour of Real Madrid's famous Bernabeu Stadium, alongside hundreds of gelled hair Ronaldo and Bale clones.

I headed back to Toledo for the car and then on to Alcala de Henares and the next parador. This was a super luxury ultra-modern conversion of the magnificent 17th century St Thomas Convent.

After another superb dinner - all paradors are renowned for their imaginative local cuisine - and good night's sleep, I skirted Madrid and headed back north to Segovia and the penultimate parador. This was in another stunning location with great views of the city and its iconic aquaduct and alcazar, said to have inspired Walt Disney's trademark castles.

The drive up to my final stop at Argomaniz was across more picturesque countryside and along quiet roads. Argomaniz is a tiny village with the superb parador dominating the landscape - and I had a good reason for staying there. My teenage fantasies didn't only revolve around Real Madrid - I had always been fascinated by nearby Pamplona's bull-running festival and had promised myself to take part one day.

But as the years went by I had decided that, at my age, it was probably better to do the run without any bulls chasing me along the narrow cobbled streets.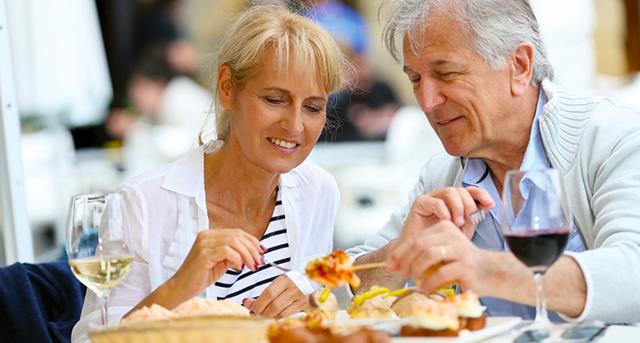 A superb lunch stop in San Sebastian
So after a night at Argomaniz I drove the short distance to Pamplona and, with a dog-eared copy of Ernest Hemingway's Death in the Afternoon in my pocket, proceeded to run the course from corral to bullring without the risk of being skewered by a raging bull's horn.

After Pamplona I drove up to the pretty north coast, visiting elegant San Sebastian then stylish Bilbao for the must-see Guggenheim Museum experience, before hugging the scenic seaside roads back to Santander.

Taking a road trip and staying at these historic and beautiful paradors is a great way to experience the real Spain and one that will leave you wanting to go back time and again.

And bearing in mind the quality on offer, the great food and the fabulous locations, the Government-owned paradors also represent great value.  
First published in the Mail Online -  March 2016
More articles below...