The Portuguese have a specific word to describe a nostalgic longing for a place, 'saudade', and after visiting Lisbon it's easy  to see why.
It's conveniently close to the UK, it's in the same time zone - and is a hotbed of cutting edge culture and nightlife, exciting architecture, music events and super cuisine including a thriving pop-up restaurant scene.
Music festivals, headed by Nos Alive in July, rival Glastonbury and Reading.
At Nos Alive, one arena is dedicated to Fado, the melancholy music that originated in Lisbon in the 1820s and is making a big comeback. The festival shows how high Lisbon sits on the 'cool' scale, with a huge buzz in the city's arts and design sectors.
Lisbon has helped fund many free music and arts events in troubled neighbourhoods to bring investment to the areas and the city is reaping the rewards.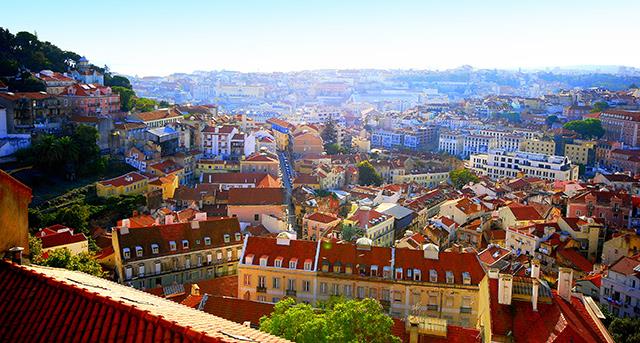 Views of Mouraria and Martim Moniz square in Lisbon's city centre
A prime example of the success of this policy is an inner-city area called Mouraria, which used to be the old red light district but is now one of the city's trendiest locations and a magnet for visitors.
It has some of the most beautiful tiled buildings in Lisbon and  is one of the top foodie hangouts.
WHERE TO GO
For global cuisine, head to the food market in Martim Moniz Square, or ask the advice of locals about many of the little-known restaurants - some in seemingly private kitchens.
There are also plenty of pop-up events run by Elisa Sartor and Valentina Toscano of Mani In Pasta, who also introduced us to the famous Portuguese custard tart.
The original tarts can be found at the Pastéis de Belém in the Belém area, but for an equally delicious treat in a more central location, try the Confeitaria Nacional shop at Praça da Figueira, which was built in 1829 and still contains its original interior. The pastries are a breakfast delicacy - copy the locals by sprinkling the tart with cinnamon or icing sugar.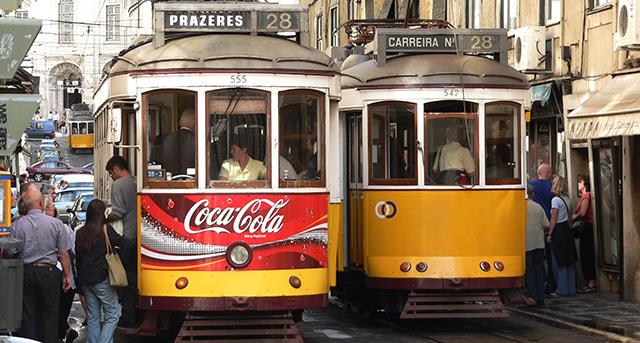 Take tram 28 to connect to popular tourist districts in LIsbon
From Praça da Figueira, a short Metro ride takes you to a jewel in the Lisbon crown - the indoor Time Out Food Market, which houses artisan food and drink stalls run by some of the biggest bars and restaurants in the city.
FOODIE HEAVEN
Visitors can choose from a number of culinary delights, including steak, sushi, dim sum, local cheese and charcuterie. I opted for a salmon, cuttlefish, tomato and seaweed burger in a cuttlefish ink bun that was absolutely delicious.
There are plenty of places for a more upmarket meal too, including the Bica Do Sapato restaurant, co-owned by Holly-wood A-Listers Catherine Deneuve and John Malkovich, and the hotel Tivoli, which features the Brasserie Flo, a grand 1920s-style dining room serving French food.
I indulged in some local oysters, followed by the most delectable prawn and asparagus risotto I have ever eaten and a salted cod with chorizo crumble.
Upstairs at the Terraço restaurant, diners get one of the best views of Lisbon. Later, we enjoyed a drink at the Sky Bar, a terrace with panoramic views.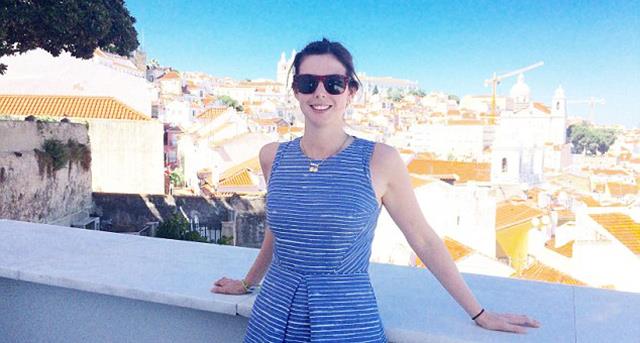 Travel writer Caroline McGuire relaxes on the terrace of the Memmo Alfama hotel
Thanks to its hilly nature, Lisbon is famous for its terraces and visitors are spoilt for choice when it comes to verandas with a view that serve food.
People looking for a more modern and relaxed vibe should head to the Memmo Alfama though, a boutique hotel in the Alfama area that is built into the medieval walls of the city. Just a stone's throw from the hotel is the Clube do Fado in Alfama, widely considered to be the best bar to hear Fado music.
NIGHT LIFE
The quaint streets of  the historic Barrio Alto area come alive at night, with traditional and modern restaurants, Fado houses and lively bars staying open well into the night.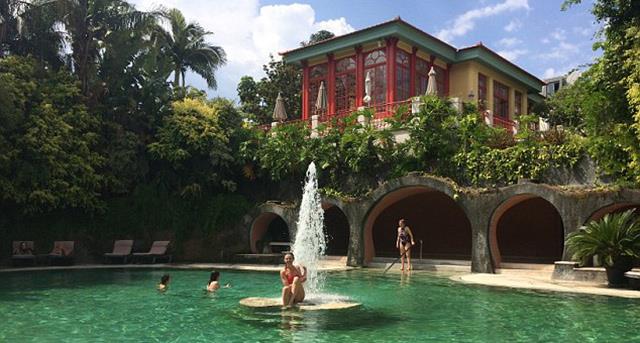 The Pestana Palace Hotel's swimming pool looks like a scene from a Hollywood movie

Lisbon is well-known for its extremely photogenic tiled facades. In some neighbourhoods almost every home is covered in the ceramics, splashing entire streets with rainbow colours.
Nowhere is this more evident than at Pestana Palace, a five-star hotel in a restored 19th century palace with views over the Tagus. The grand reception rooms boast fresco ceilings and decorative furniture.
On top of all this there are beaches less than an hour away from the centre and guaranteed good weather – the city with everything.
First published in the Mail on Sunday -  May 2018
More articles below...