Flamenco is an acquired taste. But if you meander up towards the church in old town Marbella on a Saturday night and pop into a dishevelled little hostelry called Ana Maria, conversion awaits.

There are a few tables and chairs scattered about – and along one wall sit six Spaniards of varying shapes and sizes, two of whom are tuning their acoustic guitars. Then a woman serving drinks shouts something or other in a conversational sort of way and the lead guitarist responds nonchalantly – at first.

A voluptuous woman starts clapping; others join in, deliberately missing the beat just enough to create a scatter gun of sound that grows louder and louder. The two guitarists begin strumming feverishly, but in perfect control.
Then a dark-haired woman in a long red skirt and frilly blouse starts to dance as if she has the whole world at her feet. She stamps; she clips the ground delicately; swings her arms, twists her body, all the time keeping her back iron-rod straight.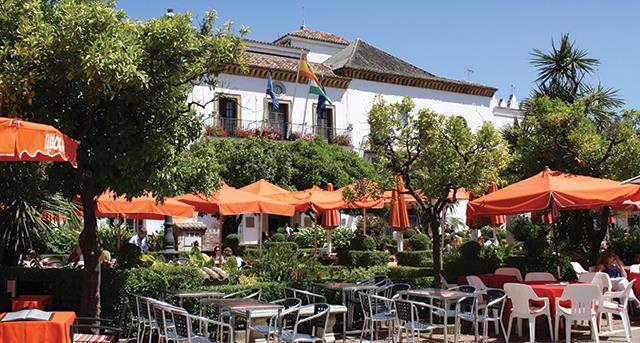 Lunch in one of the Old Town's colourful squares
We had intended to stay only ten minutes or so, but an hour-and-a-half later we're still there, fumbling in our pockets to find €10 for a CD we'll never play at home and hoping for one final dance.
It's not the only surprise in Marbella's exquisite old town. We had expected it to be medallion city but it's nothing of the kind. There are meant to be more Rolls-Royces along this stretch of the Costa del Sol than in London, but not in the historic quarter.

And there's nothing flashy about the colourful squares, independent little shops, countless tapas bars.

We're so taken by it all that when a proselytising waiter carrying a large menu greets us in the main square and promises 'very much good dishes' we find ourselves lured to one of his tables and ordering a round of 'very much' lethal cocktails.

Marbella is real. Which is to say that you know that the possibility of skullduggery could lurk beneath the gilded surface.

Certainly, it did in the Nineties when Jesus Gil y Gil became mayor and set about resurfacing roads, chasing away the drug dealers and planting palm trees on the seafront.

Gil didn't belong to any particular party. He was like a sheriff in the Wild West who believed in doing what you have to do – although where the money was coming from for his clean-up was unclear.

At one point, his plans included creating a white marble promenade from Marbella to Puerto Banus. As it is, there's a dusty track pretty much linking these two hotspots, where locals jog and walk off the excesses.

About a mile or so along this track from Marbella is the seafront entrance to the Marbella Club, which, founded in 1954 by playboy Prince Alfonso, still exudes a glamour of old but with just a hint of 'no carbs before Marbs' (the mantra of those who like to get their body in shape before their annual pilgrimage to the resort) bling.

Prince Alfonso, who died in 2003, was a godson of the Spanish monarch Alfonso XIII. Let's just say he was connected: Princess Grace, Audrey Hepburn, Bob Hope, Richard Burton, Brigitte Bardot, Roger Moore and Bruce Forsyth have all been regulars - and there are hundreds of photographs in reception to prove it.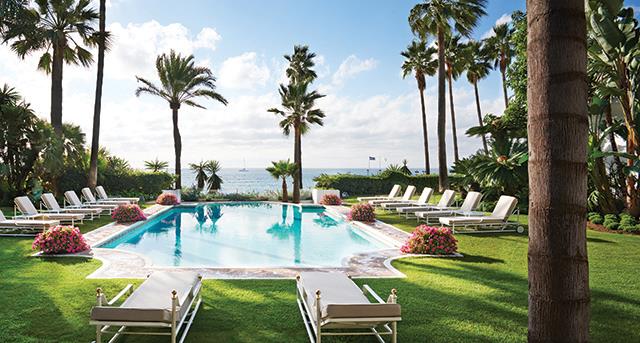 The Marbella Club's immaculate sub-tropical gardens
The Duke and Duchess of Windsor loved staying here. I like the story of the Duke turning up for drinks in the bar wearing a suit when everyone else was wearing Hawaiian shirts. Quickly, he slipped away to change into something more casual. But by the time he returned, everyone else had slipped away to put on jackets and ties.

The sub-tropical gardens are beautiful and immaculate. Dotted about are tasteful low-lying buildings offering suites and rooms; villas with their own pools; and a discreet kids' club. The main outdoor restaurant, where you sit under huge pine trees with dripping candles balancing on the lower branches, is romance on a plate.

During the day, the Beach Club (where I notice the sea is far cleaner than it was only a few years ago) gives new meaning to the word buffet. It's near the fabulous spa built into the rocks, with its own huge hydrotherapy pool.

Marbella Club's sister hotel Puente Romano
One lunchtime, we wander ten minutes along the beach for lunch at the Marbella Club's sister hotel, Puente Romano. You should do the same. It's as if the sisters try to outdo each other in the race for buffet perfection – but it's us punters who are the winners.

My wife and I play a game on holiday. We think out loud who among our friends would like such and such a place. The names here keep coming. In fact, we can't muster one single potential dissenter.
First published in the Daily Mail - August 2015
More articles below...