Having just re-read Victoria Hislop's novel The Island, my mind was full of images of olive groves and small fishing villages hugging rocky coastlines, with friendly locals offering food and drink to die for - and in Crete my literary-inspired imaginings came true.

If you take an early flight from the UK you can be eating Greek salad on the beach by lunchtime - and of course I'm used to being up well before the crack of dawn to host ITV's Good Morning Britain.

Enticed by the promise of exclusive elegance, we stayed at the Daios Cove Luxury Resort and Villas, less than an hour from Heraklion airport - from where we were whisked in an air-conditioned limo.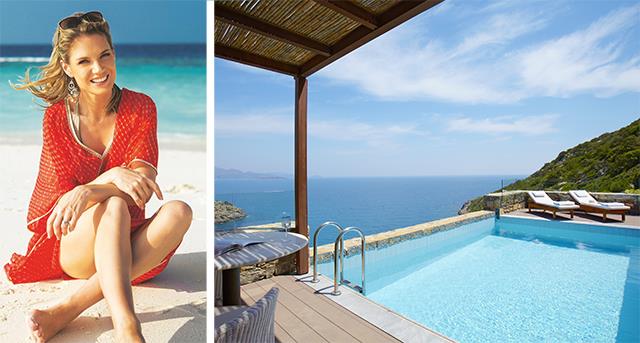 Charlotte Hawkins relaxes at the Daios Hotel with its far-reaching views of the Aegean Sea
At Daios Cove, the first thing that hits you is the glorious view across the Aegean Sea. The resort is laid out beneath you - four different levels cut into the cliff-face, as well as an infinity pool and a private beach.

The resort was the vision of owner Dimitris Daios. His aim was to create 'luxury a different way', and certainly every detail has been thought through.
Each of the 39 villas has a private heated pool and  they are set along one side of the cove, all with unspoilt views and privacy.

To get to our villa we were whizzed off in a golf buggy, which gave us the distinctive feel of being in James Bond's Moonraker. Our two-storey villa was so spacious we could have had a floor each. It had a pillow menu and even a choice of fragrance to have pumped into the air-conditioning system.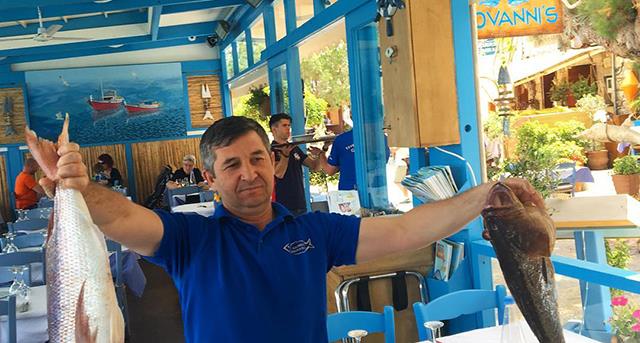 Yanni, the owner of Giovanni's Taverna, holds up the day's fresh catch
Delicious local food
Greek salads, grilled fish, seafood and souvlaki are my favourite holiday foods, and all were in abundance at Daios Cove.

The buffet restaurant, The Pangea, has a large selection of regional and international dishes, and several are cooked in front of you. There's also a formal Mediterranean restaurant, as well as Greek specialities at the Taverna Restaurant. However, my favourite meal was a private candlelit dinner served in the courtyard of our villa.

To help work off calories, there are plenty of watersports, including kayaking and paddle-boarding. You can also zip around the bay on an inflatable doughnut.

On land there's tennis, yoga and Pilates - but even that seemed too energetic as I was making the most of having a week of complete relaxation. The extent of my exertions was reading a book while floating on a lilo.

My excuse was that getting around the resort keeps you fit - being built over four levels means there are hundreds of steps, and we walked everywhere. If you don't fancy being so energetic, you can summon a golf buggy or use the funicular.

There's plenty to keep guests entertained in the evening. We went to a sparkling comedy show from the Feta Queen, Katerina Vrana, who poked fun at both the Greek and the British.

To help with the total relaxation process, there's a huge spa. I chose a bliss-fully relaxing massage as well as a facial.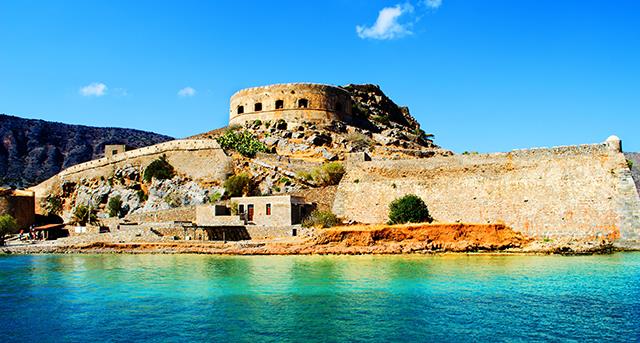 The small fortified island of Spinalonga, a former leper colony
Visiting the islands
We made it to Spinalonga, the former leper colony featured in The Island, on our final morning. The colony is a short hop across the sea from the village of Plaka. For anyone who has read the novel, it's a hugely evocative trip - you can imagine those who faced that journey for real as they were banished to the island and forced to leave their families behind.

Even for those who haven't read the book, you get a real sense of how those confined there for years had to create a community until a cure for leprosy was found in the 1950s. It feels even more eerie now that it's deserted, apart from tourists meandering around.

Back in Plaka there are quaint streets and buildings that haven't changed for years. Not to be missed is Giovanni's Taverna, where we received a delightfully warm welcome from the owner, Yanni.

The taverna is everything you would hope for, with a truly authentic feel. The marinated anchovies are delicious, and Yanni's tomato and olive oil dip made to his grandmother's recipe is exquisite.

I was delighted my experience of Crete lived up to expectations from reading The Island - and if you go, don't forget to pack it as a must-read holiday book.
First published in the Mail on Sunday - July 2019
More articles below...