Iceland seems to be on everyone's bucket list. Every time I mentioned I'd spent a few glorious days in this curious country, I was met with: 'I've always wanted to go there'. Followed swiftly by: 'Did you see the Northern Lights?'
The answer is, yes I did. But, there really is so much more to Iceland than looking upwards.
Whale-watching, Icelandic horse riding, snowmobiling, all-terrain vehicle tours, caving…they're all available for the more energetic traveller.
Or, for visitors more like me, there's breathtaking scenery enjoyed from the sanctuary of the tranquil Blue Lagoon - a spa created from a nearby geothermal power plant (almost all of Iceland's hot water is generated from the Earth's core) developed into one of the country's biggest tourist attractions.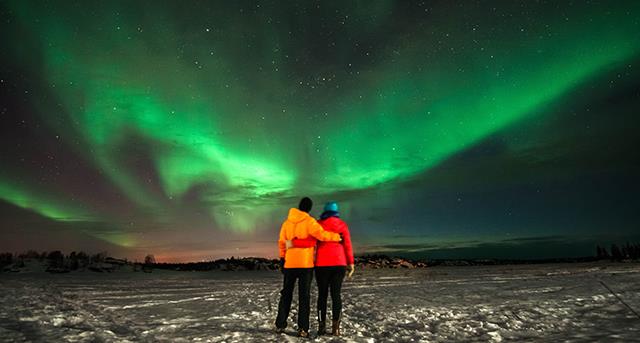 The Northern Lights are drawing many tourists to Iceland
I visited the Blue Lagoon on a freezing day and the tentative sub-zero steps from the main building to the water's edge took my breath away, but the shivers quickly melted as I eased into the 37C biothermal lagoon. 

The waters are said to work wonders for the skin and, in addition, a silica mud mask is a must. I was a little embarrassed about wallowing around sporting the brilliant white mask, but everyone else in the lagoon was doing the same.
With the steam gently rising from the crystal-clear waters it was so relaxing I wanted to stay submerged forever, so I compromised and treated myself to a half-hour in-water massage. Lying on a floating yoga mat in those surroundings while having my shoulders manfully manipulated by a brilliant masseur will be a life memory.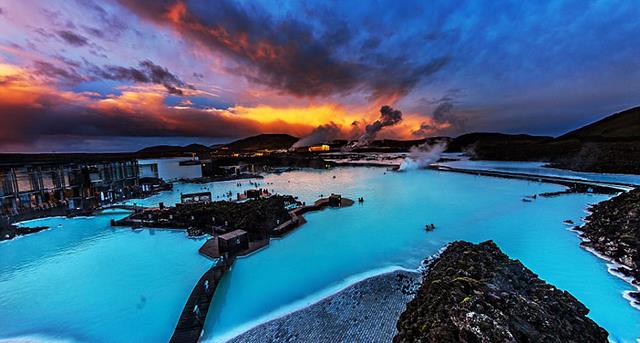 Almost all of Iceland's hot water is generated from the Earth's core

Of course I wanted photos, too, but was worried about keeping my phone dry. I shouldn't have been. There are plenty of staff who will take souvenir snaps on an iPad and email them to you, free of charge.
I went at 9am by shuttle bus - it's about 50 minutes from Reykjavik - and had the waters almost to myself for an hour or so. Travelling by bus is an excellent way to get around the country. Fewer than a third of a million people live in Iceland, with about 120,000 in Reykjavik.
Hotels in Reykjavik cater for all wallets, though Iceland is not cheap, especially alcohol. Do not buy bottled water. Tap water is excellent, and it's free.
The new harbour is a bustling part of town and there's a strong party scene. Restaurants are plentiful and there's lots of fabulous food to choose from, including a 'world-famous' hot-dog stand where tourists and locals alike queue around the block.
I enjoyed strolling around the small city and a two-hour walking tour conducted by a local historian was informative and fun.
Kay describes the scenery in Iceland as second to none
However, I wanted to see much more than geothermal swimming pools - even if Ryan Gosling and the cast of the Game Of Thrones had been seen wallowing in one of the outdoor public baths while I was there. So, I left behind the heated pavements of the capital for a Golden Circle Tour of geysers and waterfalls.
The scenery is second to none. Hot, old geysers putting on a regular show are a popular stop for tourists. We visit Pingvellir, a national park that sits in a rift valley caused by the separation of two tectonic plates and the site of the oldest parliament in the world. It's also said to be one of the best spots for diving in Iceland.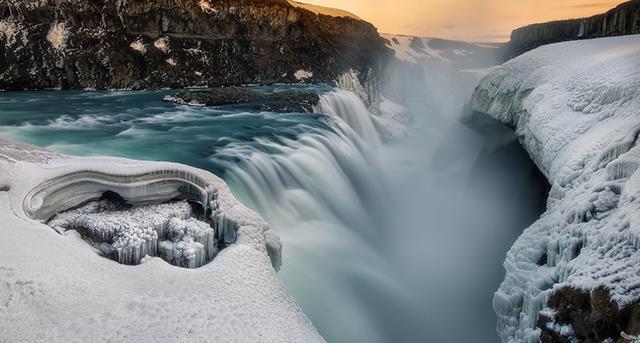 The Gulfoss waterfall has an immense spray
At the Gullfoss waterfall, the power of nature sees chocolate milk-coloured water flow over the precipice at 2,000 cubic metres per second. Keep away from the edge!
Of course, I couldn't not mention the Northern Lights. Tour operators are geared up for the spectacular phenomenon and, on a daily basis, they measure magnetic activity to predict what might happen on any given night.
Be prepared to stand in the freezing cold for a while waiting for Mother Nature to put on a show. But when the magic comes it is definitely worth the wait.
First published in the Daily Mail -  March 2018
More articles below...