Immediately after winning the Great British Bake Off, I escaped to the delightful Greek island of Kefalonia to kick back after such a hectic time in the tent.
I can still remember that moment in 2016 when I was floating around in the pool and my triumph finally sank in: 'I've won Bake Off!' I said to myself. It was truly wonderful.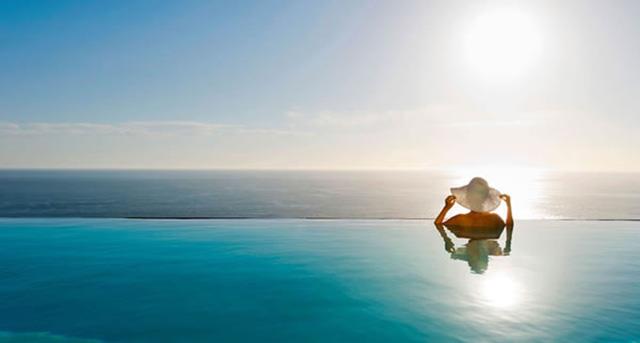 Look out to sea from the pool at Miraggio Thermal Spa Resort

TIME FOR A BREAK
My partner Ian and I recently returned to Greece, this time staying at the Miraggio Thermal Spa Resort in Halkidiki. The resort sits at the heart of a large beachside park facing the Aegean, and our first impressions were very good.
Inside, things got even better. The smartly designed rooms all had balconies or patios with sofas, there was free wi-fi, flatscreen TVs, and tea and coffee-makers (amazingly these days there are still some 'posh' hotels that think that offering coffee-makers is somehow naff).
As someone who has a professional interest in cooking these days, I was delighted to discover that the Miraggio has four smart restaurants (and six bars).
Enjoy the privacy of your own pool area in a deluxe suite

KEY ATTRACTIONS
One of the hotel's key attractions is its luxury spa that features hot spring water: there are also outdoor pools and a very good gym.
When you're in a resort as good as the Miraggio, it is so easy to stay put. We had a suite with a private pool and it was just what we needed relaxation-wise. We did lots of carefree chilling out and I have to admit not very much sightseeing! In fact, I'm afraid we left the resort just once for an evening in Paliouri, a gorgeous fishing village located on Kassandra, one of the three fingers of land that stick out from the peninsula.
During a lovely stroll around the village, I just had to check out the competition from the local bakers. I couldn't resist the baklava - rich, sweet dessert pastries made with layers of filo, filled with chopped nuts and held together with honey. They were wonderful and I made a mental note to try making them myself.
BEST THINGS TO DO
If you do want to be busy (as you might have guessed, busy was not on our agenda on this trip!), there are organised activities during the day: everything from archery to zumba, and beach volleyball to water-polo. The organised fun continued after dark thanks to the in-house entertainments team putting on their versions of musicals including Grease.
We did feel a bit guilty not making more effort to get out and see the sights, because Halkidiki is full of history and has some fascinating archaeological  sites.
It is a peninsula extending into the Aegean Sea in the far north-west of Greece. Settlers first came here in any large numbers in the eighth century BC and founded cities such as Mende, Toroni and Scione. The city of Stageira, on the east coast of the peninsula, was the birthplace of the philosopher Aristotle - his teachings are said to have influenced every possible branch of knowledge.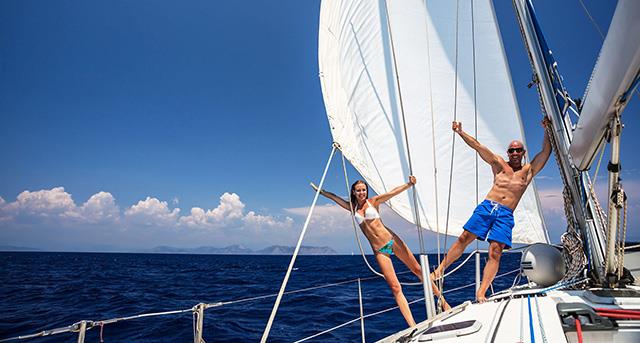 Venture out of the resort for a spot of sailing

MORE THAN JUST AN ADVENTURE
But confusingly we found we weren't sure exactly where we were, as no one can agree on exactly what the peninsula is called -  Chalcidice, Chalkidike, Chalkidiki or Halkidiki, depen-ding on who you talk to.
We decided to stick to Halkidiki. Over the centuries Halkidiki has been part of the Byzantine Empire and the Ottoman Empire - and was finally incorporated into the kingdom of Greece, as it was then, in 1912 after the Balkan Wars.
There are many intriguing ancient archaeological sites all over Halkidiki, including excavations that revealed stone houses with one or two rooms built by communities in Neolithic times. Many incredible artefacts are on display at the Archaelogical Museum of Olynthos.
In some places on the peninsula, lush green forests reach down to some excellent sandy beaches - and there are some exhilarating mountainous parts too, with slopes covered in pine, oak, fir and chestnut.
There is plainly plenty for me to justify a return visit! But I have also promised myself something else for that trip. I would love to go back to the Miraggio and do a baking demo. Maybe my version of the Parthenon (although not a Kefalonia icon) made out of nougat would be a good showstopper!
First published in the Daily Mail -  July 2018
More articles below...