How do you create a hotel in the most stunning setting you can imagine? By carving its amazing rooms into a cliff face formed by a mighty volcanic eruption. Stepping into Iconic Santorini's spectacular hillside setting is an experience that is nothing short of breathtaking.

And being faced with the cobalt Aegean Sea and the tiny white-washed buildings of the astonishingly picturesque village of Imerovigli does not get any less incredible as the days roll on.

The epitome of relaxed elegance, this unforgettable boutique cave hotel features five levels carved from the volcanic wall of Santorini's caldera - each of the 22 beautiful rooms offering its own style.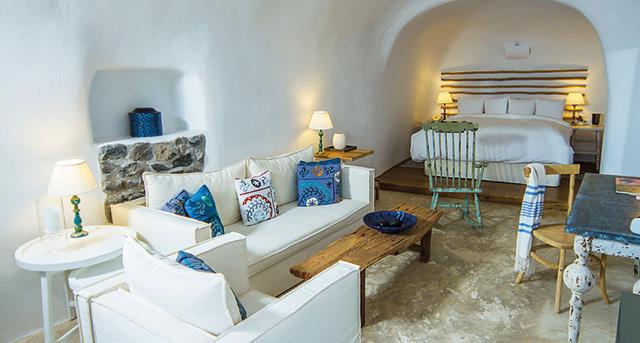 Classic interior styling at the Iconic Santorini
Aiming for an authentic Greek appearance with a luxurious edge, these distinctive residences come with plush amenities, including Coco-mat linens, huge beds and heated indoor pools.

Homely and relaxing, yet contemporary, these one-of-a-kind rooms all offer splendid views of the caldera from a personal veranda, where guests are welcome to enjoy breakfast in the morning.

Those staying in the Caldera Suites are lucky enough to be able to glimpse the jaw-dropping vista from their own outdoor jetted pool on their private terrace.
Unbeatable views from the Caldera Suites
Greek hospitality
Eating at Iconic Santorini feels like being welcomed as a new member of a Greek family, with a whole host of mouth-watering traditional dishes and Santorini wine on offer in the Pergola Restaurant.

While relaxation is certainly the name of the game, with an on-site spa available to all guests, those wishing to work off that indulgent feta can sweat it out in the hotel's wellness and fitness centre.

And if staring out at the azure waters or soaking in the sumptuous infinity pool ever gets boring - which it won't - a number of tourist attractions are a mere stone's throw away, including the romantic city village of Oia, famed for its breathtaking sunset, and the quaint town of Fira.

With wine being one of Santorini's most famous exports, an afternoon of tasting is advisable, with the Argyros Estate Winery, Hatzidakis Winery and Santo Wines Cooperative all close by.
Sample some of Santorini's famous wine exports
Meanwhile, the island is steeped in history, and those wishing to delve a little deeper below Santorini's picturesque exterior will be able to discover the ancient Thera archaeological site, or the pre-historic city of Akrotiri.

Although Iconic Santorini offers all the positives a chic boutique hotel should - luxury amenities, decadent surroundings and friendly and helpful staff - it is the magical caldera setting that really takes your breath away.
Ancient caldera
Santorini is the largest island of a small, circular archipelago which bears the same name and is the remnant of a volcanic caldera. This means it is essentially what remains after an enormous volcanic eruption 3,600 years ago that destroyed the earliest settlements on what was formerly a single, much bigger island, and created the current geological caldera.

The eruption may have led indirectly to the collapse of the Minoan civilisation on the island of Crete, 68 miles to the south, through a gigantic tsunami. Another popular theory is that it is the source of the legend of the lost city of Atlantis.

Now, a giant central, rectangular lagoon, about 12km by 7 km is surrounded by soaring cliffs on three sides. On the fourth side, the lagoon is separated from the sea by another much smaller island called Therasia. Two channels connect the lagoon to the sea - and all combining to create a simply spectacular setting.
My lasting memories are of magnificent views and an altogether unforgettable stay.
First published in the Daily Mail -  May 2017
More articles below...