My plan for my eagerly-anticipated trip to Thailand was - there was no plan. Just three weeks of winter sunshine, island-hopping with a girl pal - a relaxing break from my job as a weather forecaster on ITV.
After flying to Bangkok, we took another plane direct  to Krabi on the west of the mainland. There was no time to waste... a beach was waiting.
Railay Bay in Krabi is picture-perfect Thailand and the ideal place to kick off a holiday. Long-tail boats parked in neat rows bobbed along the shoreline with crystal-clear turquoise water lapping at the limestone cliffs. The cliffs are popular with climbers. 
I didn't quite muster the courage to scale a sheer rock face in a harness - although we did clamber up a 70-degree slope using just ropes. It was totally worth it. 
After the initial steep incline, we found ourselves in rainforest-style terrain with a breathtaking view of the entire peninsula.
The striking white cliffs and dense tropical jungle-style greenery define Krabi.

Breathtaking view of the entire peninsula of Railay Bay, Krabi
We drank our body weight in fresh coconut milk and pina coladas in our first couple of days as we acclimatised to our new surroundings and gradually began to relax. 
Afternoons were spent deciding where to sunbathe after simple lunches - mostly of satays and papaya salads.
We called the latter 'papaya salad roulette'- as you never knew how spicy it was going to be. Some were well into blow-your-socks-off country. 
RELAXING MASSAGE
I lost count of the massages we had, each one leaving me blissfully floppy.
We loved the bars with their boho beanbags, low tables and bamboo terraces overlooking the bay.
We didn't want to leave Railay Bay in Krabi, but we had arranged to head to Phuket to meet up with some ex-pat friends over from Hong Kong.
We stayed at the famous Slate hotel. It's a huge hotel with a choice of three pools surrounded by tropical plants - and even our room came with its own courtyard, plunge pool and outside bathtub.
Nearby, Nai Yang Beach was quiet and unspoilt - a fitting location for sundowners and more popular with locals swinging in their hammocks than tourists.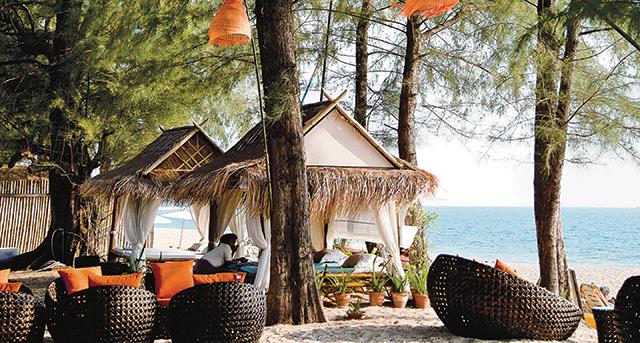 Koh Lanta beach bar
From Phuket, the hotel arranged our transfers to Koh Lanta via the island of Phi Phi, where we stopped off for the day and hired a long-tail boat to go snorkelling. With just us aboard, our guide tailor-made the whole afternoon and we even found an idyllic little secluded bay for lunch.
We then took a ferry to Koh Lanta. Until I arrived in Koh Lanta I thought I had reached the peak of relaxation - but there it was like stepping back in time, with a slightly hippy vibe. 
I saw as many home-made signs for beachside yoga as I did for happy hours. The resort was on the edge of Phra-Ae Beach, home to a string of rustic restaurants and chilled-out bars.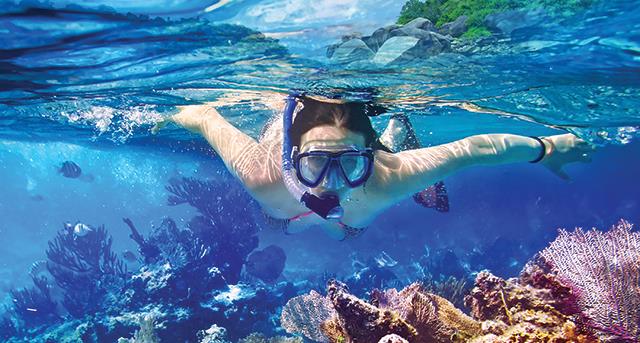 Snorkelling at Phi Phi island
BEACH BARBECUES
Beach barbecues became an evening ritual - barefoot, still in our sundresses, bikinis and smelling of sun cream. I'm sure all this made the freshly-barbecued fish and local Singha beer taste even better.
For a change of scenery we took a tuk tuk to nearby Long Beach - three miles of soft sand fringed by shady tall pine trees. The shade was something we were craving after going out on paddle-boards in the strong late-afternoon sunshine.
I'd only paddle-boarded once before but the still, clear waters of the Andaman Sea were the ideal place to get into the swing of it. After a very floppy few days in Koh Lanta, it was time to mentally prepare ourselves to head back to London life, via Bangkok.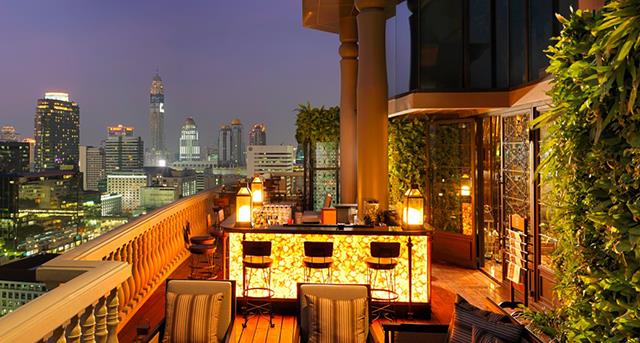 Bustling city views from Hotel Muse, Bangkok
BUZZING BANGKOK
Bustling Bangkok was an assault on the senses at first after so much relaxation. But Hotel Muse couldn't have suited us better. In a brilliant location, it was a calm sanctuary in the craziness of Bangkok's streets. Our suite was huge, with the comfiest beds.
Someone had suggested we go to a club called Sing Sing - it's one of the best I've ever been to, buzzy and with friendly staff. With espresso martinis in hand, we made friends from all over the world.
I already plan to go back to meet them there again. 
First published in the Mail on Sunday -  November 2017
More articles below...