Just before I settle into one of the Datai's four-hour spa experiences inspired by the Malaysian ramuan tradition of holistic potions sourced from rainforest ingredients, my therapist, Eny, asks what I would rather listen to: music or the jungle.

I'm used to hearing a CD during a massage so I assume both would come out of a speaker, so opt for the latter – and am baffled when my ceremonial flower bath begins in silence. But the more I relax, the more I hear: the babbling of a brook that runs alongside; the strumming of cicadas; macaques calling to each other; humming dragonflies.

I'm sitting on the balcony of a simple wooden hut that's open to the warm island breeze on three sides and nestled in a dappled mangrove forest. I'm wrapped in a traditional hand-printed sarong and being sluiced with warm, floral-infused water.

I move to a warm plunge pool strewn with jasmine blossom, where I sip nectar from a fresh coconut and watch vividly-coloured butterflies fluttering around overhanging branches.

To stay at the Datai, on the Unesco island of Langkawi, is to reassess the meaning of luxury. The Datai was built from trees felled by elephants and is all but invisible above the trees, even from the sands of the tranquil bay it occupies – one of National Geographic's Top Ten beaches. It's in elegant harmony with its surroundings.

The Datai was created in 1993 by Australian architect Kerry Hill and has been recently refurbished to even more exacting standards.

My husband and I stayed in a beach villa with its own pool - and tireless butler, Oscar, who specialised in knowing what we required before we knew ourselves: from afternoon tea and pool inflatables to gin and tonics and a deck of cards for when the sun went down.
The Datai's resident naturalist Irshad Mobarak points out the beautiful birds and butterflies
In touch with nature
The island's white-eyed leaf monkeys paraded along our fence every day. Stepping on to the sands in early morning, we watched the sleek heads of otters swim-ming past and the occasional eagle  above.

As well as beach villas there are rainforest pool villas and a new five-bedroom 'Estate', featuring a games room, two pools and a private chef.  The other 121 rooms, on a forest ridge, have sea views across to neighbouring Thailand.

A nature centre combines education section, research facility and general chill-out zone for those interested in the surrounding habitats.

Resident naturalist Irshad Mobarak and his team run guided walks around the 750-hectare site to show guests more than 200 species of birds, 49 types of mammal and 400-plus variations of brightly-winged butterflies.

For a better view of such a busy ecosystem, there's a wooden canopy walk winding through the forest. For a true aerial view, there's a cable car rising to 708-metres high Mount Machinchang.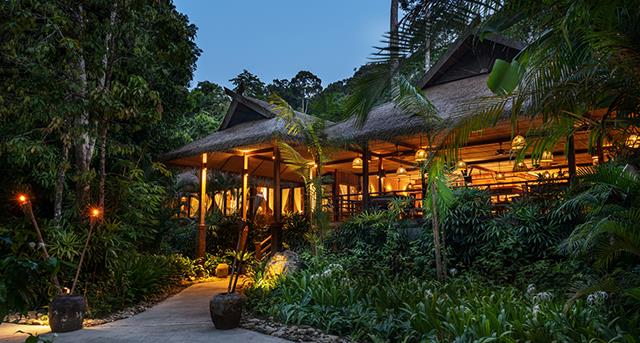 The Gulai House restaurant offers delicious classic Malay curries
I loved a mangrove safari by boat, skimming through tunnels of leafy branches and stopping to observe zany-hued fiddler crabs on the mudflats.
For dining, the Gulai House offers classic Malay curries, served family-style.
I recommend the fish and chicken cooked in brass tandoors. The open-air Pavilion restaurant sits on stilts with views across the forest and serves Thai food.
Moorish influences
Down the road from the Datai, Langkawi's Four Seasons is known for its Ikan-Ikan restaurant, which offers a contemporary take on traditional dishes, including a tamarind-glazed red snapper and freshly-caught green lobster.

The building style here takes inspiration from Moroccan riads and Moorish gardens. Vast shallow pools reflect the blue of the sky, while brass pendant lights and outdoor showers bring the medina to the Malacca Straits.

It exudes a sort of souk chic, with ornamental infinity pools with gushing fountains and brass statues. The GeoSpa has relaxation platforms floating on decorative pools.

The beach villas are built right on the sand, their sunbathing platforms and floor-to-ceiling windows facing the sea. There's an inevitable opportunity for celebrity-spotting here – we saw a TV star of the 'national treasure' order arrive just as we were checking out.

For the fearless, water sports include the X-Jetblade, which recreates flying on a vertical jet of water - or more gently, the vast hammam-style marble baths are alone worth adding an extra day to your holiday.

Of course we had to leave eventually – but Oscar came to wave us off at the airport, saying: 'We don't say goodbye here. Only see you later.'
First published in The Times - April 2019
More articles below...