Bangkok is known as a stopover – somewhere to spend a few hedonistic hours before going on to the coast. Well, that may have been true 20 years ago. Now it's a place to linger.
Zoom up Silom road - through the commercial district - towards the shopping centres of Siam Square to see how the city has flourished.
The Skytrain monorail moves silently overhead. Designer labels abound. The shiny Siam Paragon shopping centre has a car park just for supercars.
Then there's Asiatique, a bustling night market of 1,500 shops on the banks of the Chao Phraya River.
Handicrafts and trinkets sit alongside fashion boutiques and gadgets and nothing closes before midnight. If you are laden with goodies, as I am, a fleet of tuk-tuks is waiting outside.
Racing away, we fly over holes in the road. A dramatic swerve and a loud judder tell me we've arrived back at the swanky Mandarin Oriental. They've seen it all here.
From writer Somerset Maugham, bedridden with malaria, to Mick Jagger insisting the windows in the royal suite be blacked out and Billy Idol wrecking his room completely.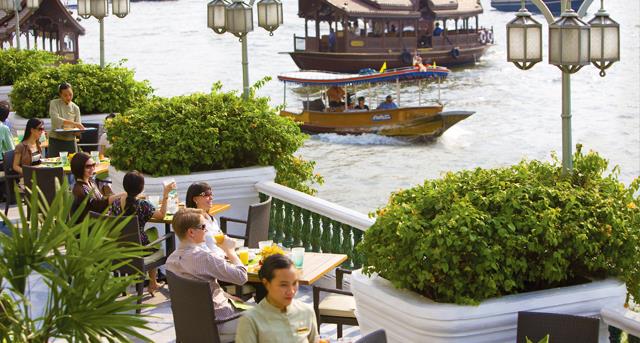 Dining on the riverfront at the Mandarin Oriental
Celebs aside, the hotel has a cooking school and I take a class with chef Narain. A kaleidoscope of ingredients is laid out before us. Those we know: ginger, lime leaves; fish sauce, lemongrass. And those we don't, the tiny butterfly pea – a flower from which a brilliant blue dye can be used to colour desserts.
We watch, ask questions and taste. Then attempt Siamese baked desserts (small, dome-shaped pancakes); braised pork; fiery tom yum soup and a salad of grapefruit-like pomelo.
I slice, chop, juice and pummel. Chef Narain chats away. Chillies, it turns out, are a matchmaking tool. 'Mothers looking for a suitable wife for their sons spy on the neighbour's daughters to assess the speed with which they grind the spice,' he laughs. 'The faster the grinding, the better wife she will make.'
Food is a big deal in Bangkok. Take the Skytrain to Thong Lor and Sukhumvit Soi 38, a line of steamy, noisy, kitchens-on-wheels. There can be no better initiation to Thai street food.
Grab a wobbly table and gobble sticky rice with mango, curries, pad Thai, squid and duck. Delicious.  
First published in the Daily Mail -  June 2016
More articles below...