Few countries have experienced such a rapid change in fortune and character as Cambodia, so recently a victim of the Pol Pot regime and now firmly established in the tourist firmament.

Our guide Vin introduced us to the 21st century charms of Siem Reap, in the north-west of the country.

'Now we are a peaceful people and the situation is different,' said Vin. 'I wish you a pleasant stay in Cambodia.' 

It turned out to be very pleasant indeed. And Vin was right about the people: wherever we went, they were indeed peaceful and unfailingly courteous.

Siem Reap is enjoying its second coming. Following the 'rediscovery' of the temples of Angkor by French archaeologists in the 1860s (altogether the country is said to have about 4,000 temples), the town became a beacon for wealthy travellers.

It continued that way until the late Sixties, when the likes of Charlie Chaplin and Jackie Kennedy came to call. Then war, famine and fear kept outsiders well away right up until less than 20 years ago.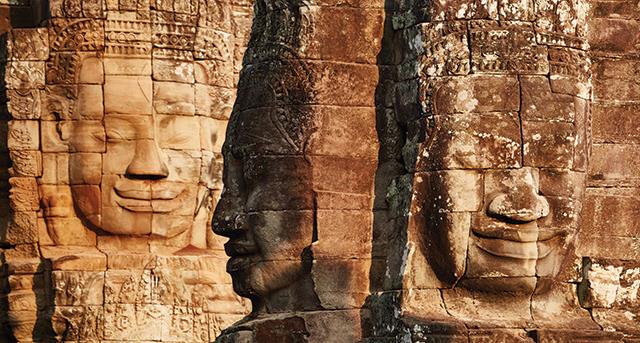 Giant carved heads of the Bayon in the Angkor Thom temple
Everyone says you have to see Angkor Wat at sunrise to capture its full glory, but we felt relieved when Vin said we would start our tour at 10am. We were then amazed to find we practically had the place to ourselves.
'Where are all the people?' I asked as we drove around the massive moat.
'On the other side,' he replied. He meant we had approached via the East Gate, a grand ruin of a lodge leading to a gravel drive that takes you up to the main temple. With dappled sunlight foraging through the swaying trees and a crumbling building in the distance, we could almost have been visiting a stately home in Gloucestershire.

What took me by surprise was the perfect symmetry, the motifs, the detail on the bas-reliefs – and we hadn't even set foot inside yet.

Vin ushered us into the shade and asked us to sit on giant pieces of sandstone. We didn't move for the next 40 minutes as he went about his lecture, producing maps and plans and dealing patiently with interruptions from us that tended to start with: 'But how ...?' or 'So, why ...?' 

Our questions were all trying to make sense of such an extraordinary feat, one that took 37 years to complete and involved stone either being dragged from a quarry 50 miles by elephant or on bamboo rafts 100 miles by river. No wonder King Suryavarman II is such a hero.

The elusive reclining buddha, and North Gate at Angkor Thom
As we moved from one level to the next, getting closer to the central shrine, Vin pointed at scaffolding and explained that tourists were not allowed access to the highest point. He said the reclining Buddha was a sight to behold – but sadly one that would elude us.

'Do people ever just climb up when no one's looking?' I asked.  'There doesn't seem to be much security.' 

'You want to go up?' he said. Vin made a call from his mobile. Ten minutes later, a man with a walkie-talkie appeared. 'Come,' he said. We made a dash for the scaffolding, ducking under some tarpaulin and climbing the steep steps. My new guide had two lookout men posted near the top. 'We have five minutes,' he said. We rushed here and there and, yes, I got to see the reclining Buddha looking majestically calm and serene.

It was almost 2pm by the time we got back to our town centre hotel. La Residence d'Angkor is the place to stay - it's lush and luxurious.

Vin also wanted us to see Ta Prohm (the jungle temple where Tomb Raider was filmed) and the mysterious Bayon, where the shapes of gigantic faces are etched into stone towers, before taking our positions high above the plain to watch the sunset.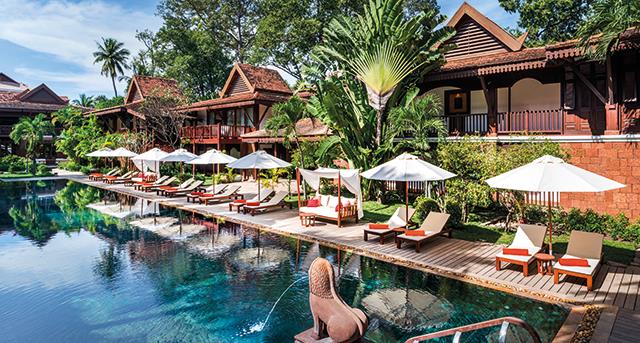 The luxurious Belmond La Residencia d'Angkor hotel is a true oasis
We ate spectacularly well at La Residence, but we also came up trumps at the Rina Rino restaurant on Pub Street.  

Next morning, we did watch the sun rise over Angkor Wat – along with a few thousand other spectators from all over the world.

Later, we drove 45 minutes to Tonlé Sap, the largest freshwater lake in South-East Asia and home to entire villages built on stilts. Houses are erected on rafts that can be towed to different areas depending on water levels. Families can move ten times a year.

We hired a dragon boat and explored some of the channels leading to the main lake. It was utterly enthralling. Men fish at night and spend most of the day beating the whitebait from their nets before selling it for next to nothing.
It showed us the authentic Cambodia - but tough as life on the lake is, it has, like the whole country, changed so much for the better in such a short time.
First published in the Daily Mail - October 2019
More articles below...