Since it started coming to life as a resort of extreme recreation early last century, Las Vegas has been a place of decadence, excess, and supercharged entertainment.
But it's not all about the dollar-draining casinos, unfathomable heat and oversized frozen cocktails - there's an incredible array of performances, concerts and comedy shows to keep you entertained every single night of the week.
This is all an unbelievably far cry from the town where, just over a century ago, all gambling was banned under strict new laws - even the flipping of a coin among friends to decide who was to pay for a round of drinks.
The name Las Vegas had been given to the area in 1829 by a trading party that was travelling to Los Angeles and stopped for water there - at that time, several parts of the valley contained artesian wells surrounded by extensive green areas. Las Vegas means the meadows in Spanish.
It officially became a city in 1905 when 110 acres of what was to become downtown were auctioned off to ready buyers. By 1931, Nevada state law-makers realised that the city's well-established illegal gambling industry would be more profitable for everyone if it was legalised.
The first gambling licence was issued to the Northern Club, with other venues to follow such as the Las Vegas Club and the Apache Hotel.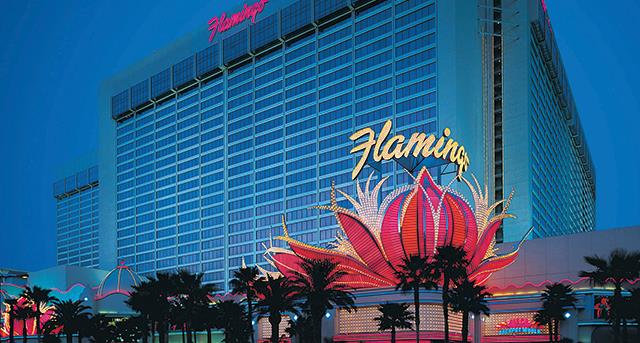 See the Legends in Concert show at the Flamingo
NEON LIGHTS
The city's first traffic light arrived that year too - and many other lights of the neon type were soon to follow as Las Vegas swiftly rose to be the gaming capital of the world.
Now it's all about shows as much as gambling, and one that's going from strength to strength is The Beatles LOVE by Cirque du Soleil, which has just celebrated ten years at The Mirage Hotel & Casino, during which time it has been seen by eight million people. Even Sir Paul McCartney described it as 'the greatest show in Vegas'.
LOVE is just one of seven Cirque spectaculars taking place across the city. The flagship event - O, at the Bellagio - features high dives, walking on water and the most impressive synchronised swimming and diving outside the Olympics.
If watching big-name pop acts is more your scene, head to Caesars Palace. Sir Elton John, Rod Stewart, Celine Dion and Mariah Carey are just some of those currently sharing headline slots.
The merchandise shop is worth popping into too, even if it's just to marvel at the $11 biros bearing the faces of the performers.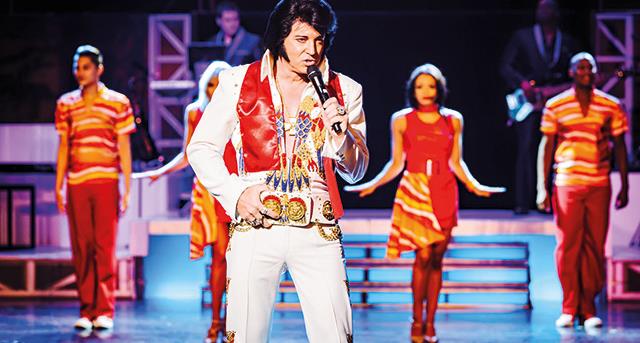 An Elvis tribute act as seen at the Flamingo
COULD IT BE MAGIC
Vegas has a long history of magic powers - and not just the ability to make huge sums of dollars disappear almost instantly. Siegfried and Roy wowed the crowds in Vegas from 1990 to 2003 before Roy was seriously injured on stage by a 380lb white tiger.
Since then, the wand has been passed on to Penn and Teller - they have been performing at the Rio for more than a decade, while David Copperfield is enjoying a residency at the MGM Grand.
Any Elvis fans planning on making a pilgrimage to his spiritual home this year will be in for a treat. The King may be dead, but long live the King - he's being reincarnated as a hologram to perform 15 shows at a venue yet to be announced.
The company behind the technology, Pulse Evolution, previously created a hologram of Michael Jackson for the 2014 Billboard Awards, which drew gasps of astonishment for its accuracy.
Alternatively, Elvis is available in tribute act form - he has been in the building at the Flamingo for the Legends In Concert, appearing alongside impersonators of Michael Jackson, Tina Turner and country star Garth Brooks.
Only in Vegas, right?
First published in the Mail on Sunday -  April 2017
More articles below...