I remember the first time I went to Miami Beach. It was to film an American version of Trigger Happy TV and I was not really looking forward to it.
I thought it would be a combination of Miami Vice flashiness coupled with theme parks. How wrong I was.
The moment I got out of my cab in South Beach, I was hooked. The heady mix of wonderful weather, glorious Art Deco buildings and a blend of American optimism and Cuban joie de vivre made the place crackle with excitement.
The Tides has a beautiful outdoor heated pool exclusively for guests
I stayed at The Tides on Ocean Drive and just down from the glitzy hacienda where Gianni Versace lived and died. South Beach was on a resurgence, having almost nosedived into a no-go zone in the 1980s.
One of the opening scenes in the movie Scarface shows a drug deal go terribly wrong by way of a chainsaw, and the dilapidated street this happens on is Ocean Drive.
Then the fashion and music industries started to use it as a location because it was cheap and looked amazing. Everyone else followed.
I'd sit on the terrace of The Tides and watch the glamour pass by. One morning I was joined, at neighbouring tables, first by Mike Tyson and an entourage of eight, followed by the rapper Ja Rule and his pet lion. SOBE, as South Beach is known, had truly arrived.
Enjoy a day lapping up the sun on a Miami beach
I hadn't been back for a while and wanted to introduce my family to it. I hoped they'd love it as much as I did.
I opted for an old favourite hotel called The Albion. I'd stayed there while filming another show and it is ideally placed at the top of Lincoln Road Mall, the pedestrianised street that cuts through South Beach and is packed with stores, restaurants and bars.
The Albion has a fabulous bar, Repour, and a pool that is a refuge from the bustle of the city.
News Cafe: a quaint sidewalk cafe on Ocean Boulevard
We normally breakfasted at News cafe, an Ocean Drive institution where you get some of the best people-watching in the world. Then we'd head off for the day's activity.
One day we visited the Wynwood Walls, a must-see in Miami. Another formerly dilapidated area, it has been transformed by street artists from around the world invited to use the neighbourhood as their canvas. It is now fast becoming gentrified and is packed with hipster stores and cafes along with the extraordinary art.
Cycling is the best way around South Beach. We rented bikes for a couple of days and zoomed around soaking up the street life and never, ever seemed to have to go uphill.
Having reached the southern tip of Miami Beach and wandered out to the end of the pier to get a fabulous boat's-eye view, we would often lunch at Monty's, a relaxed place on the Miami side of the island that's great for sunsets and cocktails.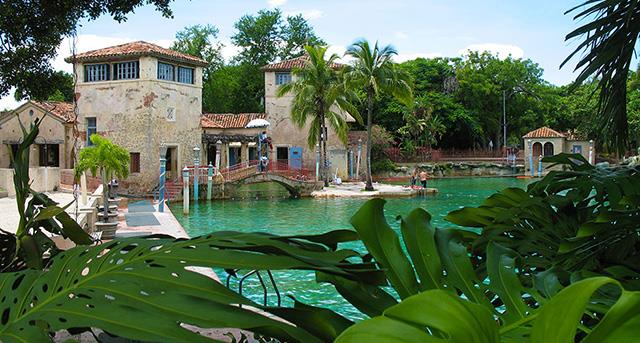 The Venetian pool - a public pool on the National Register of Historic Places
Or we'd hop in a cab and head to Coral Gables. This ridiculously wealthy community has a little jewel in its crown - The Venetian Pool. It's an oasis, a public swimming pool made from a former coral quarry in the 1920s - the most beautiful swimming pool I've ever been to.
Then it was back to SOBE, gawping at the fabulous seaside properties on Star Island.
Come the evening, we'd normally wander down Lincoln Road Mall to one of our favourite places - Rosinella, an authentic Italian trattoria where we could sit outside and watch the world go by.
For a treat, we'd head south to Jo's Stone Crabs, a SOBE institution. You can't reserve a table so you put your name on a list and then sit down for a drink to wait your turn.
The food is extraordinary. Huge stone crab claws dipped in mustard sauce, wonderful aged steaks that melt in your mouth.
SOBE is the place to be - take it from me. As my daughter Parker put it, it puts you in a 'Sunshine State Of Mind'.
First published in the Mail on Sunday -  August 2018
More articles below...