It's not so much that 12-year-old girls know what they want to do when they hit California, it's that they know what they don't want to do - and that includes any form of sightseeing.
This meant planning our month-long road trip was a challenge. I love adventure, my husband Paul loves luxury, and our daughters Phoebe and Dora love access to wi-fi.
Our first stop was San Francisco, where we stayed at the Fairmont - lots of luxury to relax in after the flight. Our three days in the city were busy as we checked things off our must-do list: bike ride over the Golden Gate Bridge to Sausalito and ferry back via Alcatraz; window-shopping in the arty Mission District and queuing with locals for a wonderful lunch at Tartine.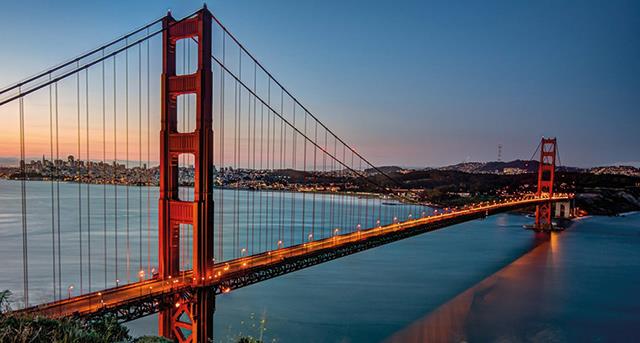 Cycle over the Golden Gate Bridge to Sausalito
As we eventually left San Francisco in our monster truck, I directed Paul to the infamous bends of Lombard Street. The girls whooped almost as much as he whinged.
Next stop was Napa Valley, where we had booked the Carneros Inn - which turned out to be one of the finds of the trip. Detached cottages are positioned around an organic farm. Cool restaurants, hilltop swimming pools, and outdoor bar areas with night-time fire pits are the only places where you notice that you are not the only guests.
NAPA VALLEY
We dipped in and out of Napa's famous vineyards, before heading 120 miles east to Nevada County and Grass Valley, where in the foothills of the Sierra Nevada you find the richest gold mines in California.
I find California's gold pros-pecting history fascinating, and as we traced the path down Highway 49, I tried to imagine the emotions of those tens of thousands who came to seek their fortune.
My commentary from the passenger seat was sporadically interrupted by Phoebe or Dora demanding that we stop to take photos at stunning vantage points, or capture the signs for improbably named towns such as Rough And Ready.
Our trip to Yosemite National Park was magnificent. Yosemite is definitely at its best when seen in a swimming costume at 7am from the middle of a glacial lake.
Heading west, we spent two days fascinated by the geek chic of the city of Palo Alto, where our girls worshipped at the altars of technology giants such as Apple. But before they got too used to the wi-fi forcefield that surrounded them, it was time to move to the coast.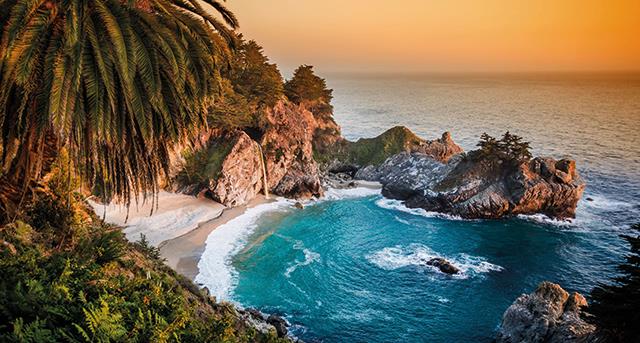 The mesmerising coastline of Big Sur is a must-see

SANTA BARBARA
We took a leisurely drive south to Carmel, where we had magical sunset picnics on the beach and watched whales off Point Lobos. Then it was on through the beautiful, rugged coastline of Big Sur to the El Capitan campsite near Santa Barbara. Paul was chuffed I had taken an executive decision and booked a luxury cabin.
We had a barbecue on our private terrace before witnessing the most magnificent sunset cloak the sky like a night-time rainbow - a truly special moment.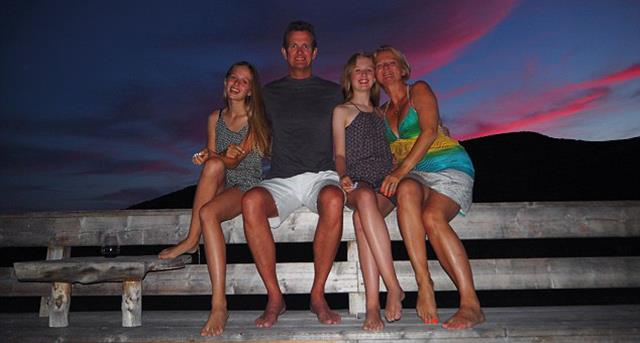 Alice Beer and her family enjoying the magnificent sunset at Santa Barbara

HOLLY WOOD
From the moment we turned on to Highway 1 the car was filled with cheers from the back every time we passed a sign counting down the distance to Hollywood. Twelve, it seems, is the age where the magic of the movie industry hits hard. My girls lap up everything Tinseltown. They loved the fact  we were hanging out in the same town as Hunger Games star Jennifer Lawrence, or that any nailbar could be full of Kardashians, or any juice bar packed with Beckhams.
We pandered to them, searching the internet to see where the stars dined, and then booked a table at the same spots.
The anticipation made for fun dinners, and rubbing shoulders with Hollywood royalty such as Di Caprio, Clooney and even a Baldwin led us to compile a list of DVDs we must see upon our return.
We stayed in full glamour at the London hotel in West Hollywood, where a sneaky afternoon cocktail by the rooftop pool became my little luxury. And of course we had to photograph the sign in the hills, visit the Chinese Theatre and sit on the Friends sofa on a Warner Bros tour, before heading back to the coast.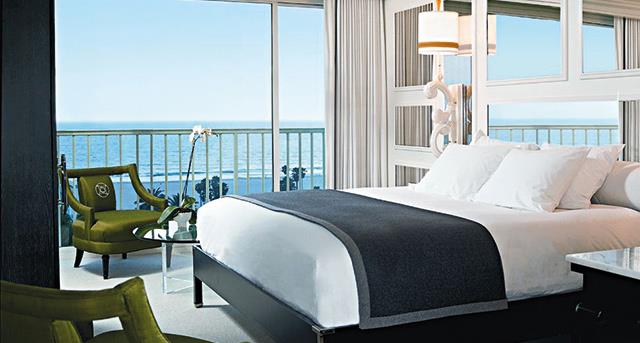 Sunny views from a room at The Viceroy
Our last five days were based at the ever-so-cool Viceroy in Santa Monica. There was much to do - trapeze school on Santa Monica Pier, a morning bike ride to Venice Beach, an evening trip to a basketball match and a surf lesson in Malibu.
We had been exactly a month in California - and both girls are determined to return as soon as possible to continue exploring.
First published in the Mail on Sunday -  May 2017
More articles below...