We were in the Pump Room bar of a hotel on Chicago's Gold Coast, one-time favourite of the Rat Pack.
My friend Melissa, who has lived in the Windy City for decades, approached the full and large coupe of vodka martini with lips puckered. Her cocktail looked capable of stunning a bull elephant. 'Clint Eastwood was here last time I dropped by,' she said, casually.
We tripped into the night air and headed down to the junction of Rush St and North State. This is the apex of Viagra Triangle, where silver-haired 'manthers' with big wallets and young partners drink Napa Valley's grandest crus.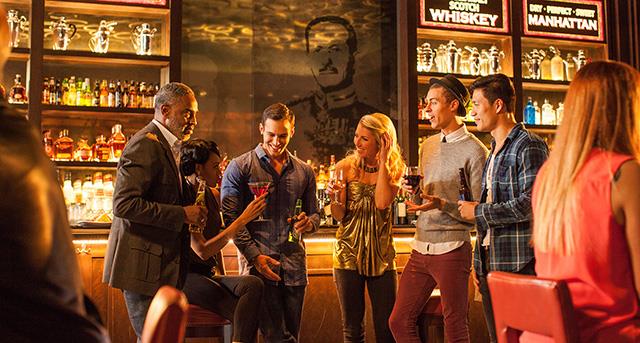 Hugo's Frog Bar: famous for its crab cakes, steaks and frogs' legs
FIRST PORT OF CALL
'Let's check out Hugo's Frog Bar,' said Melissa. 'It's more French than anything in Paris.' She was right. I live in France.
'Hey look, it's JB Pritzker,' she said loudly, pointing at a portly 50-something sitting nearby. 'He's standing for Illinois state governor next year for the Democrats. He's also the owner of Hyatt hotels.' In a stage whisper, she added: 'He's worth $3.5 billion.' Two glasses of good sauvignon blanc came to $50, but Melissa coughed up before I had even fumbled for my wallet.


SOMETHING FOR EVERYONE

Chicago is the place to come if you are a food lover who likes sport, art, music and architecture. And bars. It's cooler than New York, easier to get around and, despite a reputation for violence, is one of the friendliest places on the planet.
After the Frog Bar and a stupendous dinner at upmarket steakhouse Maple & Ash, we went to Buddy Guy's Legends.
This is a sprawling cavern of a Chicago Blues bar where you could easily bump into Eric Clapton, Robert Cray or any number of big blues names. Buddy himself was playing to a full house. I nursed a pint or two of Guinness slumped on a barstool.
Above me were the Stratocast-offs of Keith Richards, John Lee Hooker and BB King.
Owing to jetlag I don't remember much after that, until waking up in the New York Life Insurance Building in the financial quarter. This elegant art deco early skyscraper was recently converted into the Kimpton Gray Hotel.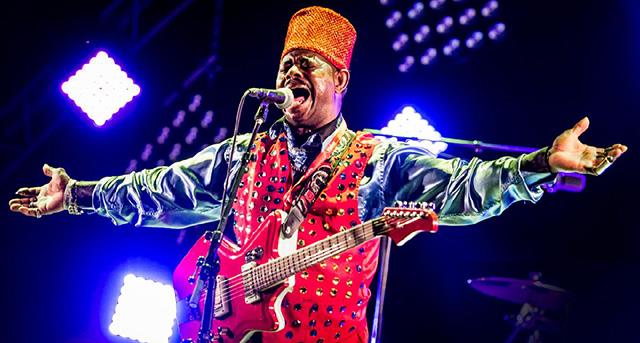 Make sure you visit Buddy Guy's Legends for some live Blues
ARCHITECTURE
Built by William LeBaron Jenney, the father of the skyscraper, it's one of the finest buildings in a city whose architecture is more restrained and refined than that East Coast dazzler, the Big Apple (though Trump Tower strikes a jarring note on Chicago's otherwise elegant riverside).
Around the corner from the Gray is a very well-known location from many films, including the recent Batman films – the Chicago Board of Trade building, with its statue of the Roman goddess Ceres on the roof.
We later took a skyline helicopter trip, flitting among the rooftops, which put the scale and grandeur of the place into perspective.
Chicago rears up from the shores of Lake Michigan – from a swamp where Algonquin Indians grew onions and garlic.
Still a little jetlagged the following morning, I cycled the river path and then a short stretch of Lake Michigan before visiting the Lyric Opera of Chicago, the second-largest opera venue in the world (New York's Met is bigger).
It's a staggeringly grandiose palace of art deco and art nouveau, which opened a week after the Wall Street Crash. Maria Callas made her U.S. debut here. That afternoon, the echoey palace of sound was full of ghosts.
Down on the pedestrianised Chicago Riverwalk is the City Winery, beside the bridge made famous in the great car chase in the 1980 hit movie, The Blues Brothers.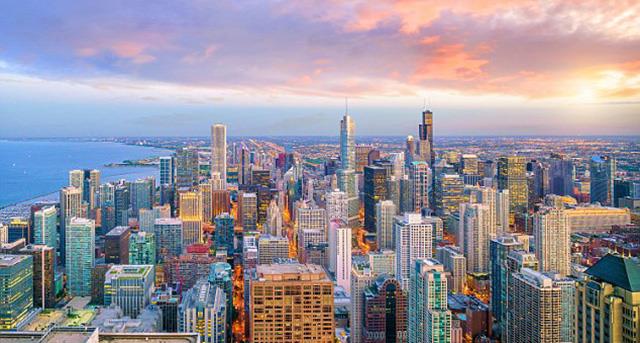 Downtown Chicago has been the backdrop for many films, including Batman
A LOVELY END TO THE TRIP
The Winery buys grapes and makes its own wine, so Melissa and I shared a carafe before wandering across the river to the House of Blues, the music venue co-founded by The Blues Brothers star Dan Aykroyd.
It was pretty empty because it was mid-afternoon, but was still full of atmosphere.
After a delightful cruise on the vast lake and a spin around the Museum of Contemporary Art, it felt like my whirlwind trip to Windy City had blown itself out all too soon.
First published in the Daily Mail -  February 2018
More articles below...