Most people visiting Las Vegas anticipate some kind of post-holiday detox: all that temptation in one little patch of desert seems bound to end in some damage to liver and waistline.

But the good news for party people who like to balance hedonism with health is that 'Sin City' is now one of the best places in the U.S. to give yourself some TLC, once you drag yourself away from the roulette tables.

Almost 90 per cent of visitors succumb to a little flutter, but the choice of what to spend winnings on now includes award-winning facials, organic feasts and an Oxygen Bar, as well as the traditional beers, ribs and Girls! Girls! Girls!

My husband and I arrived with a mission to fit in some R&R as well as standard Vegas mayhem, and we stayed at glamorous newish kid on the block the Aria resort in the hope of some detox by day and retox by night.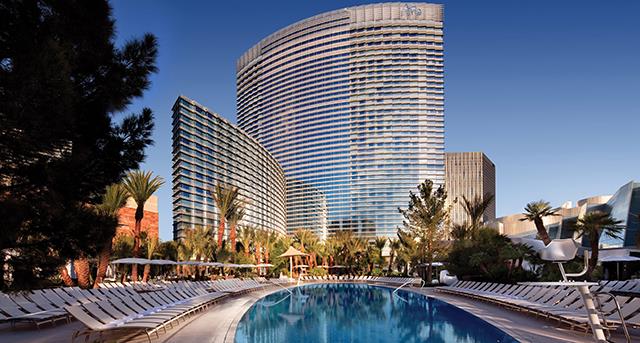 A glamorous new addition, The Aria
In the middle of The Strip, the Aria, with eco-credentials, houses 4,004 hi-tech rooms and suites, 14 restaurants, seven bars, two nightclubs, a theatre and miles of one-armed bandits.

Our junior suite on the 18th floor had a phenomenal view of the town's world-famous neon, not to mention heated toilet seats and a control pad for music, lighting, TV and curtains.

Outside, the view was of the Planet Hollywood Hotel rooftop, where some of The Hangover was filmed - just the inspiration we needed to battle jetlag and hit the town.

We didn't attempt to scale Planet Hollywood's exterior, instead heading to the infamous Beacher's MadHouse, a self-proclaimed 'freak show' hidden in the depths of the colossal MGM Grand. 

Beacher's opening party was hosted by Miley Cyrus. The club features a midget bar, life-size dancing muppets and the world's tiniest stripper - not the most wholesome place. It's definitely not for the faint-hearted (or small-walleted, as the best way to take in this crazy show is to buy a $500 table close to the stage) but acted as a brilliant introduction to the mad, mad world of this 24-hour city

The next morning our souls needed purifying. Vegas has many 24-hour restaurants but the Aria Cafe stood out with its brilliant buffet starting at $19.99.

Healthy meals and sugar/gluten/wheat-free options are available - as is unlimited sangria for an extra $12.99, with enough fruit to count as two of your five a day. Other stand-out buffets are at The Bellagio and Bacchanal at Caesar's Palace.

A visit to the Aria spa was pricey but worth it if you get there early to make the most of the five-star facilities. It has more than 60 treatment rooms as well as indoor pools, marble beds, huge sauna and steam rooms and an outdoor pool with no kids allowed.

Still glowing from the spa, it was time for dinner. Choosing where to eat in Vegas is a huge gamble with so much choice.

Most of the world's top chefs have at least one Vegas outpost. With one vegetarian in the party we were recommended to Joel Robuchon, also in the MGM Grand, a three Michelin-starred restaurant famous for its multi-course degustation menus, including a 12-course vegetarian one.

The food was delicious, including gorgeous gorgonzola custard with poached pear and sage and a miniature open ravioli with white truffle and ginger-infused tea.

Coupled with a beautiful setting and flawless service (a request for mint tea resulted in an entire trolley of mint plants being wheeled to the table) made for the best dinner I've ever had.

We ended the night with live swing music at the Chandelier Bar at the Cosmopolitan.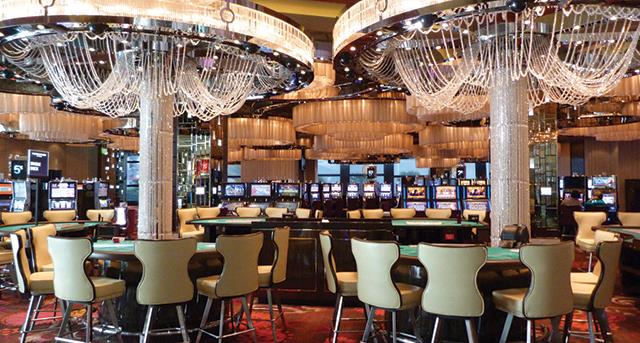 Place your bets, the casino at The Aria
Come Sunday morning we found ourselves doing star jumps next to the poker tables, a surreal moment.

We were taking part in the Indoor Hike, a bonkers way of seeing the hotel while pretending you're doing some exercise as you tour the various floors and buildings of the 67-acre resort.

Post-hike we refreshed ourselves with a glass of 'Pre-party Prep' from The Palazzo's juice bar and even briefly considered an IV-infusion (yes, that's a 'thing' here - the Reviv Spa offers drips and booster injections to reduce hangover recovery time).

But instead we opted for a Maverick helicopter flight over the Grand Canyon.
Driving to the Canyon takes around eight hours, but in our glass-bottomed bird we were hovering over one of the world's most awesome natural wonders within 20 minutes. We spent the next two hours amid breathtaking scenery to a pop-tastic soundtrack and the soothing sound of our pilot Sean telling the story of this crazy desert outpost.

We headed back to the city at dusk, as the Strip was glittering back to life, and looked down on all the bars, restaurants and clubs we want to visit next time we're in town, ahem, detoxing.
First published in the Mail Online - October 2015
More articles below...