Much of country music (well, all of it really) is about unrequited love, loss and the twang of hope deferred. Yet Nashville, the epicentre of the whole caboodle, seems like one of the happiest places in the world.
'Love dies hard,' says a sign sandwiched between bottles of Jack Daniel's at the Mellow Mushroom, where a four-person band is half-way through a respectable version of The Doors' Riders On The Storm.
A bucket sits at the edge of the stage. It gets passed round for tips or you drop some cash into it when requesting a particular song.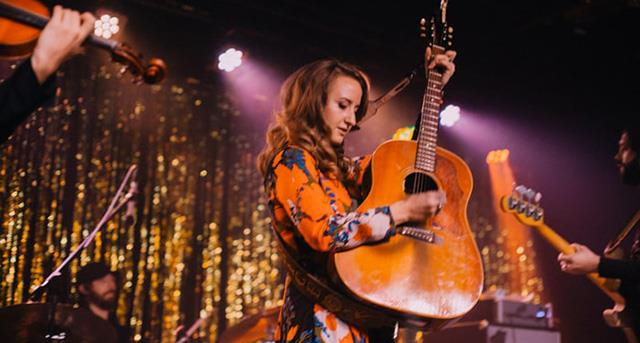 Country artist Margo Price, performs at the Basement East in East Nashville
LOST IN MUSIC
And it's all about the songs. That's the refrain you hear again and again, as songwriters are drawn to Nashville like moths to the proverbial flame. Every waiter or waitress is a would-be songwriter, just as their equivalents in New York are 'resting' actors.
The difference here is that the pain of not making it doesn't seem to matter quite so much because the whole genre is geared towards disappointment. And there's irony in Nashville. One bar on Broadway is called Rock Bottom, where an acoustic guitarist is playing to an audience of four. 'Thanks, anyway,' says his T-shirt.
'Take the long way home,' creeps into most songs – metaphorically if not literally. 'The best is yet to come'. 'I've still got a lot of leaving to do' and so on.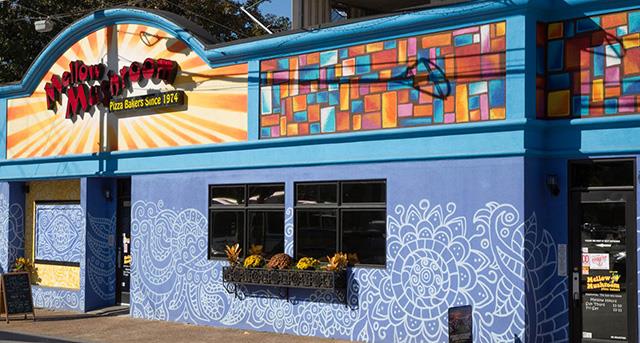 Mellow Mushroom: a popular music venue pizza joint with a rooftop patio
At Tin Pan South's Listening Room, where four singer-songwriters perch on stools, taking it in turn to perform, we are advised in one chorus not to 'hit the panic button because everything's going to be all right'. Is it really? Live music plays everywhere. There's a man singing in the lobby of the Westin hotel, his open guitar case filled with CDs no-one wants to buy, and it's the same story in shops, restaurants, even some banks and at the airport.
Music City, as it's known, is hitting the high notes like never before. Along with country, rock, folk and Americana, the sound of construction reverberates, as a mix of creatives and techies become the city's new settlers.
'Safer than LA, cheaper than New York and cooler than San Francisco,' a barman tells me at Tequila Cowboy.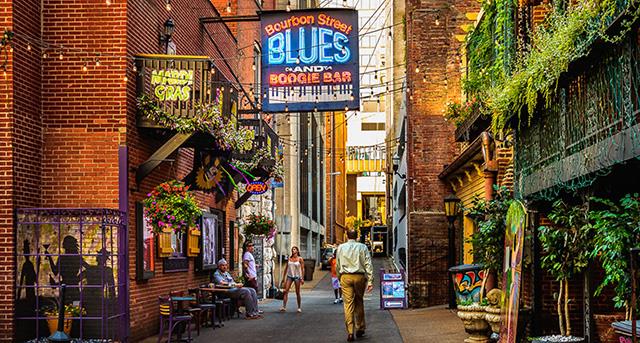 Printers Alley in downtown Nashville famous for it's nightlife
BEST SPOTS TO VISIT
There's lots to do, too. The Country Music Hall of Fame and Museum is always packed, and from here you can join a tour of the Historic RCA Studio B near Music Row – and you should. It's where more than 35,000 songs were recorded by the likes of Elvis, Jim Reeves, Roy Orbison, Chet Atkins and the Everly Brothers.
Better still is the Tour Musicians Hall of Fame & Museum, which celebrates the session musicians as well as the stars themselves. The mother church of country music is the Ryman Auditorium, home of the original Grand Ole Opry, the world's longest running live radio show.
To have played here (Patsy Cline, Dolly 'heart of an artist, spirit of a minister' Parton, Johnny Cash, Bob Dylan, Bruce Springsteen et al) is to have reached deity status, with the audience sitting in walnut pews dating back to when the hall was a religious tabernacle.
But Nashville's buzz is about the present as much as the past (and the fact there's now a direct British Airways flight from London can only help). Taylor Swift was discovered at the exquisitely down at heel, but wonderful, Bluebird Cafe (good luck getting tickets; there's only room for 90 people), and it might have been the bourbon but I'm sure we find the new Oasis at Tin Roof Broadway as dawn breaks.
You can even sit in on a recording session. We do this at Imagine Recordings on Music Row – overseen by Grammy-winning producer Steve Fishell, where Natalie Stovall (who reached the 'playoffs' in the U.S. version of The Voice) is cutting her new single. 'You sound a bit like Emmylou Harris,' I tell her at the end of the session. I think she likes that.
Live music isn't hard to come by in Nashville
NIGHT LIFE HOW-TO
The honky-tonk bars open at 10am. There's no entry fee. Walk in and don't like what you hear? Walk out and try next door. But even when it's bad, it's good.
I wander into one establishment and two women are on stage murdering Leonard Cohen's Hallelujah. It's so dreadful that it's strangely compelling. How do you think they got this gig?' I ask a man with a hipster beard sucking on a bottle of Yazoo Pilsner. 'They didn't,' he says. 'This is a karaoke bar.' 
First published in the Daily Mail -  July 2018
More articles below...