The Spanish moss hangs over Savannah like a veil, revealing the ghosts and charms of this sultry city in glimpses. Take your time here, it seems to say, too much in one go and you will overdose. But the plant that drips from live oaks in the shaded squares is not what it seems. It belongs to the pineapple family, not a moss at all, and that sums up the city itself.
Savannah overflows with mystery. Anything seems possible here.
Georgia's oldest city is a sumptuous film set with a jumble of architecture and eras, wrought iron and verandahs.

A devotee of Gone With The Wind, I have long been captivated by the Deep South's allure. In one of Savannah's many historic homes open to the public, it would have seemed normal to surprise upon a southern belle such as Scarlett O'Hara lacing her stays in a bedroom or Rhett Butler storming down a sweeping staircase.
The Mercer Williams House in Monterey Square is the setting for another book, John Berendt's Midnight In The Garden Of Good And Evil, about a notorious real-life murder trial in the Eighties.

Today, visitors can stroll around art dealer Jim Williams's stellar collection of antiques ending in the room where Jim's male lover was shot dead.
Berendt's book featured drag queen Lady Chablis and voodoo priestess Minerva and, as you wander the streets and quaint alleys of Savannah, such characters would not seem out of place.
The city trades on its eccentricities and boasts spooky ghost and gravestone tours. Take a horse-drawn carriage along the cobbles to Chippewa Square where Forrest Gump sat on his bench.
A horse-drawn carriage ride is a relaxing way to see the sights
Get your bearings on a trolley trip on which you will be joined by historical characters such as General James Edward Oglethorpe, who laid out the city's lovely squares.

Hospitality is big here and most hotels and B&Bs host free evening drinks and nibbles. At the Planters Inn on Reynolds Square, guests gathered over what my husband called 'pretty decent vintages' to swap stories of must-see houses and must-eat restaurants, including The Olde Pink House next door, which offers gourmet southern fare.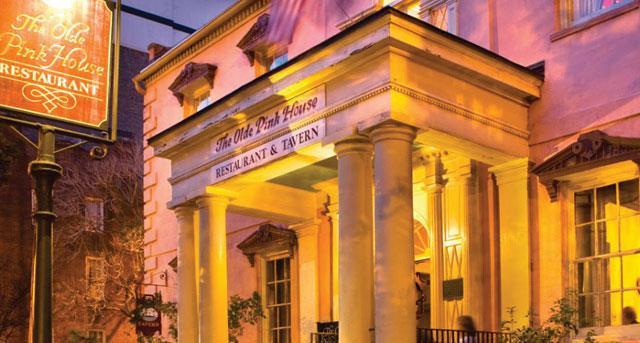 Traditional Southern hospitality can be sampled at the Olde Pink House
Just two hours up the coastal tidal flats, and a world away in style, is Charleston. If Savannah is a blousy belle with petticoats awhirl, Charleston is a sophisticated socialite: cobbled streets, magnificent antebellum mansions and flickering lanterns, set against manicured blooms.

Stroll along the Battery where the Ashley and Cooper rivers meet. Watch sweet-grass baskets being woven in the market.

Visit the pastel houses of Rainbow Row, one of South Carolina's most famous sites.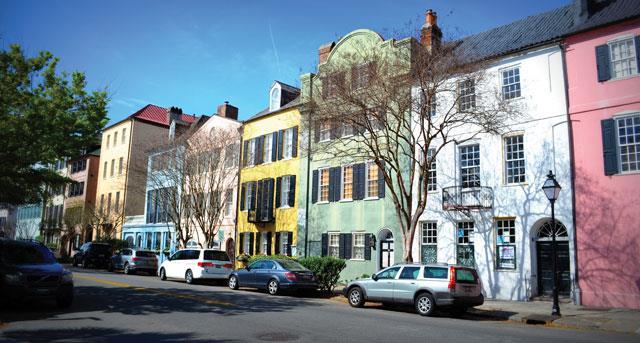 Pastel coloured houses in Rainbow Row, one of South Carolina's most famous sites
Tuck into oysters and shrimp accompanied by grits, the region's speciality of boiled ground maize, for breakfast, lunch or dinner.

Folks here are friendly; a mum and daughter in town to check out the university urged us to visit them 'down the road' in Nashville, a mere 500 miles away.
Charleston shamelessly exploits its Gone With The Wind connection.
Rhett Butler hailed from here and the town won't let you forget it.

'Frankly, my dear, I don't give a damn' features on tea towels and magnets, but while gaudy memorabilia sits at odds with this stately city, they don't mar it. We sailed to Fort Sumter, where the first shots of the American Civil War were fired, plunging Scarlett O'Hara's life into chaos and forming the backdrop to Margaret Mitchell's novel.

Outside Charleston is Boone Hall, one of America's oldest cotton plantations.
The tyrannies of slavery unfold in a harrowing exhibition, vividly set in the original workers' cabins.

Afterwards, numb, visit the colonial revival house or wander the avenue of ancient live oaks, garlanded with the ubiquitous moss, one of many sites claiming inspiration for Scarlett's beloved plantation, Tara.

Perhaps because each jealously guards its appeals, Savannah and Charleston are competitive.

Scarlett linked them as 'aged grand-mothers fanning themselves placidly in the sun', but today there's more to separate them than a state line and 100 miles.
Locals asked which we preferred as if our answer didn't matter, but were anguished if we hesitated. So, which to choose of these two grandes dames of the south? I couldn't possibly say. Go, and decide for yourself. 
First published in the Daily Mail - June 2019
More articles below...