A tall woman wearing a blonde wig and a low-cut red dress pursed her scarlet lips and asked if I'd like to be photographed with her.

'Who are you?' I asked. 'I'm Marilyn,' she said. Of course!

But she could have been Jayne Mansfield, Jean Harlow or Madonna. A man has to be careful.

I was on Hollywood Boulevard, where the good and the great of cinema have been imprinting their hands, shoes and signatures in the pavement for almost 90 years.

This is the epicentre of the tourist vision of Tinseltown, where you can see the Hollywood Walk of Fame, the Dolby Theatre, Madame Tussauds, the Roosevelt Hotel and souvenir shops.

Lookalikes of Michael Jackson, Spider-Man, Zorro, Darth Vader, Robin Hood and Batman were on duty when I arrived, and have become part of the attraction.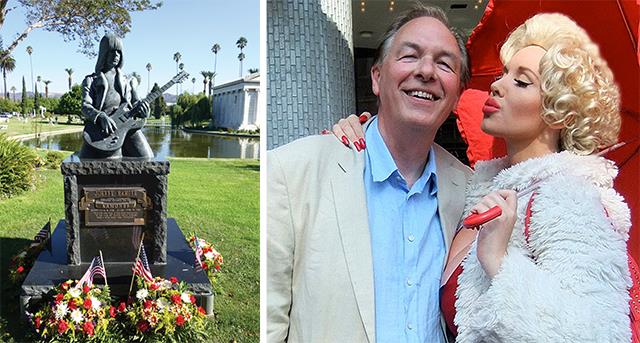 Johnny Ramone honoured in the Hollywood Forever Cemetery, and a blonde moment for Steve Turner
I duly snuggled up with Marilyn and slipped her some dollars. But this wasn't the Hollywood I was here for. I wanted to see the hidden Hollywood, the hip Hollywood - the places frequented by the people who make the movies.

I'd visited LA numerous times over the past 40 years but had never done the 'homes of the stars' tour. I bought a Hollywood City Pass for $59 (£34) that gave me entry to some attractions as well as a Starline bus tour.

I'd wrongly assumed that these tours visited the homes of stars from all eras, but the focus was very much on the big names of today. The first five houses (in order) belonged to Jason Statham, Quentin Tarantino, Sacha Baron Cohen, Justin Timberlake and Bruno Mars.

The bigger the star, though, the higher the wall. Too often I was left with glimpses of rooftops or upstairs windows. Nevertheless, the two-hour tour served as an introduction to the layout of Hollywood from Mulholland Drive and Rodeo Drive to Laurel Canyon and Holmby Hills.

At the Dolby Theatre, home of the Oscars,I didn't think there was anything I could learn in a 40-minute tour. I was wrong. I learned that storefronts outside the theatre are draped on the night to hide any advertising, that an Oscar costs £300, and all statuettes are numbered because they're presented unengraved and are often mislaid in the bar.

We were taken up the theatre's sweeping stairs. 'They're made for women with high heels,' said our guide. 'They're wide and shallow - the stairs that is, not the women.'

In the bar we were shown an actual Oscar (in a glass case) and finally we went on to the stage itself, where we could imagine giving our acceptance speeches.

Something else I didn't know was that actors must apply to have their stars on the pavement of Hollywood Boulevard. The Chamber of Commerce decides who fits, and it costs the applicant £21,000.

But all this was a long way from the true heartbeat of Hollywood. The people who write the scripts, direct the action and act in the movies live elsewhere.

I asked my friend Bobette Buster, an adjunct professor at the University of Southern California's School of Cinematic Arts, and a consultant to studios such as Pixar, Fox and Disney, to draw up an itinerary of cool venues.

So I stayed at the Avalon on West Olympic Boulevard, in a residential corner of Beverly Hills. It was once the Beverly Carlton, and home to Marilyn Monroe. You half expect Frank Sinatra to saunter in, flanked by a couple of heavies.

Rodeo Drive is just a walk away from the Avalon and jammed full of top designer clothing and jewellery stores. One of them, Bijan, is believed to be the most expensive store in the world. You  enter only by appointment and the average customer spend is £60,000.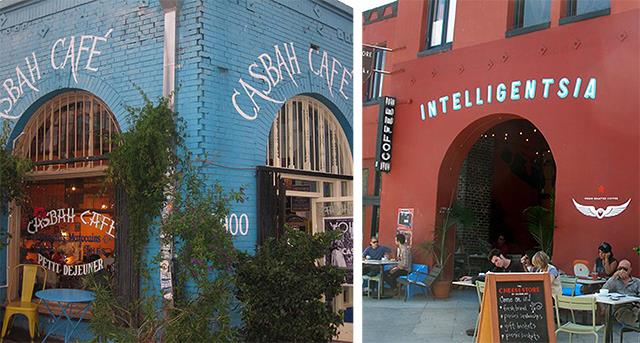 The cosy Casbah Cafe on Sunset Blvd, and Cafe Intelligentsia for people watching
For Hollywood's hip creatives, one of the favoured spots is in the Hollywood Hills on Franklin Avenue between Argyle and Bronson.

The 101 Coffee Shop on Franklin Avenue has a juke box, pebble-dashed ceiling, faux rock wall, and prominently displayed framed family photographs.
It attracts the likes of Brad Pitt, Nicolas Cage, Minnie Driver and Quentin Tarantino to its leather booths.

The biggest attraction on the block was the Upright Citizen's Brigade Theatre. Comedy shows play every night.

Rivalling what locals refer to as Franklin Village is Silver Lake, to the immediate east of East Hollywood. The highest concentration of cool is both sides of Sunset Boulevard.

Here I found high-end specialist shops - Vacation Records for vinyl, Secret Headquarters for comic books, Clementine for flowers.

The clothing stores are similarly specialised; Ragg Mopp for vintage, Surplus Value for military cast-offs, Bucks & Does for jeans and shirts.

Downtown LA is the latest area to be infiltrated by artists, film-makers, musicians and writers.

They are taking over old industrial spaces and lofts in an area designated the Arts District, resulting in an edgy mix of poverty, creativity and refurbishment.

The Urth Caffe on South Hewitt Street, where you can drink organic coffee and eat home-baked pasties, is around the corner from skid row.

Back in Hollywood, Bobette recommended that I check out the Hollywood Forever Cemetery on Santa Monica Boulevard. It's making a name as a music-show venue.

'They also have outdoor movie events,' she told me. 'It's a very cool scene there among the tombstones and crypts of legends such as Rudolph Valentino, Jayne Mansfield and Cecil B. DeMille.'

The big event while I was there was El Dia de los Muertos - the Mexican Day of the Dead. I've never had such a good time in a graveyard. Mexican music boomed, Aztec dancers shook their feathers and people painted each other's faces to look like grinning skulls.

Johnny Depp recently turned up at Hollywood Forever for a Johnny Ramone Tribute (both Johnny and Dee Dee of the Ramones are cemetery residents).

The irony is that most of Hollywood's cool 'new' places have already been cool, in the past.

Downtown was Raymond Chandler's patch, Jack Kerouac headed there on his first Californian visit in 1947 and Silver Lake was where Walt Disney established his first studio in 1926.

Hollywood is elusive. Just as you think you've found it, it pops up some-where else. 'It's not really a place,' Bobette said. 'More a state of mind.'
First published in the Mail on Sunday - January 2015
More articles below...