You don't necessarily have to drive your Chevvy to the levee, whether it's dry or not.

But if you have any sort of fondness for the sounds of Elvis Presley, Chuck Berry, Johnny Cash, Jerry Lee Lewis, Louis Armstrong, Fats Domino, The Supremes and so many other stars of the golden age of American popular music, taking a road trip to some of the places where their great music genres were born will be as much a mission of homage as memorable holiday.

Rock 'n' roll, rhythm and blues, soul and country and western have their roots in Memphis and Nashville. In the deep south, New Orleans is the birthplace of jazz and the cradle of the blues, although the term 'jazz' was first coined in Chicago. The Motown Records label was named for its birthplace in Motor City, the nickname for Detroit because so many car-makers were based there.

One trip will not be enough to take in all the legendary sites where music history was made, but you'll have a big choice of where you can pick up your rental car and begin and end your tour. You can also choose whether to drive a modern car or go the whole hog and hop into a classic 50s or 60s model - perhaps have your very own Chevvy for a week or two.

A must-see on any music tour - Elvis Presley's Graceland home
To whet your acoustic appetite, here are some of the most iconic stop-off points you might want to factor into your route map.

Ten miles from downtown Memphis, on Elvis Presley boulevard, is the pillared neo-colonial mansion Elvis bought in 1957. This is Graceland - and the excitement is palpable as, at the start of your iPad tour, you sweep through the 'musical gates' adorned with notes.

Inside the house, huge reception rooms are decorated in extravagantly impractical creams and whites - contrasting bizarrely with the busy Hawaiian - themed Jungle Room. Outside you'll find the swing where Elvis pushed little Lisa Marie in the early Seventies - and not far away is the poignant family burial plot. This is a road trip after all, so don't miss Elvis's car and motorbike collection, including his famous pink Cadillac and Harley- Davidson motorbikes.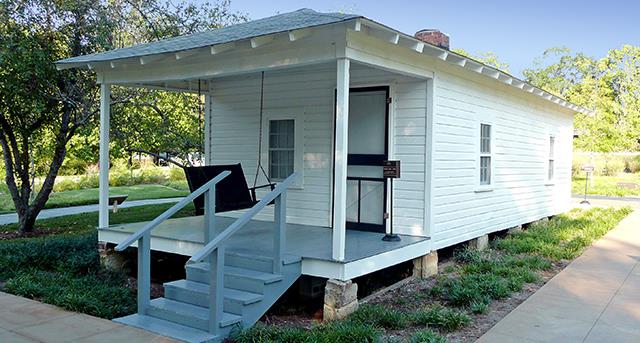 The humble home in Tupelo, Mississippi where Elvis was born
A world away, though in fact only 90 miles, is the King's early childhood home, in Tupelo, Mississippi - a stark two- room shack where he was born and nearby the store where his mother bought a seven dollar guitar for his 11th birthday.

In Sun Studio, near the lively Beale Street in downtown Memphis, you can visit the studio where many say rock 'n' roll was born. You can hear early recordings of stars such as B.B. King, Johnny Cash, Jerry Lee Lewis, Carl Perkins, Roy Orbison and of course Elvis.

On to Nashville and the Grand Ole Opry, the world's longest-running radio show. It has been broadcasting country music for more than 90 years.
Captivating is a back-stage tour of the Ryman Auditorium, which was the Opry's home from 1943 to 1974 and still its venue in the winter months. You can peek into the dressing rooms and stand in the wings where Elvis himself waited to go on stage. It has rung to the voices of Hank Williams, Patsy Cline, Loretta Lynn and, slightly more recently, Bruce Springsteen.

Country Music Hall of Fame and Museum is striking even from a distance, with tall thin windows configured like piano keys. Here, you walk through a timeline of country music history from its early 20th century roots to the present day.

Johnny Cash Museum pays tribute to The Man in Black's 50-year career. There are cabinets crammed with memorabilia from the Cash family collection, as well as interactive exhibits showing his TV show with guests such as the young Bob Dylan.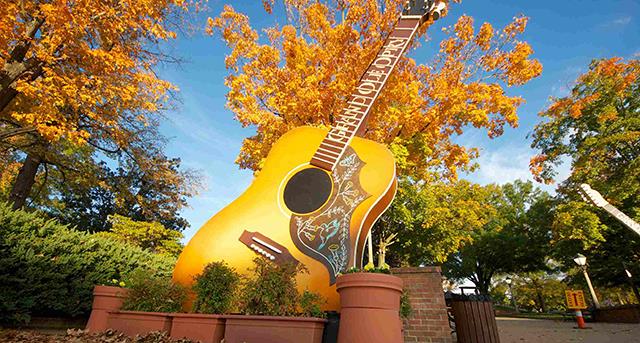 Two huge guitars frame the entrance to the Grand Ole Opry in Nashville
If your road trip can stretch down to New Orleans, you will want to head to the French Quarter - the most beautiful and historic part of the city. The quaintly shabby Preservation Hall on Peter Street is the place to hear the big sounds of traditional New Orleans jazz in an intimate venue.

As a change from being behind the wheel and to get a taste of old New Orleans, board an authentic paddle wheeler, enjoy a buffet of Creole and Cajun dishes such as gumbo and jambalaya and listen to the tunes of a Dixieland jazz band as you cruise the mighty Mississippi.

Alternatively, if you decided to motor north to Detroit you would 'Stop! In the Name of Love!' at Motown Museum, in Studio A where The Supremes and other stars such as The Temptations and the Miracles cut their records.

It was Motown's original HQ, Hitsville USA, where the label's founder, Gordy Berry, lived upstairs above the shop. The museum is packed with photographs and memorabilia from Motown's 60s heyday. 
First published in the Mail Online - March 2019
More articles below...