Dallas: It's what everyone in Dallas is talking about - or so the slogan boasts on the T-shirt I bought.

Big D locals pride themselves on their 'Dallatude', and are as fiercely proud of their city as the original settlers were of the Lone Star State which, once upon a time, was actually its own country.

I head to Texas sometimes twice a year, always to the Rosewood Mansion On Turtle Creek, a mile or so from the iconic skyline made famous by one of the most successful TV shows of all time.
The pool at The Rosewood Mansion On Turtle Creek
The service is world class and the staff are the stuff of folklore. And the restaurant? It's a lip-smacking example of what Dallas does best.
As a food tourist bordering on the fanatical, I would take bad company over bad food any day.

The people of Dallas eat early. Lunch kicks off at 11.30am - very civilised for a breakfast TV presenter such as me. It's tempting to eat prime steaks morning, noon and night when you're in Texas, but such was the variety of other food on offer (not to mention the value) that during a two-week stay, I ate only one steak.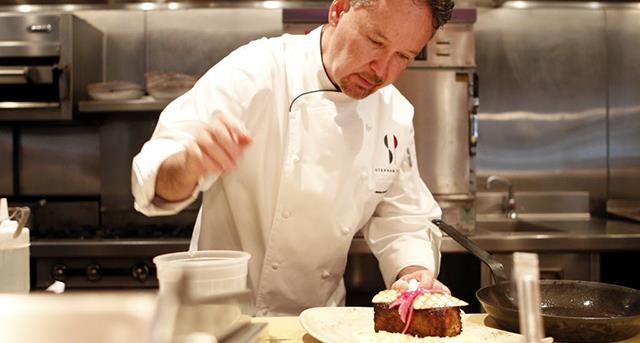 Stephan Pyles is the award-winning chef behind Flora Street Cafe
CULINARY EXPLORATION
Award-winning chef and local hero Stephan Pyles is leading the way at his newly-opened Flora Street Cafe, which has already proven itself to be a stand-out hit - my favourite was the lobster tomalley served in the ubiquitous martini glass.

High-end restaurants such as Highland Park's Bistro 31 (I urge you to try the delicious olive cake), Le Bilboquet and Grange Hall (where the caviar is served in a golden egg) contrast with the hipster offerings of Greenville (a short distance from downtown) and the rustic chic of the HG Supply Company. But there is more to Dallas than food, of course - and, for that matter, JFK, J.R. Ewing and Southfork, although all are still big box office here.
Enjoy a European culinary experience at Bistro 31
The Bishop Arts District used to be Dallas's 'best-kept secret', but it would be hard to call this busy neighbourhood a secret any longer. An area of former warehouses in Oak Cliff is home to some of the city's funkiest boutiques.
DALLAS IN BLOOM
Then there's the Dallas Arboretum, nestled on the eastern shore of White Rock Lake, minutes from downtown Dallas. This urban oasis boasts 66 acres of fabulous blooms throughout the year, and was built in the grounds of two mansions, both of which still stand.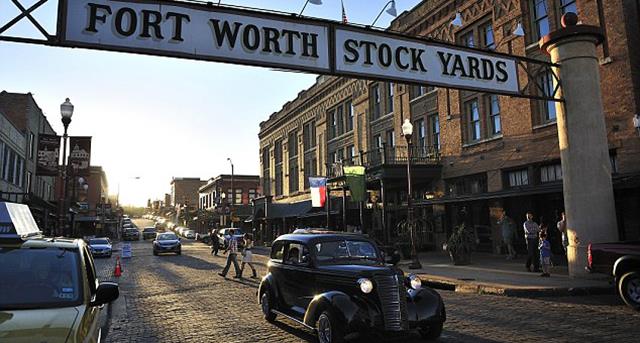 No trip to Texas would be complete without a visit to Fort Worth
A LESSON IN HISTORY
And no trip to Texas would be complete without a visit to Fort Worth, a few miles east of Dallas.

The Stockyards National Historic District is filled with sites from the Old West, Texas-themed shopping and cuisine, rodeos, saloons, Billy Bob's Texas (the world's largest honky-tonk), the Texas Cowboy Hall of Fame and twice-daily cattle drives.

Legendary structures such as the Livestock Exchange Building, once nicknamed the Wall Street of the West, and the Stockyards Station shops and restaurants housed in the old sheep and hog barns, are still used today.
LIFE ON THE RANCH
Wearing the right gear, it's worth taking a trip north of Dallas to the five-star Wildcatter Ranch in Graham County. It's the only dude ranch I have seen with an infinity pool - the perfect place to cool off when you've been riding horses in the height of summer.

The owner, Anne, presides over this sweeping property, which comprises hotel rooms, spacious cabins and a spectacular restaurant. The town of Graham itself boasts the largest downtown square in America. With its Art Deco cinema, quaint shops and artisan cafes, it's fair to say that Marty McFly, of Back To The Future fame, wouldn't look out of place in a DeLorean here.

As I searched for another cowboy hat, a local detected my out-of-town accent as he steamed his own Stetson - a technique used to mould the hat to fit.

When I regaled him with stories about my adventures in Texas, he had a useful piece of advice for me: 'I say arrive on vacation and leave on probation!' Perhaps he took me for a kindred spirit. After all, I was sporting my new Stetson and a three-day stubble. I kidded myself that I was finally blending in - even if the sweat running down my face testified otherwise.
First published in the Daily Mail -  June 2017
More articles below...