Trailing vines and creepers brush my face as I scramble over tangled roots and fallen logs. The rainforest is hot and steamy, and the only sound is the shrill cries and hoots of birds calling to each other high up in the treetops.

Suddenly I hear a rustle of leaves and look up to spot black faces peering down at us. Vervet monkeys are checking us out before they leap off through the branches and disappear into the dense vegetation.

Earla is leading me along a nature trail at Stonyhill on the tiny Caribbean island of Nevis. Some 3,000ft above us, the summit of the dormant volcano, Nevis Peak, is lost in cloud.

It takes a gruelling five-hour trek to reach it so I have opted for a shorter hike, learning about the healing properties of plants and trees.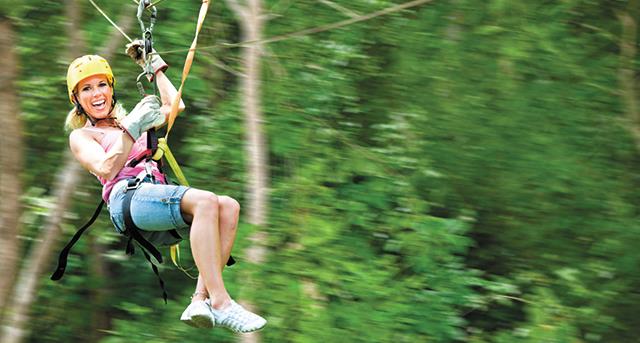 Zipping above the tree tops in St Kitts
As we pick our way across narrow ravines, Earla points out the prickly soursop fruit (anti-carcinogenic) and the creeping charlie ground ivy (good for high blood pressure).  She picks up large brown and white leaves lying beneath my feet.

'They are from the trumpet tree,' she explains.

'We make tea with them to cure coughs and colds.' 

Nevis itself is quiet and unspoilt but is easily accessible with direct British Airways flights to St Kitts, its larger sister, followed by a short speedboat transfer. The only traffic jams here are caused by herds of sheep and goats.

I am staying at the Nisbet Plantation, a former sugar plantation and the only one situated right on the beach. Its rocky groynes are used as diving boards by pelicans on the lookout for breakfast.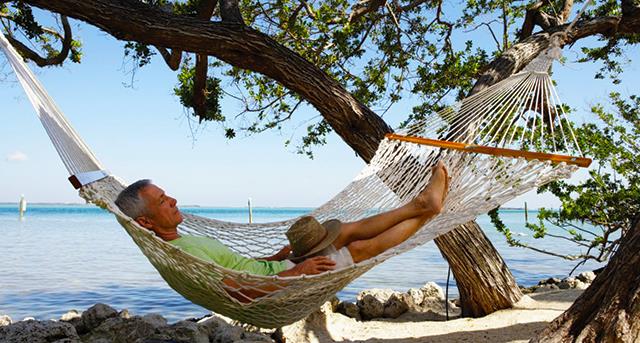 The perfect way to relax in the Caribbean
Pretty clapboard cottages are scattered among the palm trees and dinner is served in the Great House, where guests are greeted by Patterson, the flamboyant maitre d', who has a collection of 6,000 ties. Afternoon tea is served on the terrace beside the croquet lawn, and with friendly staff who all address you by name, it is easy to see why guests return time and again.

The ruins of a sugar mill stand at the entrance and the old stone oven is still intact with a plaque in memory of Fanny Nisbet, whom Horatio Nelson met here and eventually married in 1787.

Their wedding took place at the Montpelier Estate, now the deluxe Montpelier Plantation Hotel situated in the mountainous interior, and you can learn more about his life in the Nelson Museum in the capital, Charlestown.

The remains of sugar plantations are dotted across Nevis. The New River Coconut Walk Estate was the last to close in the 1950s and will soon become an open-air museum.

Others have been converted into hotels. My favourite is Golden Rock, which has fantastic gardens and panoramic vistas of neighbouring Monstserrat.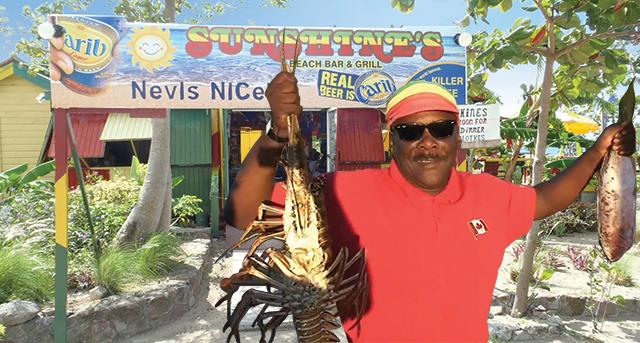 Sunshine hold's the day's catch, ready to be served in his beach shack
For an authentic Caribbean meal, head to Sunshine's on Pinney's Beach. I opt for spicy jerk chicken with rice and peas, and the owner's signature Killer Bee cocktail. Back at the hotel I flop into a hammock strung between the palm trees.

Most who venture to Nevis also take in the white-sand beauty of big sister St Kitts, which lies just 50 miles - but a breathtaking world away - from the glitzy enclave of Antigua.

Little St Christopher, as it's sometimes called, was the first Caribbean island to be spotted by Columbus and he gave it the name of his patron saint and namesake. Visually, it's a seductive fairytale island of dark forests and cloud-capped mountains, a tiny landmass in a crystal clear sea.

Columbus showed a little more imagination when he named Nevis because he thought the clouds surrounding its peak looked like snow. Its original name was Nuestra Senora de las Nieves (Our Lady of the Snows).

Less touristy than Nevis, St Kitts has a down-to-earth feel and in its quieter spots you're more likely to encounter wildlife than you are humans. There are more monkeys on St Kitts than people. The Green Vervets brought here by the French as pets look cute but they can be tricksy, with thieving a problem.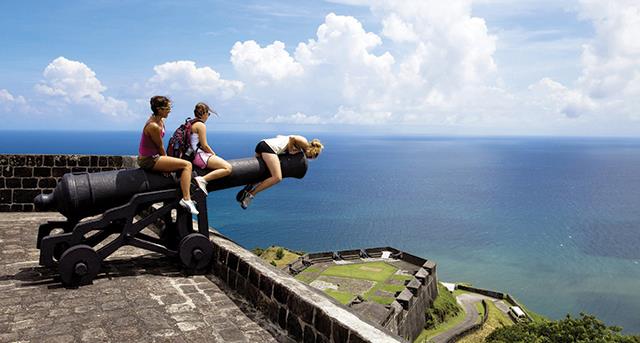 Views as far as the eye can see from Brimstone Hill Fortress in St Kitts
Key sites on St Kitts include Brimstone Hill, the island's one-time fortress. Play soldiers at this former British stronghold and you'll be rewarded with stupendous views and a site so pristine that the troops could just have moved out.

When night falls, head to the famous Strip for a rum punch stumble; home to Mr X's Shiggedy Shack and a string of other beach bars. Drink, dance and enjoy the stars in the big skies above.

And the perfect way to shake off a night on the tiles Caribbean-style? With one of those hammocks strung between palm trees, of course…  
First published in the Mail on Sunday - June 2016
More articles below...