Where do you go on holiday when your face is so famous that anonymity is impossible?

Surely the only way is to choose a resort where everyone is as celebrated as you are in their field and as well-off, so guests are used to seeing Julia Roberts in the swimming pool, Daniel Craig in the restaurant, and Hugh Jackman arriving in the elegant lobby?
PURE LUXURY
Step forward the effortlessly luxurious One&Only Ocean Club in aptly named Paradise Island Drive, Nassau. In our bleak midwinter, what you need is something to look forward to, somewhere sunny and sandy and warm. What you need is a trip to the glorious Bahamas.

The archipelago's 16 main islands offer a smorgasbord of leisure activities, from sailing and snorkelling, to golf, diving, fishing, even swimming with sharks -or pigs.

You might favour climbing aboard your own personal mini yellow submarine to dive under the waves and see the multi-coloured marine life.

All these are on offer as well as other unusual experiences, such as beer-or rum-tasting, cigar-rolling trips and interactive chocolate tours (yum!). Or you might just want to flop on a lounger beside the One&Only's extraordinary new infinity pool.

The pool is part of the resort's amazing five-month, multi-million-dollar revamp and a feature with the wow factor that has been a roaring success with guests.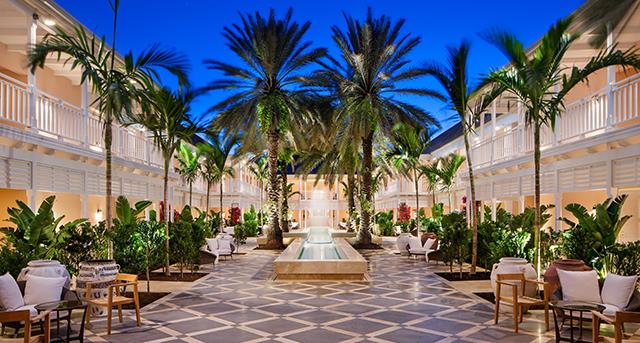 Sit in the palm lined courtyard night or day
NEW ADDITIONS
While the infinity pool is the most obvious result of the extensive renovation, there is also a new Ocean Pool Grill where you can order soft-shell crab tacos, Bahamian lobster salad, and a killer cheeseburger.

These impressive additions complement existing amenities including the Dune restaurant by culinary wizard Jean-Georges Vongerichten, and a delightful lounge and library where afternoon tea, cigars and fine wines and whiskies are served.

There are more rooms in the Crescent Wing, and some nice private villas with private chef and butler if you really can't face your public (Villa Bougainvillea appeared in Casino Royale). There are also family cottages, a pool with toddler area, and the KidsOnly club.
Experience 5 star luxury and service with a smile
The Hartford Courtyard has been completely redesigned and transformed into a luxurious, relaxing al fresco lounge. The Hartford Wing rooms have been made bigger and plusher than ever, and feature extraordinary extras such as bathtub TV and $10,000 lavatories that have an inbuilt seat warmer - is this the height of luxury or what?

Guests are well looked after by the resort's butlers, too, who pride themselves in satisfying every whim, from unpacking your luggage to ironing your underwear. Mine was called Prince. I was tempted to order the 'Romantic Turn Down' in the hope that Hugh Jackman might be involved somewhere along the line.
ALL THE TRIMMINGS
Exceptional service also comes in the form of fruit skewers and ice cream, sunscreen and magazines, delivered to you as you sunbathe - wallowing in some busy-doing-nothing, total me-time is apparently what superstars like to do most of all on holiday.

And One&Only Ocean Club, 13 miles from Lynden Pindling International Airport, has other flopping opportunities apart from that infinity pool.

There's the beach, of course, and another gorgeous Versailles pool surrounded by palm trees and hidden away in a quiet spot with the resort's famous terraced garden and cloister ruins as a romantic backdrop. It has its own cafe, too.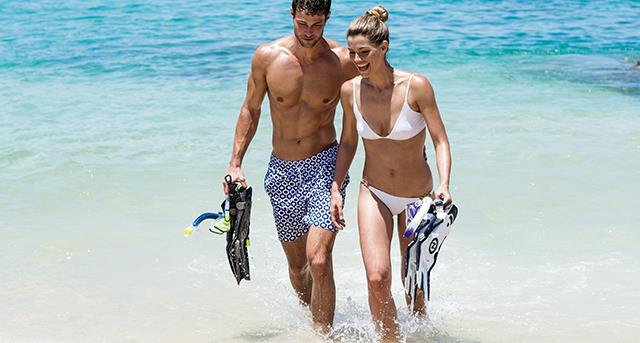 Enjoy the best of Bahamas snorkelling in the clear water
WIND DOWN
Alternatively, close the door in the fabulous Balinese-style spa and float away for a few hours of pampering.

If you're really struggling to switch off, there are early-morning yoga sessions every day...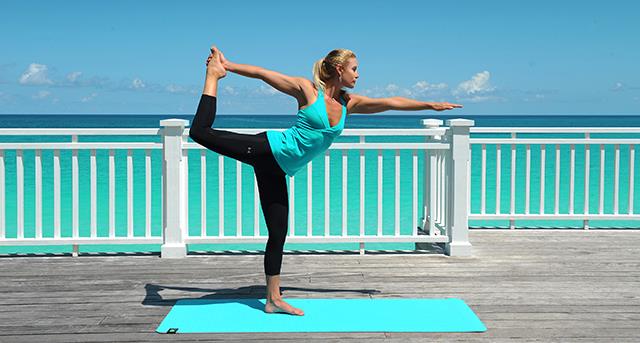 Keep fit and unwind by doing some outdoor yoga
And it's worth taking a sneaky look to left and right of you. You never know who you might be doing the downward-facing dog next to.

British Airways fly non-stop to The Bahamas 4 times a week. Alternatively you can fly via Miami for a great twin-centre holiday alternative.
First published in the Mail on Sunday -  October 2017
More articles below...