A heady mix of contradictions is going on here in the Cayman Islands. Offshore diving and offshore banking. Dazzling sunsets and financial assets. Delicious shellfish and dubious shell companies.

Tucked in the westernmost corner of the Caribbean, I wonder what the Caymans, one of the world's most notorious tax havens, offers civilians like me as I ruefully pay £30 for a ten-minute taxi ride and almost as much for a glass of wine.

It's expensive, but it's rapidly gaining status beyond the financial world as a 'place to be' - attracting the fashionable and famous like bees to a tax-free honeypot. Bella Hadid, the U.S. model with more than 57 million Instagram followers, chose to ring in the New Year here.

And just last week her friend, fellow supermodel Emily Ratajkowski, who has a mere 30 million followers, was spotted here canoodling with American comedian Eric Andre.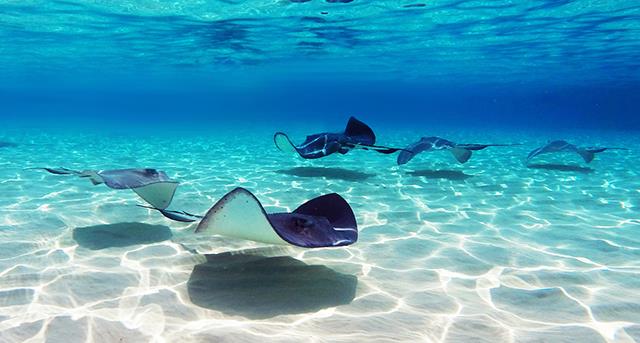 Stingrays love the warm waters surrounding the Caymans
But where exactly on Grand Cayman, the largest of the three-island archipelago, had these beautiful people chosen to holiday for their winter-sun escape?

The buttercup-yellow towels in their holiday snaps are a dead giveaway.
They were at Palm Heights, the stylish all-suite boutique hotel which my mother and I - mere mortals - are calling home for the week.

It's situated on Seven Mile Beach, a crescent of coral-white sand which is widely regarded as one of the best beaches in the Caribbean. The hotel's aesthetic is that of a 1970s socialite's house party, complete with a white baby grand piano, palmtree-lined pool and chic Cinzano bar.
Everything is underscored by the disco sounds of Chic and Earth, Wind & Fire.

Thankfully, though, Palm Heights offers Stateside glamour and Caribbean calm in equal measure. Non-celebrity guests include solitudinous artists, solo travellers and affluent Upper East Side types whose children are so well-raised that they quietly read novels on the beach instead of bickering.
We quickly settle into the millionaire lifestyle; our mornings are spent on the private beach, shrouded by parasols in that yellow, and snorkelling among striped yellow fish which are so in keeping with the hotel's look, I wonder if they were commissioned by the designer.

Next are boozy-woozy lunches fuelled by Pacific oysters, yellow-tail sashimi and chilled Pouilly-Fuisse wine, while afternoons are spent soaking in the giant freestanding stone bath on our rooftop, where I roll around in the tub like the olive in my martini glass.

Then it's time to don cocktail dresses and endure the hardship of the evening meal, when handsome men in white dinner jackets serve red snapper, theatrically butterflied and stuffed table-side, amid a sunset which creates our own Turner painting.

One evening, we drag ourselves away from the hotel and head for a bay at North Side, one of just a handful of places on Earth where it's possible to see bioluminescent phytoplankton - microscopic organisms which, at night, glow neon against inky water.

A chemical defence mechanism means any movement on the cell walls of these micro-algae causes them to light up - just once for the night, before recharging during the day.

As the boat hurtles through the water, swooshes of effervescence follow. It's spectacular sight. Above, I can see the Plough bright amid other constellations. Around me, the waterline is flanked by dazzling multi-million-pound mansions (one has a two-storey aquarium). And below is the parallel universe of underwater stars.

On the seabed there are faint pulses of dull light, like distant lightning through clouds in a tropical thunder storm. I'm told that these pulsating globules are benign jellyfish, while the darting brighter flashes of light spotted drum fish.

Back at Palm Heights, swaddled in a fluffy robe, it's time for a glass of champagne while learning how the Cayman Islands became the registered home of some of the world's biggest billionaires.
Exploring eerie shipwrecks dotted around the islands
Local legend of the Wreck of the Ten Sail goes that, in the 18th century, ten British merchant ships dashed on the reefs surrounding the island. Caymanians came to their rescue and, as a reward, King George III bestowed 'tax free' status on the Cayman Islands.

The truth is more prosaic: when the first Barclays bank popped up here in the 1950s, this British Overseas Territory brought in new laws to capitalise on the lack of taxation and the growth of global banking.

It was thanks to these laws that the offshore tax industry flourished over the decades, allowing companies to register here via complex structures that allow them to shave off hefty portions of their tax bills.

British Overseas Territories (BOTs), which are self-governing, are the last vestiges of the British Empire. Like the other BOTs - such as Bermuda, the Falklands and Gibraltar - Cayman counts King Charles as head of state and his portrait will greet you at the airport. Despite other British touches, such as driving on the left-hand side, a nice botanic garden named after Queen Elizabeth II and the late Queen's head on their banknotes, Britons are a rare sight here. They're missing out.

One the biggest draws for holidaymakers are the shipwrecks and rocky reefs. Away from the glitz and glamour of Seven Mile Beach, an entire diving industry has evolved on the north and east of the island.

Divers roam the wreck of the USS Kittiwake, the 250ft U.S. Navy submarine rescue vessel sunk in 2011, and scour coral-encrusted sea walls a mile deep.

The biggest sights are spotted eagle rays, turtles, bright green octopuses and even hammerhead, tiger and reef sharks.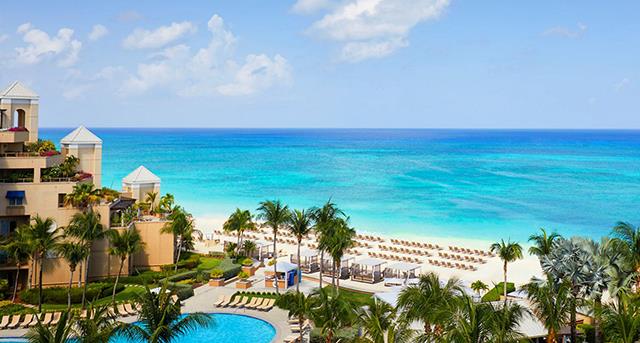 The Ritz-Carlton
One day, we visit Cayman's grande dame, the Ritz-Carlton, for afternoon tea at the Silver Palm lounge, where gentlemen eschew after-dinner brandies for 12-year-aged Tortuga rum.

After nibbling on jerk chicken vol-au-vents and mango vanilla scones, we pass a jewellery store whose manager encourages me to try on a duty-free, diamond-encrusted emerald necklace worth £190,000.

I feel like an Oscar-winning actress as I parade around in the heavy pendant - but nearly give the manager a heart attack when I pretend to run out of the shop still wearing it.

A holiday here is not for the light-of-pocket. There's no income tax, no sales tax, no corporation tax and no capital gains tax. Instead, the Caymanian government makes money from import duties - which can be as steep as 27 per cent.

It may lack the atmosphere of some Caribbean islands: rhythm, colour, witty slang, extroversion.

But it's one of the safest places in the Greater Antilles and a deeply conservative country, with 700 churches - roughly one for every hundred people.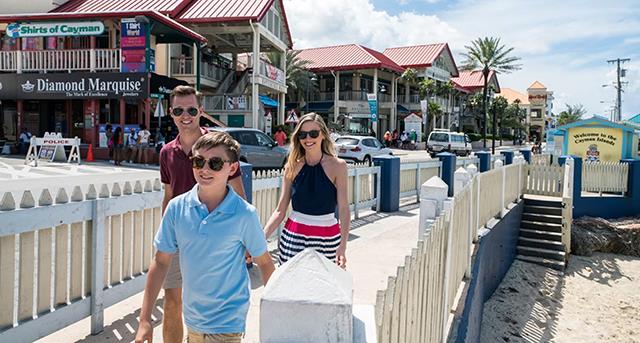 Shopping in George Town
I wander into the capital, George Town, to explore this 'global financial district' where 100,000 companies are registered.

It should probably be renamed Ghost Town; I don't see a single banker, but instead encounter derelict bungalows with broken windows.

A local puts it bluntly. 'There's "The Cayman Islands" and there's "Cayman"', referring to the two different worlds inhabited by the rich white people on Seven Mile and the Caymanians everywhere else.

More Seven Mile luxury development is under way: a Hilton sprung up last year, the five-star Grand Hyatt is opening some time in 2023 and the Mandarin Oriental is under construction.

By the final night I'm fully immersed in the Cayman Islands lifestyle - mingling with tie-loosened financiers, drinking flaming rum cocktails and chuffing on Cohiba Behike Cuban cigars.

But then it's time to fly home. In economy class.

Back to the real world.
First published in the Daily Mail - February 2023
More articles below...