It was the great West Indian commentator Tony Cozier who first steered me in the direction of Bequia (pronounced Bekway).
We were working together while England's cricketers were taking a hammering in the West Indies on St Vincent some years ago when Tony pointed across the sea to an island whose outline I could just make out. 'That's where I always take my holidays,' he said. 'But keep it quiet.'
Now, Tony was a proud Barbadian who had a rustic house on Barbados overlooking the wild Atlantic side, close to Bathsheba. For him to recommend somewhere to visit other than his home island took me by surprise. Clearly Bequia must be rather special.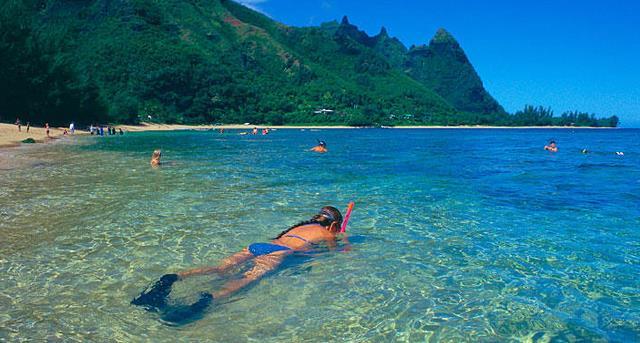 Enjoy some snorkelling in the waters of Friendship Bay
A REASON TO CELEBRATE
For the Agnew household, the past year has been one of wildly fluctuating emotions, from desolation to absolute elation when my wife Emma got the all clear after a battle with breast cancer.
This trip shone like a beacon throughout; a target to reach, as well as much-needed recuperation after the long haul of chemotherapy, surgery and radiotherapy. To be travelling to Bequia for the first time had added poignancy in that we lost Tony to cancer two years ago. He and Emma were very close.
The Pool area of the Estate Villa
NAVIGATING OUR WAY
Getting to Bequia needs planning and that's part of its charm. We flew from Grenada in a nine-seat aircraft, enjoying lowlevel views of the Grenadines.
Immediately on arrival it felt as if we had stepped back in time. Being Sunday, we saw groups of immaculately dressed schoolchildren excitedly returning from church and many of the weatherboard houses are painted in bright colours.
We stayed at the Bequia Beach Hotel on Friendship Bay – the best hotel I have experienced in the Caribbean.
It is on the Atlantic side, with waves crashing into the beach a few yards from the open-air dining room and the island of Mustique dominating the view beyond the bay.
The rooms are spacious and the gardens are delightful, with tiny hummingbirds darting busily from flower to flower.
And nowhere in the West Indies have I encountered staff like those at Bequia Beach. Their engaging enthusiasm, energy and conviviality is entirely genuine and infectious.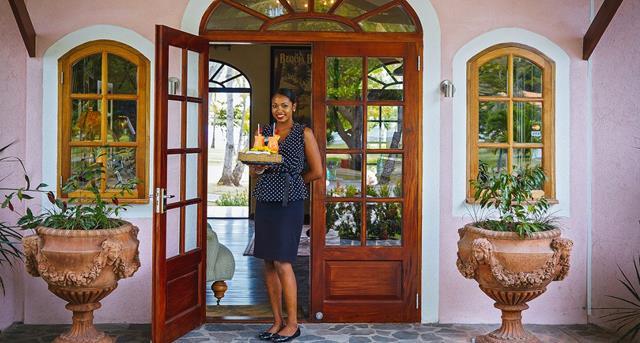 A warm welcome: drinks on arrival at Bequia Beach
DELICIOUS FOOD
Their rapport with their guests shone through. The food was excellent: ever eaten hibiscus bread? And the passion fruits, skinned and with their tops sliced off, were the size of apples.
And so to Princess Margaret Beach, known as Tony Gibbons Beach until one day the visiting Princess decided to have a quick dip. It was only a ten-minute drive from our hotel in an open jeep made for rugged terrain, which was just as well.
On Princess Margaret Beach the sea is calm and home to dozens of moored boats of various sizes and magnificence.
In sharp contrast, simple local craft scurry between them plying their trade of fresh water and ice.
It is a tranquil place with plenty of shade, but there is also much going on. Swimming among cormorants diving into the sea for fish is quite an experience, while, in an eye-catching purple shack, someone called Fay would dispense rum punch as well as carry out hair braiding on request.
Beautiful sunsets at Bequia Beach
At the northern end of the beach is the splendid Jack's Bar, owned by the Bequia Beach Hotel - you could spend all day eating and drinking. The lobster and mac 'n' cheese are magnificent.
If you fancy getting out and about, there is a turtle sanctuary, and the Maritime Museum reminds us that Bequia remains one of only three licensed whaling stations in the world. I did pop into the cricket ground to inspect the pitch. But this is an island on which to unwind and try to match the pace of the locals.
One afternoon we took a taxi the short distance to Sunset Cottage in Lower Bay. 'This is where Mr Tony Cozier used to stay,' the driver announced reverentially. Typical of Tony, it was unpretentious and I could picture him sitting on the veranda sipping his favourite margarita, enjoying the view over the water as the sun went down.
I had once wondered what made my old Bajan friend return to Bequia time and again. Now I know.
First published in the Daily Mail -  September 2018
More articles below...