Some might remember a TV show of seven years ago called The Young Ones (not to be confused with the comedy series of the Eighties), in which six celebrities in their 70s and 80s attempt to overcome some of the problems of ageing by harking back to the 1970s.

They spent their time in a country house decked out as a 1970s time capsule. The idea was to transport them back to their heyday - they walked on shag pile carpet and watched Crossroads, sipping Dandelion & Burdock, to see if it improved their ailing health and failing memories.

The six were cricket umpire Dickie Bird, dancer Lionel Blair, newsreader Kenneth Kendall, radio presenter Derek Jameson and actresses Sylvia Syms and Liz Smith - and it seems that taking them back to a world where everything was strictly 1975 had a miraculous effect. The experiment, particularly the part involving shag pile carpets, was very successful and they did feel younger.

I mention this because I met a very clever man called Bengt in Bequia, a tiny island just a speedboat dash from Mustique, who is conducting a similar experiment. Bengt is the proud owner of the Bequia Beach Hotel, which is full of couples of a certain age congratulating other couples for being so much younger than all the other couples of almost certainly the same age.
Bequia Beach Hotel staff always remember their returning guests

Trapped in time
For Bengt, you see, has created a perfect time capsule. By the time you've checked into one of the 1930s colonial-style rooms with 1950s-style posters, and followed 1960s-style wooden signs to the bar and ordered your first Dark 'n' Stormy, you're already feeling 20 years younger.

It's not just the decor, agreeable though it is. Everything here exudes old-style charisma, a Pathé newsreel picture of how the Caribbean used to be before the big bucks and giant cruise liners steamed in.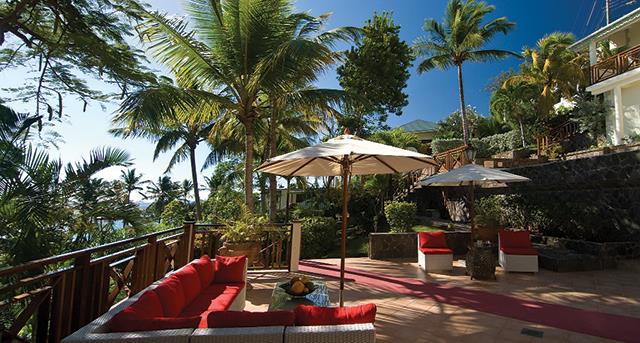 A place for quiet contemplation at Bequia Beach Hotel

There's nothing fusty about the Bequia Beach Club, but everything is as it should be. Charming open-air restaurant on the beach: check. Delicious fresh seafood: check. Friendly but unpushy staff: check. Secluded stretch of sand fringing a gently swelling ocean: check. Cool pool with mysterious rejuvenating powers: check. Friendly faces at the bar swapping rum-punchy gossip about how Carole Middleton put people's noses out of joint in Mustique: check.

The island, which hasn't changed much since Harold Macmillan stayed here (someone told me they'd read he came up with 'You've never had it so good' on the island) is proud of its Royal connections.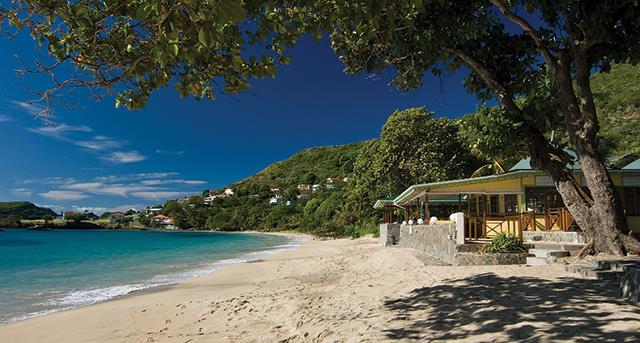 The idyllic Bequia beach and the Bagatelle restaurant

Princess Margaret once dropped anchor off Bequia. As a result there's a rather fetching beach named after her. A 30-minute stroll away is the capital, Port Elizabeth, a scruffily teeming one-street town packed with shops, markets and harbourside bars.

Forty minutes away by twin-prop plane is the five-star Coral Reef Club in Barbados, where we stayed for our second week. It, too, exudes old-school cool, although this time for very A-list guests.

Had they wished, the owners of this hotel could have adopted the Bequia naming policy and christened its beach after visiting royalty. Or you could now be staying in a Harold Pinter, Agatha Christie or Prince Harry suite. All have enjoyed the hospitality of the O'Hara family, who have owned the hotel since the 1950s.

But this is the kind of hotel where the rich, famous and we lesser mortals can drift in and out incognito.

No wonder Agatha Christie was inspired to write A Caribbean Mystery here.
There's still an air of exotic mystery about the place, as if a man in tennis whites might appear at any moment among the palms and confess to Miss Marple that yes, it was he who committed the heinous murder in the bougainvillea and he doesn't care who knows it.

Every room is high-spec and the restaurant is high-end. But Coral Reef hasn't lost sight of the good old days. You can bet every dry martini here is shaken, not stirred.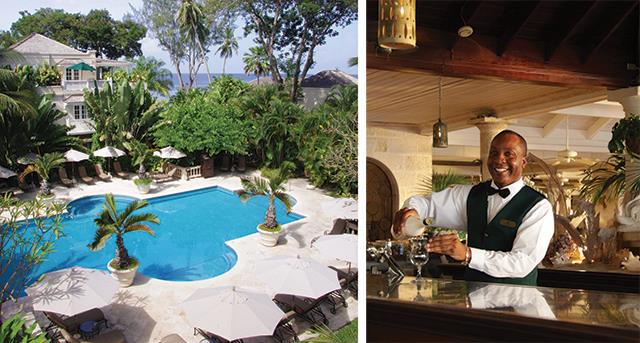 Preparing a traditional Martini at the Coral Reef Club

If you hanker after a nightclub, well, that's just a short car ride away - this is hip and happening Barbados after all. But at the Coral Reef it's more cocktails and cool crooners.

Family values
The Coral Reef Club is built on good old-fashioned family values. And that's down to the O'Haras. They may look as if they've stepped out of a Ralph Lauren catalogue, with their brilliant white shirts and glossy good looks, but they are a very real sleeves-rolled-up presence in the hotel.

Matriarch Cynthia glides around the reception rooms and hosts an elegant cocktail party once a week, and sons Mark and Patrick patrol the restaurant.

This is not just their livelihood, it's their home, and you are made to feel like their guests, not just hotel guests.    
First published in the Mail Online - February 2017
More articles below...