Just when you thought it was safe to order another coco loco and settle into snooze on the lounger, along come the wellness warriors to liven up your holiday.
Healthier holidays are booming as travellers demand more from their vacation. Yes, there are still lazy beaches, rum-laced happy hours and multi-course meals. This is the Caribbean after all.
But my particular hideaway has added new activities including floating fitness classes, happy hour sketching sessions and mindfulness from an in-house psychologist, inspired by health-conscious guests.
And while this is definitely not a boot camp kind of break - it's still perfectly acceptable to get busy doing nothing if that's more your thing - the fact that there are some 'good for you' options available is good to know.
I stayed at Galley Bay resort in Antigua, an Elite Island Resort - and this is how a typical day panned out...
8am We wake to the sound of waves and birds. With most of Galley Bay's 98 rooms and villas being directly on the beach, for anyone looking to use their holiday time to connect better with themselves and nature this is a beautiful way to start the day.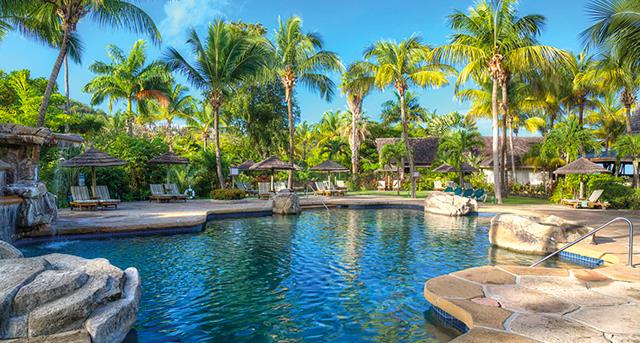 Chill out beside the beautiful pool
8:30 It's the first tough choice of many: whether to blow the cobwebs off with a paddle beside the pristine beach, a jog around the palm trees and turtle sanctuary, or a quick gym session.
9:30 A relaxed breakfast at the beachside restaurant where the healthier options include fruit, yoghurt, eggs and fresh juice. If you intend to leave Antigua fitting into the same jeans you arrived in some willpower will be required as this all-inclusive has a knack for knocking up devilishly moreish pancakes and French toast. We're trying to take it in turns - one day on, one day off from the most naughty things. Because life should be about balance, right?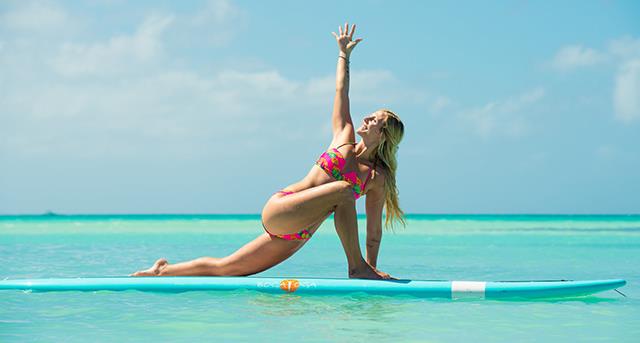 SUP boarding: An excellent upper body workout
11.00 Getting physical with the new floatfit classes in the pool (or the sea if you're staying at the St James's Club on the other side of the island). The class is a 20 minute HIIT (High Intensity Interval Training) workout including burpees, lunges, squats, mountain climbers and planks on a floating 'aqua base' board (like an inflatable surfboard) and is a brilliant way to get a bit fit while topping up the tan and having a giggle (the poolside sunbathers watching us wobble into the water are definitely getting a laugh).
The class is free (all activities at Elite Island Resorts, including daily yoga, hiking and watersports, are included in the price of a stay) and working out like this on the water offers a low impact activity that is suitable for all ages and fitness levels.
12 noon Lunch in the Gaugin restaurant, which features romantic thatched cabanas and serves up delicious grilled seafood.
15:00 A spot of sunbathing, on a private lounger near the room, a hammock by the pool or a  rocking chair on the deck.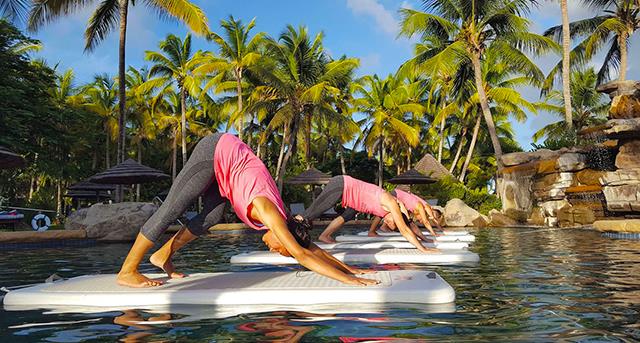 Floatfit classes are a great way to get in shape
17:00 Back to the pool for a short stretch class on the aquabase boards. This time I fall in only once.
18.00 A chance to reflect on the day at Happy Hour. Every hour is technically Happy Hour at the all-inclusive Galley Bay bars, but this is when guests like to congregate before dinner. And now the resort is serving up bespoke 'Ink & Drink' sketch books alongside the sundowners to offer visitors the chance to colour themselves calm with designs by Puffin illustrator Adam Stower and mindfulness tips by psychologist Dr Nicole Gehl.
A good colouring session has been linked to relieving stress and anxiety and Adam's sketches of the property's views and nature are a great way to be mindful of the jaw-dropping location we are in. We also love Dr Gehl's simple tips on taking the qualities of a great holiday home with us.
20:00 A quick visit to the Rum Shack, where it's possible to taste more rum than is decent before dinner.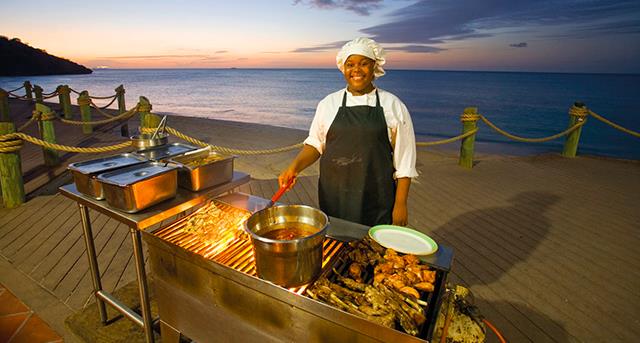 Expect warm and friendly service at the weekly BBQ
21:00 We finish the day with dinner at Ismay's. This is the resort's most charming restaurant, named after the longest-serving member of staff, and the perfect place to celebrate a special occasion. As we settle at one of the romantic tables on the beach we decide to practice some of Dr Gehl's methods, focusing on the feeling of the sand underneath our feet, the sound of the gentle waves and the taste of cold champagne as we toast this beautiful place.
First published in the Mail on Sunday -  April 2017
More articles below...