Last time I was in Barbados, I came across Jeremy Clarkson, shooting the breeze with his crew over rum and cokes on a break from filming for his The Grand Tour show
The little Caribbean island is just that kind of place. Its ritzy hotels such as Sandy Lane and glam restaurants such as The Cliff attract TV stars, Premier League footballers and their wives in droves.
But don't let this put you off. There is so much more to the island than its status as a celebrity haven, and you don't need a footballer's salary to have a fantastic time. I've visited eight times. Here is my pick of affordable things to do, and places to go, eat and stay.
FESTIVAL FUN
Caribbean islands are famous for their festivals and party atmosphere and Barbados is no exception.  A raucous carnival takes place in the summer, culminating with the Grand Kadooment Parade, when revellers dressed in feathered headdresses and bikinis strut their stuff through the streets of the island's capital, Bridgetown.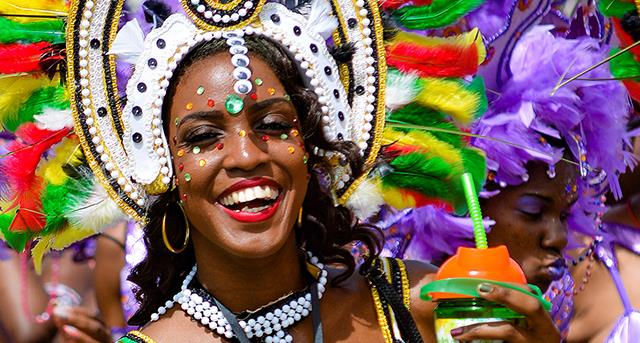 Don't miss the summer carnival in Bridgetown
LOCAL CUISINE
Caribbean food has a unique style and trying out delicious dishes is an important part of a visit, from jerk chicken to simmering stews, refreshing smoothies and rum cakes.  But if it's a Friday evening, follow what seems like half the island down to the fishing town of Oistins for its weekly 'fish fry'. With a healthy mix of tourists and locals, the atmosphere is convivial, the calypso music deafening, and the food cheap. A platter of swordfish, mahi mahi or tuna will set you back about a tenner.
RACE DAY
It might seem a surprising option, and not the first thing that comes to mind in the Caribbean, but a day at the races is a fabulous outing here. For 170 years, horse racing has been staged at Barbados's Garrison Savannah; the track runs around the edge of what was the parade ground in British colonial times. Meetings have a casual, tropical air, with egrets on the grass, locals downing bottles of beer and kids sucking on snow cones. The dates of race meetings are on barbadosturfclub.org.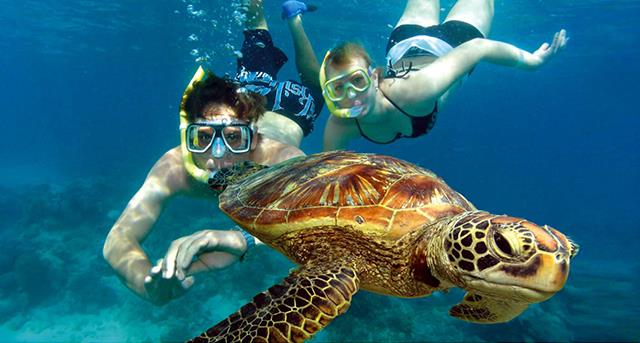 Swim with tame turtles in Paynes Bay
SWIM WITH TURTLES
An unforgettable experience is to commune with the turtles Every morning, turtles congregate off the west coast beach of Paynes Bay. The creatures are tame, so as you snorkel they flit around you. Most visitors swim with the turtles en masse on a catamaran cruise, but it's cheaper to get a local to take you out on a boat from the beach. You'll be looking at no more than £80 for your family for an hour - which I think is a snip for one of the most thrilling things you can do on Barbados.
PALM PARADISE
Barbados is, among other things, a gardener's world. Bajans are known to have green fingers - and the island has been selected to host the World Flower Show this summer. Several gorgeous gardens are open to the public. My favourite is Hunte's Gardens, a paradise that is set in a sink hole, with soaring palms, rare heliconias, statues lurking in the lush vegetation and classical music wafting through the air.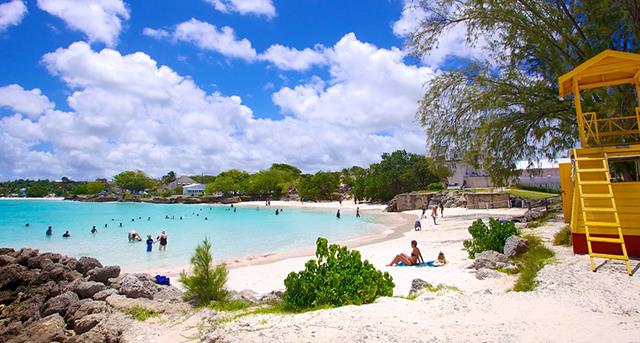 Spend the day with locals on the gorgeous Miami Beach
BEACH FEAST
It's possible to find gloriously untouristy beaches. You can enjoy yourself like a local for the day at Miami Beach (also called Enterprise) on the outskirts of Oistins. It's a gorgeous strip of sand with a protected cove at one end where locals wallow in the water chatting. Fishcakes and flying fish cutters (the Barbados term for sandwiches) are provided by Mr Delicious Snack Bar, a truck set up behind the beach.
To sample some of the best classic Bajan cuisine, make sure you set aside plenty of time for a blow-out lunch at Brown Sugar, an elegant restaurant occupying the foliage-drenched patios of an old home near Bridgetown. Must try dishes include the pepperpot stew, macaroni pie and rum-soaked bread pudding. The buffet on Sunday is a real treat and extremely good value.
To get around cheaply, my best tip is to stick to the buses - rides cost about 80p.
First published in the Daily Mail -  August 2017
More articles below...