Teddy the barman confides wistfully that he just missed the chance to serve a rum punch to Marilyn Monroe back in 1957.

He joined the staff of Jamaica Inn in Ocho Rios shortly after her visit, but he has shaken a cocktail for supermodel Kate Moss and former Prime Minister Sir John Major.

Teddy is a legend here, having notched up almost 60 years working at one of the most famous hotels in the Caribbean.
Famous guests
The hotel's owner, Peter Morrow, however, can remember watching Marilyn being photographed with her new husband Arthur Miller beside the beach at Jamaica Inn. 'She posed just here,' says Peter, pointing to the spot.

The then most famous couple in the world had spent several days on the island on honeymoon at Moon Point, the luxurious villa of Lady Pamela Bird, an English aristocrat, before returning, via Jamaica Inn, to New York.

Jacket and tie were then obligatory at this last vestige of colonial-style entertaining in the Caribbean. Jamaica Inn is still traditional but with a definite modern twist, as ageing rock stars now slip into view alongside dowagers and American grandes dames. Think cucumber sandwiches at tea time, yet also young surfers among the guests.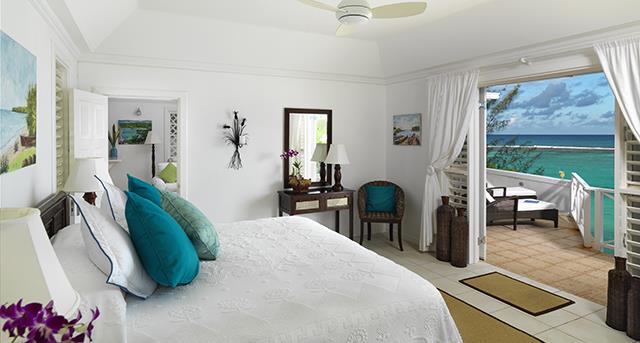 Experience the sense of luxury in one of the 5 bedroom cottages
Jamaica Inn evokes tranquillity and calm with its white-painted cottages, as well as old-school charm (the waiters wear white jackets in the evenings).
There are no TVs in the rooms but modern touches include a holistic spa.

Our day starts at breakfast with sergeant fish being fed titbits in the turquoise sea just below the terrace. The tables feature pink tablecloths and white napkins - a wonderful contrast to the cobalt blue sky. The croquet lawn is just yards from the sea, offering the reassuring click of mallet on ball. Actor Rupert Everett is reputed to beat all-comers.

Sepia photographs in the library feature Sir Winston Churchill and Ian Fleming - further proof of the hotel's glamorous past.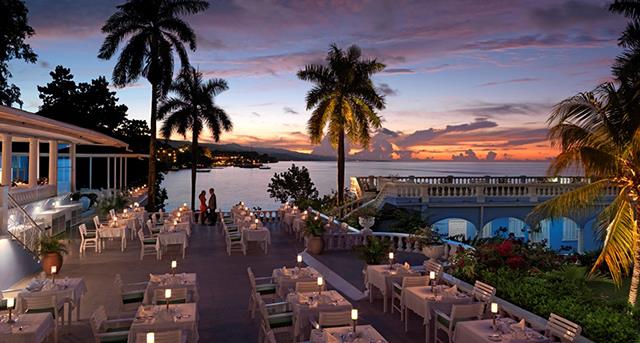 Dine on the gorgeous terrace at Jamaica Inn and watch the beautiful Caribbean sunset
Guests meander up from their waterside cottages past almond and apple trees to Teddy's Bar, where the dirty banana cocktails are truly lethal.
Meanwhile, the food here is fresh, simple and truly delicious.

For those who want a wonderful close-up sight of the natural world, it's often possible to spot turtles hatching on the beach.

One day we headed to nearby Dolphin Cove, where you can swim with dolphins. Our journey took us past banana trees, orange groves, mystic mountains and hawkers in the street selling Jamaican flags and toy guitars made from bamboo.
Getting in touch with nature
Entering the water, I quickly discovered that the gun-metal grey nose of a dolphin is hard and smooth, almost synthetic.

These delightful creatures are sleek and engaging, and somehow perfectly behaved. They jumped, barked, glided, and appeared to smile and laugh as they cavorted with us in the water.

We swam with them in a roped off area and got so close to the dolphins that we were able to 'shake hands' with their flippers. It was a little like touching the rubber casing of a watch.

Fifteen minutes from the cove is Golden Eye, which began life as a Spartan bungalow on a clifftop, and is where Ian Fleming wrote some of his James Bond books.

A few years ago, Golden Eye was transformed into a luxurious resort with extraordinary lagoon villas - you can even stay in the room where Fleming's original writing desk remains.

There is a beachside pool and lively beach bar where songs from Island Records' back catalogue - the famous label was formed on the island - play night and day. For those who like music at the bar and do not in the least want complete tranquillity, this is the place to be.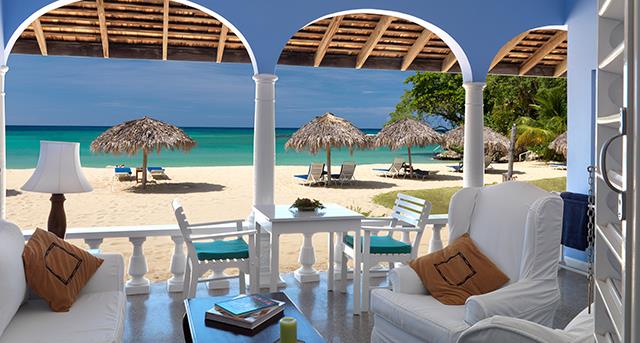 The blissful view from a Premier Verandah Suite at Jamaica Inn
Time to relax again
After our lively outing, it was good to return to Jamaica Inn and the comfort of our cottage, with its huge lounge and veranda overlooking the sea.

We also had our own plunge pool, which can be heated. This might seem an unnecessary luxury in the Caribbean, but it is a surprisingly good idea as it means you can swim late at night or early in the morning and never feel the slightest chill.

After a refreshing dip, there was only one thing to do: head back to Teddy's for an early evening cocktail and listen to more fascinating stories from his past. 
First published in the Mail on Sunday -  November 2018
More articles below...