The most dreaded words I know are 'closed for refurbishment'.

Whatever they apply to - a favourite hotel, restaurant or bar - they inevitably signify the end of something I love and the beginning of something I will loathe.

Professionally I crave sudden change - I'm in the news business. But personally I yearn for the opposite. I'm a creature of habit.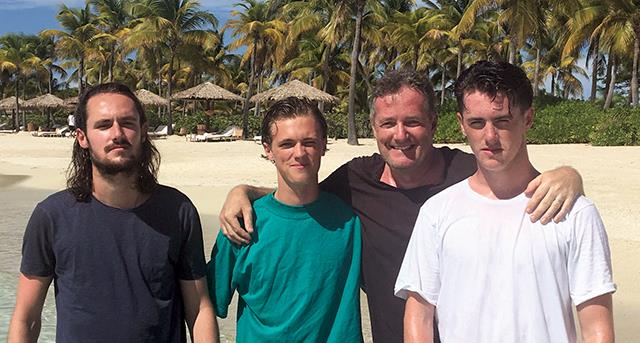 Piers Morgan with his 3 sons, Spencer, Stanley and Bertie
So for years I've regularly returned for a 'lads'' holiday with my three sons to the same Caribbean resort  - Jumby Bay, a 300-acre private island with 40 hotel suites and 50 private homes off the coast of Antigua.

We stay in the same two intercon-necting suites, sit on the same stunning beach all morning, play afternoon cricket on the same 22ft stretch of sand, dine in one of  the same delightful three restaurants -  and I get mocked in the same merciless manner by my offspring before finally collapsing in the same gorgeously appointed bedroom.

It's been an utterly reliable, gloriously peaceful break from media frenzy.

But as I was booking my most recent trip, back came an email saying: 'New management: Complete Design Transformation'. Even worse, the refurb would be going on while we were there. Nightmare beckoned. We flew there  full of fear and trepidation.

One of Jumby Bay's many beauties is that it lies a two-minute drive and five-minute ferry from Antigua's V.C. Bird International Airport. Within 40 minutes of landing, we were at the resort, sipping a rum punch.

There are no cars: every guest gets a bicycle instead. Guests at the private houses have golf buggies. There are no locked doors to suites: the island operates on trust.

I could trust the old 'Jumby Bay', run by Rosewood Resorts under the cultured eye of its brilliant former general manager, Andrew Hedley.

But could I trust the new 'Jumby Bay Island', now run by the Oetker Collection? That was the big question.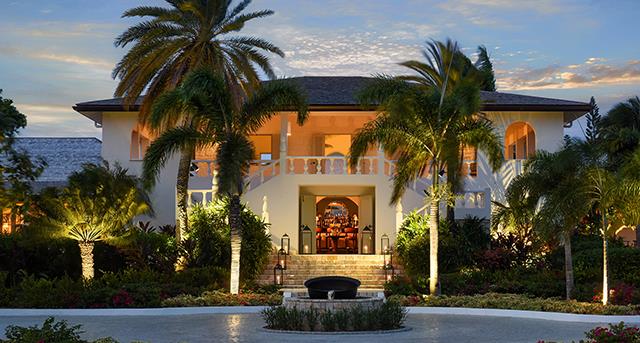 Jumby Bay's signature Estate House restaurant where the cuisine is hailed as exceptional
My first surprise was the food. It was always good, but this time it was exceptional, especially in the signature Estate House restaurant.

The head chef was trained by French genius Alain Ducasse and it shows. Trust me, you won't eat better than this anywhere in the Caribbean.

Breakfasts at the ocean view Pool Grille were as lean and healthy or as sinful as you desired. And I particularly enjoyed the new lunchtime beach shack barbecue that delivered delicious lobsters.

My second surprise was the general standard of service, everywhere in the resort. It was, astonishingly, even  faster and more consistently reliable than before.

The Jumby staff, many of whom have been there many years, take great pride in their work and their enthusiasm for the renovations was infectious.

Once I viewed the extensive 'structural changes', I realised why… and my fears promptly converted to three cheers.

Jumby Bay's spanking new infinity pool blends seamlessly into the ocean
This refurb is more evolutionary than revolutionary, executed by acclaimed Brazilian designer Patricia Anastassiadis. Oetker has introduced a spanking new beachfront infinity pool, a fabulous addition. It has also performed substantial upgrades to the water sports centre and luxury spa.

And the old Veranda restaurant and lobby area has been ripped up and replaced by an elegant new Italian restaurant and bar.
But none of this has changed the 'feel' of the place.

Many big  names find peace and solace here. I've seen everyone from Sir Paul McCartney to Mariah Carey and Will Smith strolling along the beach, and no-one bothers them.

Last year, Barcelona football super-stars Lionel Messi and Luis Suarez were both at Jumby the week before we arrived, causing my sons to nearly disown me for not booking us in at the same time.

'Dad,' raged my eldest, Spencer, 'have you any idea how many Insta likes I'd have got for a beach kick-about video with those two?'

More than he'd get for playing cricket with me, definitely.

Jumby Bay's chilled beach bar
You can be as energetic or lazy as you like on Jumby. There's a great gym, some excellent floodlit tennis courts, and you can cycle wherever you like.

Or, like me, you can just take a gigantic metaphorical chill pill and do almost nothing. And I feel enthused by the new owner's commitment to preserving the best of Jumby Past, and excited by their vision for Jumby Future.

If I were writing a news headline about it, it would be this: BREAKING NEWS: Jumby Bay's back – better than ever. 
First published in the Daily Mail - January 2019
More articles below...