A BIT OF HISTORY
In his 1891 book Palms And Pearls: Or Scenes In Ceylon, Alan Walters highlights a 14th century Icelandic work which names Paradise as an island off India 'studded with flowers', which he believes to be Ceylon, renamed Sri Lanka in 1972.
And French author Hugo Victor is believed to be referring to Sri Lanka when he writes: 'Paradise is a spot in the Orient productive of all kinds of woods and pomiferous trees: it contains the Tree of Life; there is neither cold nor heat but perpetual equable temperature.' 
Arrival in Sri Lanka, with the chaos of Colombo airport and the surrounding roads, seemed some way from that early notion of Paradise. 
But once you reach the areas of natural beauty, you'll see why the Paradise description is so apt. There are 26 national parks in Sri Lanka, each one teeming with wildlife. I stayed at the Uga Escapes resort of Chena Huts, in Yala National Park.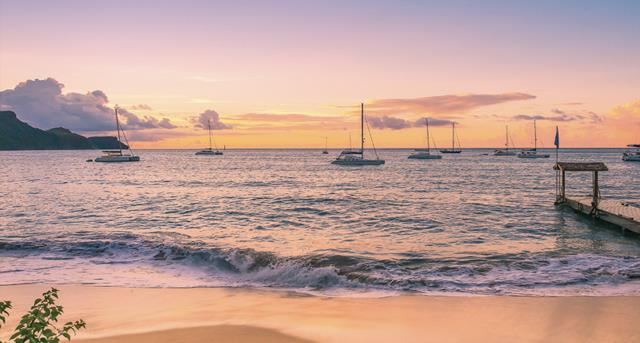 Cape Weligama beach sunset
A PLACE TO RELAX
The hotel is intimate, with just 14 luxury suites, and they're spread out to ensure maximum privacy.
A sign on the path to the hotel declared that an elephant had last been sighted here just three days before.
One lunchtime, we were enjoying a watermelon martini at the bar when four monkeys sat down just yards away. And on another occasion, we wandered down to the sandbanks below the resort and heard a huge crash. Turning around slowly, we came face to face with an elephant. He was unfazed, but we were overcome with emotion. It was one of the best moments of my life.
You might think that the staff would become blasé about living so close to wildlife, but they delighted in showing us photos of leopards, crocodiles, wild boars and elephants which had all meandered into the hotel grounds. The private suites at Chena Huts are similar to safari lodges: vintage camping lamps, a freestanding bath, a huge bed, colonial style rugs and - a safari essential - Nespresso machine.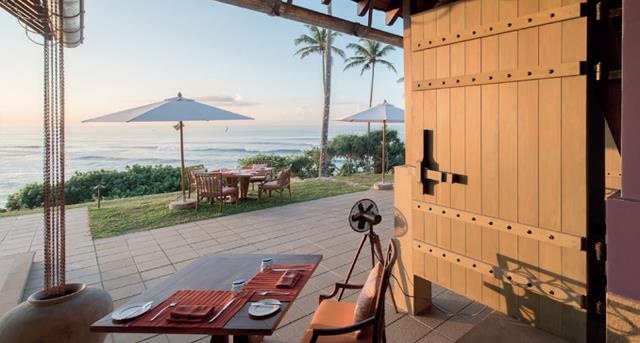 Dinner overlooking the see at Cape Weligama's dining pavilion
There's a plunge pool in the garden of each suite, too - as well as an enormous, lagoon-like pool moments away.
Meals and alcohol are inclusive and you can turn up to eat at any time. And once you've tasted the Sri Lankan fish curry, you'll want to sign up for the cookery classes offered by the head chef.
At 6.30am every day you can set off on a safari tour of the park (or at 3.30pm, though morning gives you a better chance of leopard sightings). Driving through the park, you'll suddenly come to a clearing which looks as if you've been transported to Africa, with huge lakes covered with water hyacinths, and mountains looming in the background.
We saw toucans, elephants, leopards, monkeys and water buffalo - a fabulous experience.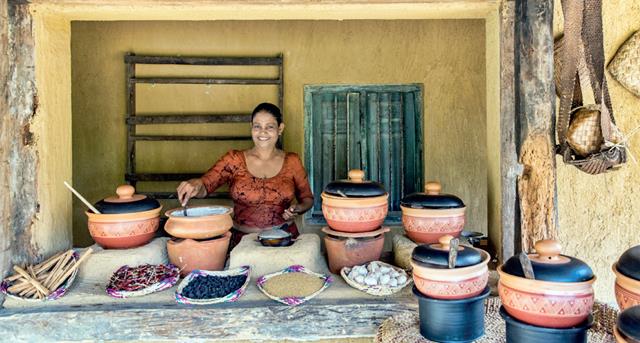 Try some delicious Sri Lankan village style food
Following our stay at Chena, we set off on a three-hour drive to Weligama, a popular surfing beach on the south coast. Here we stayed at Cape Weligama resort, perched on a clifftop.
The resort has an activities centre where you can take out surfboards, snorkels and paddleboards. There are also scuba-diving courses. I was happier sitting by the Moon Pool - an infinity pool fringed with palm trees where you can watch the surfers bobbing like buoys, waiting for the next big wave.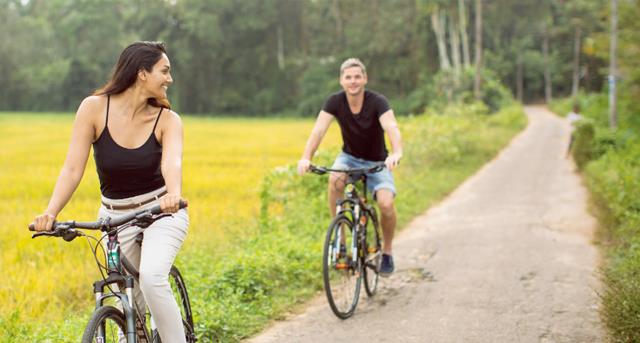 Rent a bike and start your day with some cycling at Cape Weligama
A VISIT TO GALLE
The nearby town of Galle is one of the most distinctive on the island. It features a 16th century fort built by the Portuguese. We had tea at the Galle Fort Hotel, the most chic destination on the coast.
Back in Colombo,Residence, another Uga Escapes hotel, is the perfect sanctuary. It's a ten-minute walk from the Town Hall and near the Gangaramaya Temple, so ideal for sightseeing. We sat by the hotel pool sipping a gin and tonic and plotted how to return to Paradise as soon as possible.
First published in the Mail Online -  September 2018
More articles below...