The Maldives gives me the most extraordinary sensation, it is so beautiful - I feel that when I look down I see Paradise, and when I look up I see Heaven.
It comprises more than 1,200 tiny islands - the majority of them are uninhabited but about ten per cent are used by the tourism industry.
For my latest trip, I stayed with my husband Alex at Mirihi, which boasts palm-fringed beaches and sand that is as soft as talcum powder. You won't need your shoes from the moment you step off the seaplane and on to the jetty after your 30-minute transfer from the capital Male.
At just 1,200ft long and 160ft wide, this privately-owned island is one of the lesser known to UK holidaymakers. It is like living on your own private island - classy yet understated and not at all stuffy.
A favourite spot for a caipirinha whilst watching the sunset at the Muraka Bar
It's the perfect place for anyone looking for rest, relaxation and rejuvenation, or those who want to try some of the best diving in the world. If you are a foodie, you won't be disappointed either.
The 160 members of staff look impeccable in their brightly-coloured uniforms and are a credit to Guenther Kofler, the resort's manager.
Guenther and his right-hand woman Jasmin are the perfect hosts for such an intimate place. Every inch of the resort is pristine and the staff so attentive that you feel every bit as relaxed as one of the petals of the flower Mirihi is named after.
The accommodation is Maldivian with a Swiss twist - luxurious bathrooms, designer furnishings, a sitting area with a sound system, and a Nespresso coffee machine with complimentary pods each day.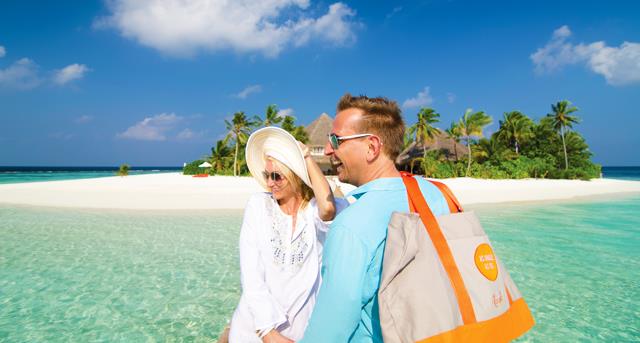 The lesser-known Mirihi Resort is like having your own private island
There are a total of 37 palm-thatched villas - six on the beach come with outdoor bathrooms, and 30 water villas that have steps straight into the lagoon. Staff outnumber guests by two to one.
As you relax on your sunbed watching the crystal-clear waters ripple against the shore, you can expect to meet Shahula and Sithura each day. They will offer you a cold towel and a slice of thirst-quenching watermelon.
The food is outstanding, from the a la carte menu in Muraka or the buffet in Dhonveli. You can help yourself to fresh lobster or oysters on seafood night, or head for the incredible display of sushi on Asian night. The food looks almost too good to eat.
Felix, the head chef, is one the most passionate people I have ever met, and he is proud to give guests a tour of Dhonveli restaurant each evening to show off his creations.
I did visit the island's gym three times but I'm sure I returned to the UK carrying a few extra pounds. I think I took comfort from Felix's words of wisdom. 'Laura, you are on holiday,' he told me. 'It's fine!'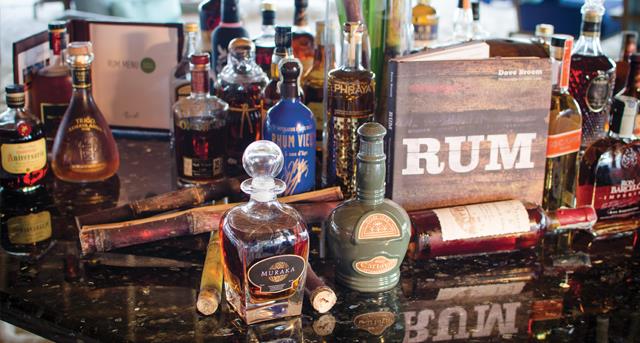 A seemingly endless selection of rum
Although relaxation at Mirihi is key, should you wish to participate in any excursions or activities, the team are happy to book them on your behalf. We took a half-day trip to watch whale sharks, and we also got to swim with dolphins, manta rays and turtles. An unforgettable experience.
We enjoyed wine-tasting with Alexander, who is not officially the island's sommelier but might as well have been. There is the option of rum-tasting, too - Mirihi has the biggest collection in the Maldives, with 130 varieties - but I was happy to stick with the wine, otherwise I think I would have been out cold for the rest of our stay.
What you won't find on Mirihi is a swimming pool, but why would you need one when you have a clear-water lagoon less than 15ft from your bedroom?
The resort had the option of building a pool when the site was renovated in 2014, but opted against it as the thought of individuals fighting for sunbeds was not in their remit. Having visited islands with and without a pool, I think they made the right decision. We didn't miss having one.
However, one thing I can't live without when I'm on holiday is a spa, and the therapists at the Duniye Spa on the island are some of the best. Needless to say, I visited frequently.
Throughout the day at Mirihi, you can use the complimentary kayaks, try your hand at windsurfing or snorkel in the reef to spot the spectacularly coloured fish.
I was happy to kick back, relax and enjoy a caipirinha while watching the sunset in the bar at Muraka, and sit and read my book - I certainly made the most of the amazingly relaxing atmosphere before boarding my flight home to work and reality.
First published in the Mail on Sunday -  October 2016
More articles below...