I know people who do yoga, of course, but I view them with deep suspicion. I have a sister who's a yoga instructor and of the opinion I would be a healthier, happier person if I saluted the sun every morning.
However, when presented with the prospect of a week in the Maldives, with a little light yoga thrown in, I readily agreed.
Not because it would make me a better person, but because I've been to the Maldives before. Turquoise sea, multi-coloured cocktails - that's what I call balm for the troubled mind.
A little downward dog seemed a small price to pay for all this.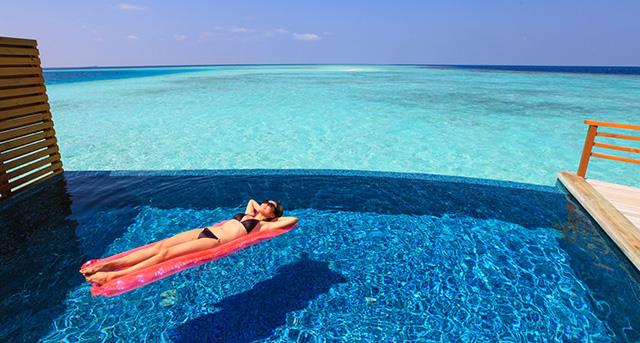 Hotel Baros: an idyllic boutique retreat with peaceful overwater villas

THE PATH TO SERENITY
Baros is among 100 tiny-island resorts rising out of this glistening stretch of Indian Ocean. 
It's a 20-minute speedboat ride from Male, the islands' capital - and it looked gorgeous the moment it hove into view, with dusty-white beaches. Once we've disembarked, there's a cocktail waiting for us (and a rolled damp flannel, obviously) in an open-air bar beneath a canopy of palm trees.
Camouflaged behind beautiful bougainvillea lie the 45 beach villas, each with a sea view and its own stretch of beach.
The island is tiny - 380 yards long and 331 yards wide - with sandy foot-printed paths winding from one end to the other.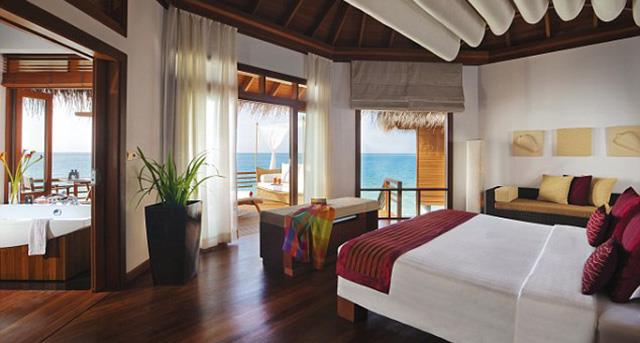 The resort's over-water villas offer a refined style of luxury

WHAT TO EXPECT
We've booked one of the 30 'overwater' thatched villas on stilts at the far tip. As we tread the boards of our deck, our attention is drawn to shadows in the shallows - and we catch sight of a trio of 3ft-long reef sharks swimming lazily beneath our feet. 
Baros has its own coral reef, and a private ocean teeming with stunning sea-life easily accessible a few feet from your sunbed.
The villa was big and luxurious. And beyond the infinity plunge pool lies your own private Indian Ocean. Unbelievably, 600 yards away, there was a couple standing in the middle of it. Or so it seemed.
We discovered we could lower ourselves from the ladder at the end of our deck and walk, the water no more than thigh-high, to a small sandbank where we could enjoy the view of the island from out-at-sea level.
As we enjoyed this idyllic experience, an unwelcome thought crept in. I had signed up for yoga every morning. At 7am.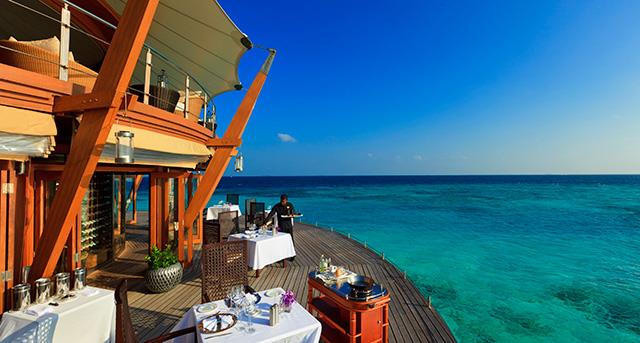 A beautiful setting for a romantic meal for two at The Lighthouse

DINING OUT
But before that there's dinner - posh nosh at the Lighthouse restaurant or the simpler but equally delicious menu at Lime. (There's a third restaurant, Cayenne, for pizzas and light lunches.)
And also a massage. The Baros masseuses pummel like Olympians and I waft down to dinner in a blissful daze.
The food's fantastic and I float back to our room. How much more relaxed can a man get? I was about to find out.

AN EARLY START
At 6.30am we are padding down to meet Kumar, our yogi for the week. I dislike him on sight. He is small and lithe, glowing with good health, and looks like the kind of man who can flip himself forward and balance on the palm of his hand.
I do a downward dog, in a mongrel fashion. I salute the sun and I balance on one foot, cross over my elbows and bend and stretch and breathe.
And, to my astonishment, I love every moment of it.
Kumar is the kindest, most patient teacher I've ever met. He made each hour melt into mere minutes.
At dawn each day, I was rolling out of bed with something approaching enthusiasm. By day three I was volunteering for evening meditation.
Did yoga teach me to relax? I should say so. I've never slept better, though the snorkelling off Baros's coral reef - teeming with every colour of tropical fish, and, on one occasion, a giant sea turtle - would calm anyone.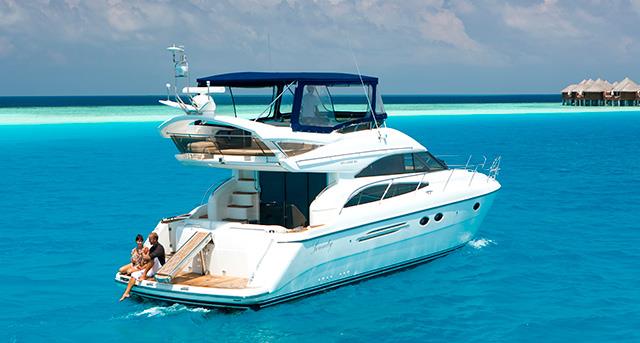 Spoil yourself and surprise your partner onboard the motorised yacht Serenity

THE FINAL CONCLUSION
Did it make me a nicer person? Well, I did plant some coral as part of the Baros conservation programme.
My time on this tiny tropical island involved eating, drinking, swimming, snorkelling and sleeping - and, obviously, meditating and yogitating.
There are no water sports here (hurrah!), and no underwater nightclubs.
What they do, they do brilliantly, simply, without fuss. Blissed-out bliss at its most blissful.
Om, as we yoga converts like to say. Shanti, shanti, shanti.
First published in the Mail Online -  February 2018
More articles below...