We drifted with the current. Beneath us bannerfish, butterflyfish, snappers, spangled emperors and unicornfish flitted about. Turtles and manta rays were miraculously unafraid.

We glimpsed the occasional reef shark; a brilliantly-maned lionfish. Who could resist another little passer-by named the seal-faced puffer? My wife Penny and I are passionate snorkellers, and the Maldives are among the great playgrounds for our kind.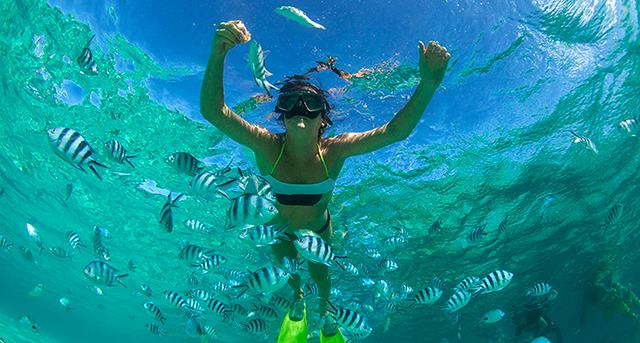 Floating above an abundance of colourful flitting fish
Every hotel amid the thousand islands scattered across the Indian Ocean south-west of Sri Lanka offers boats for watersports and fish-watching.

Through the glass floor of our villa set on stilts above the sea at the Lux resort on South Ari Atoll, we watched the octopus that lived in a heap of rocks ten feet below. Remind me not to be reincarnated as an octopus: you spend half your life waiting for lunch to swim within tentacle-reach; the other half hiding, to avoid becoming somebody else's entree.

Guests reach the Lux resort via a half-hour flight, itself a pleasing little adventure, on one of the fleet of floatplanes that services the islands.
South Ari is less than a mile-and-a-half long, and one of its joys is the absence of motor vehicles: everybody walks, rides an electric buggy, or bikes. As the place is dead flat, even pedallers of our age are unlikely to suffer coronaries, and we went everywhere on two wheels.

The four restaurants serve every kind of Western and Asian food. We rotated between them, especially savouring the Italian place's pasta arrabbiata.

The Lux's 400-odd guests are a three-way spread of British, European and Asian. Each evening we walked the length of the island's pristine beach, watching tables set for the honeymooners who opted for candlelit dinners on the sand.

We fell in love with Goni, the warm, tough, laconic boatman who took us out to the reefs. I had special reason to appreciate him, because I would never have made it back into the pitching speedboat without being heaved onboard by his brute strength.
Uninhabited escape
On our most spectacular day, we peeled away from our usual group to take a private 20-mile trip to an uninhabited atoll.

On the passage we trailed long fishing lines, and I took up a rod to bring in a 20lb wahoo. Then for an hour we snorkelled blissfully, without another soul or boat in sight. Once ashore, Goni and his boys barbecued the wahoo and a couple of snappers. Penny and I lay idling, revelling in the dazzling white sand and azure sea.

Lunch was a gastronomic triumph, though if I am honest, the heavily-spiced snapper tasted better than my own catch. In the afternoon we snorkelled again, then Goni bounced us home across the sea at 40 knots.

Penny and I agreed that the remoteness, amid so much beauty, placed that day among the best of any holiday we remember.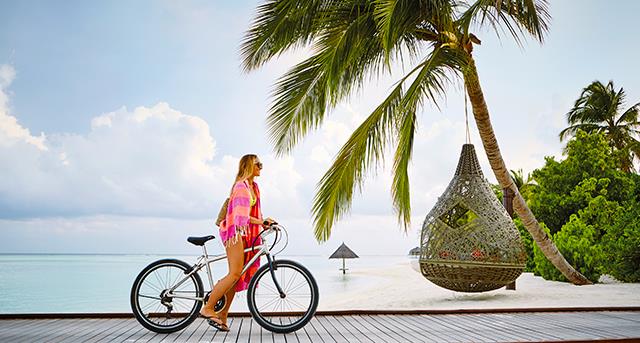 Eco-transport is the essence of South Ari Atoll and cycles are freely available to use
Paradise must be preserved
As wonderful as it is, or simply because of its beauty, there is reason to be anxious about this paradise. On our barbecue atoll, it was of great concern to see it hasn't escaped the global plague of plastic waste, with many plastic bottles beached above the tideline.

And much of the coral in the Maldives is in a bad way - a stark reminder of what we have allowed to happen to the planet on our watch. It again highlights that unless concerted and decisive, committed action is taken, our grandchildren are unlikely to experience a fraction of the natural wonders we have seen, either at sea or ashore.

The damage to the reefs will of course also affect the fish populations - sealife won't thrive if the reefs continue to become sterile.

On a couple of our boat outings, in search of the hugely popular, brilliantly spotted whale sharks, we decided to leave the area because we thought rather too many snorkellers and divers were entering the sea each time a whale shark briefly appeared and we didn't want to add to the number.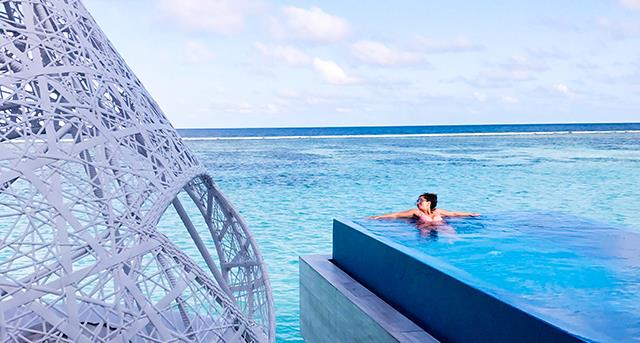 Penny Hastings adored the infinity pool and found it difficult to leave at the end of their holiday
We adored our Maldives fortnight, and would recommend the Lux to anybody active enough to swim, bike, eat and drink: Penny had to be dragged away from the infinity pool overlooking the ocean outside our villa.

Those who love such things should head for the reefs quick… while some remain. And we should redouble efforts to make sure future generations can also enjoy such wonders.
First published in the Daily Mail - March 2019
More articles below...