Perhaps we were mad to go back to the Maldives 20 years after honeymooning there. We remembered it as deliciously romantic, with impossibly white sand and turquoise seas. Bounty Bar stuff. We were young and in the first flush of love – and now we are 50-something.

This time, we picked JA Manafaru because it promised a level of luxury we couldn't possibly have afforded when we got married.

You get a choice of a secluded beach bungalow hidden in the jungle undergrowth with its own private plunge pool and sectioned-off area of beach; or a water villa suspended on stilts over the crystal clear water. Oh, all right then.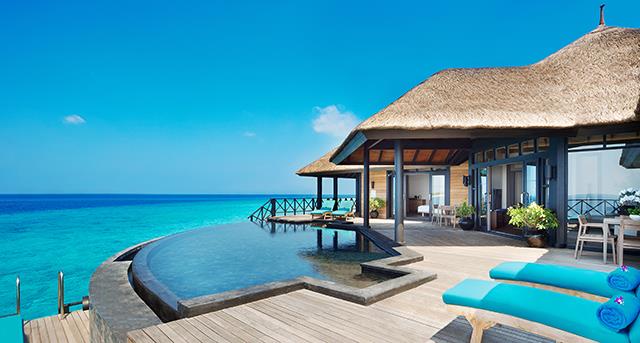 Overwater bungalow with uninterrupted views to the horizon
I'd always hankered after the idea of stepping off private decking into your own personal bit of sea. In addition we have a hot tub, outdoor shower, a glass floor in the bedroom to watch fish below and a secluded black-tiled infinity pool on the deck.

On our honeymoon island there had been one restaurant with a one-choice menu each day.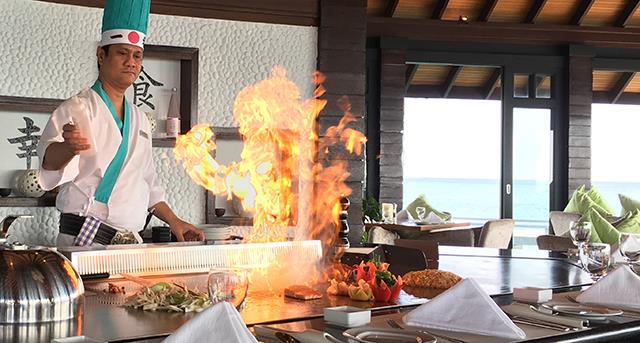 Table-side drama of JA Manafaru's Asian fusion White Orchid restaurant
But here we have seven options: White Orchid for Asian fusion, Ocean Grill for seafood and steaks served right on the beach, Andiamo for pizza and pasta beside a calm, dark green jungle swimming pool, Infinity, serving salads and sandwiches, Kakuni for a gourmet breakfast spread, The Cellar for dinner and prestigious wines and Horizon Lounge for fabulous smoothies.

We'd gained a few pounds and a few grey hairs since we were last in the Maldives, and the islands have changed too. First time around we chummed-up with other honeymooners on the beach. Now, although we are told the resort is almost full, we stroll the whole island - which is 800 metres long and 600 metres wide - without seeing a soul.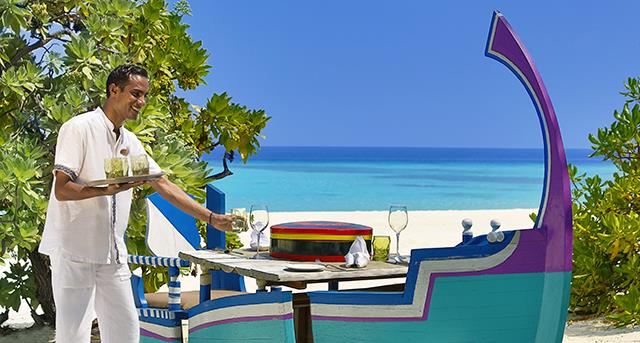 Dining on the beach at JA Manafaru's Ocean Grill restaurant
It was on our first honeymoon that I noticed a fundamental difference between me and my beloved - he can happily spend hours lying about in the sun, whereas I need to keep busy.

I won't deny our differences have been the source of stern words over the years. But this is a special holiday, so all bets are off.

We have the options of windsurfing, kayaking, sailing, jet-skiing, wake-boarding, water-skiing and scuba diving, but I book twice daily yoga sessions and leave Jon studiously 'tanning his edges' at the beach, to join the resort's marine biologist on a snorkelling trip.

I am rewarded by the appearance of a huge pod of wild dolphins pirouetting out of the water and performing wonderful synchronised manoeuvres below us – one more item from my bucket list unexpectedly getting a tick alongside it.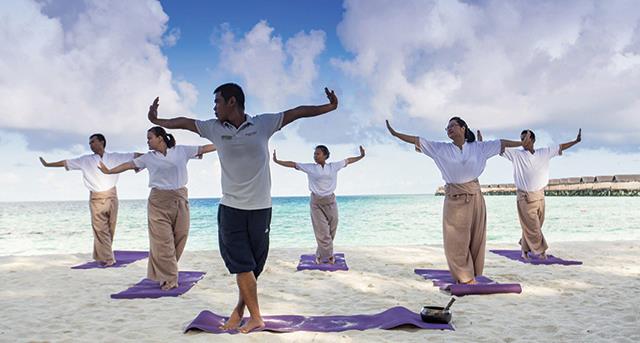 Daily yoga sessions are just one of the many activities on offer at JA Manafaru
You won't find many Maldivian resorts without a spa, and JA Manafaru is no exception. After a rigorous side-by-side couples massage, we are ushered into a side room where a huge round bed has been scattered with petals and bamboo spelling out 'happy second honeymoon'.

Well, inviting indeed. Perhaps 20 years ago we might have thrown the petals aside and caution to the wind, but my husband's massage has rendered him monosyllabic and I still have the imprint of the bed etched on my face. But it was a nice thought.

But later, with a glass of champagne, no kids, incredible comfort and doting attention, I don't mind confessing that the earth shakes - just a little.

Yes, we could have arranged to renew our vows; we could have booked a 'romantic cruise on a love dhoni' - a dhoni is a sailing boat with an auxiliary motor that is unique to the Maldives and has played a significant part in transport between the islands – not to mention romance.

But when the sand is so white and the sea so blue and you don't have to worry about a thing, a place like this could wring romance out of a stone. 
First published in the Daily Mail - April 2019
More articles below...