Sitting next to Miss Chatty, as she texts and eats a deafening packet of Kettle Chips, ruins a trip to the movies. I'd much rather sit on a beach in front of the big screen, being served champagne cocktails and canapés - at least I would after my recent trip to the Maldives, where the fivestar resort of Moofushi puts on this excellent service for guests.
When I came back from the Maldives relaxed and sporting a winter tan, some friends asked whether I'd been bored 'on a desert island with nothing to do'. But far from sitting on a sunlounger all day (although you can do that if you wish) I found my five-day stay at the Constance hotel resorts of Halaveli and Moofushi surprisingly active.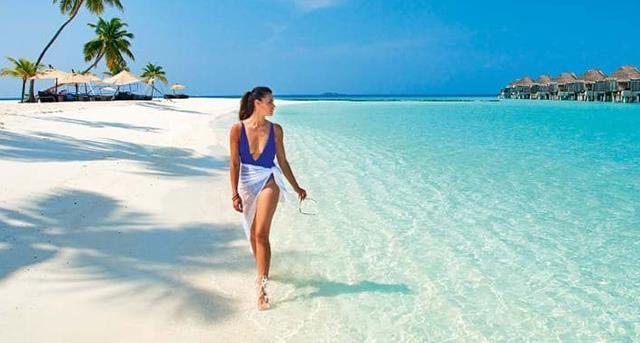 Barefoot on the beach at Halaveli
Halaveli has a private island setting in the Maldives' North Ari Atoll. It's a magical location where the blue of the sea and the white sandy beaches contrast magnificently with the surrounding luxuriant green foliage. Moofushi boasts the ultimate barefoot chic, with villas on dazzling white sand or on stilts that float above the turquoise water of the Indian Ocean.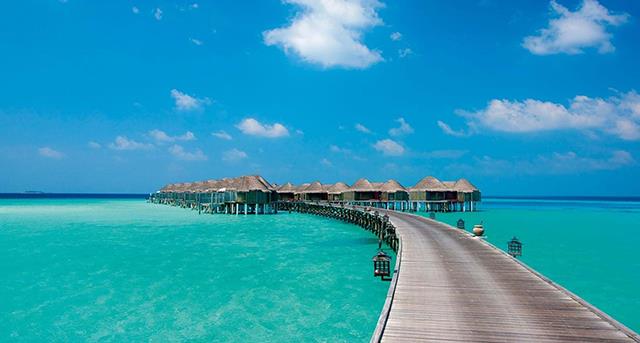 Moofushi floats above the turquoise waters of the Indian Ocean
As well as sparkling white beaches, turquoise sea and all inclusive drinks, both resorts have excellent diving, gym, spa, kids' club, watersports and superb restaurants.
At Halaveli, all accommodation comes with its own infinity pool. And here you can upgrade to a beach villa with an outdoor bathroom and private beach access.
Halaveli is the sort of place you can imagine Madonna or Angelina coming to top up the tan and have bit of R&R. If you do want to venture away from the accommodation you could arrange to jetski over to a nearby island to have dinner cooked by your own private chef. Or you could dine at the exceptional Jing restaurant – I loved the lobster bisque, caviar blinis, sea bass noodles and yellow fin tuna chunks. All restaurants at Halaveli and Moofushi have their own very helpful sommelier to help you navigate impressive wine lists.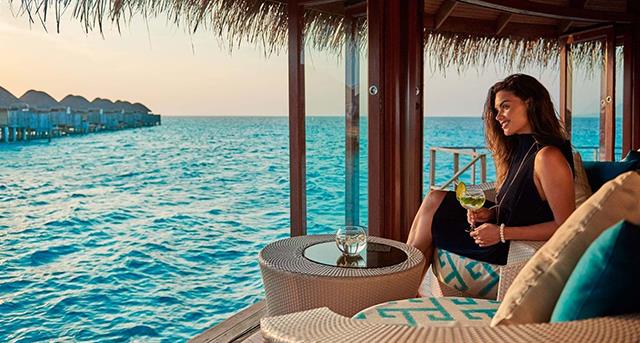 Dining with a view
One activity not to be missed is the diving. It's been nine years since I did my diving qualification in Ko Tao, Thailand, but after my first dive in the Maldives I soon got back into the swing of it.
Some incredible sights awaited me at Moofushi. Although the resort may appear to be an island in the middle of nowhere just a few metres underwater is a fishy metropolis.
Coral reefs are teeming with life and almost immediately I was swimming with schools of brightly coloured or silver fish, black jack fish, sharks and sting rays. After that initial dive I couldn't wait to get out again and at dinner that night I was told that we were heading out the next day to see the manta rays. I wasn't really sure what they were and I thought the bloke telling me about them was getting very excited about a fish.
It turns out that manta rays are quite big fish and as the largest member of the ray family they are roughly the size of a small car. They are giant and graceful creatures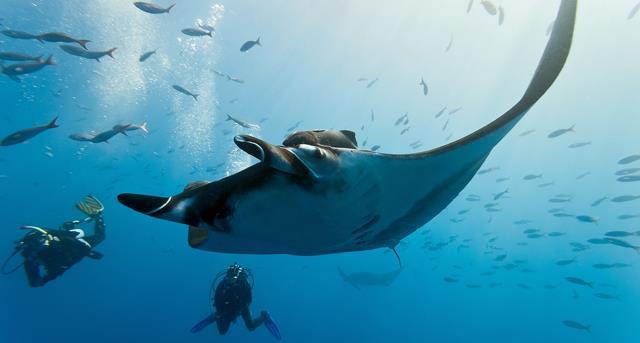 Diving with graceful manta rays
The mantas seemed completely untroubled by the groups of divers that had come to see them and fly so close that you can almost touch them. I have to say that I owe an apology to that enthusiastic man. He was totally correct, it is an unmissable experience.
After the dive with the mantas it was time for some relaxation and a delicious buffet lunch of seafood accompanied by a crisp rosé.
More fabulous relaxation was to follow as I was booked into the spa for a massage. The spa at Moofushi is a series of water villas which have a glass wall allowing you to look out on the crystal clear sea (merely describing it as blue doesn't do it justice - it's a sensational glittering hue that's a visual feast).
But best of all the floors also have a glass window, so if you can fight the urge not to close your eyes you can watch the fish swim by while you have your massage.
Obviously I could only keep my eyes open for four seconds before I dropped off into a semi-coma, but I did manage to see a couple of baby sharks.
Halaveli also do spa treatments and offer a special 'after-sun' massage, perfect for the pale skinned guest such as me.
First published in the Mail Online -  November 2016
More articles below...