Not every beach resort has a yoga instructress who once was Miss Paris. 'Hear the birds and feel the breeze on your skin,' says Isabelle Lamant.
It's 8.15am at the Constance Prince Maurice hotel on Mauritius's east coast, and a British trio is responding to Isabelle's Gallic-accented directions with varying success. One is curving flawlessly into position — while two of us exhibit the flexibility of flagpoles caught in a gale.
But what a gorgeous start to the day — the sponginess of the broad-bladed grass beneath our feet, the sun already hot.
Inspired by her love of graceful movement, her classes are based around her philosophy of balance and fitness. As well as being a former Miss Paris, she has a background in gymnastics and classical dance, which she has since combined with intensive yoga and pilates training. She explains: 'My sessions allow guests to tone up, as well as learning how to relax tense muscles and weak joints.'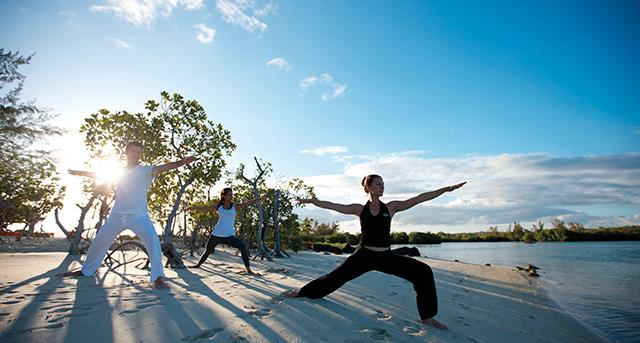 Former Miss Paris, Isabelle Lamant teaches a yoga class on the beach
Each session is apparently designed to show how guests can integrate exercises into their daily routine for 'a more healthy, balanced lifestyle' when they return home - I will try to remember!

Isabelle has even designed a fun-filled program for younger guests, with an accent on posture. And just to stay competitive, Isabelle has also trained contestants for Miss France and Miss Tourism International in Malaysia.
Thirty yards away, amid banyan trees, palms, cinnamon and hibiscus, the hotel's Doric columns rise upwards, supporting a roof thatched with reeds of sugar cane. Another 50 yards and white sand is washed by the warm water of a lagoon, which opens onto the Indian Ocean. Twin terraces encase an infinity pool.
Although just an hour's drive from the airport, through fields of cane and villages speckled with stalls of vanilla and spices, the hotel's 60 acres, carved from a former sugar plantation, are entirely insulated from reality. By day two, it seems normal to be on the beach ordering Madagascar crab, followed by a chocolate fondant.
It's an appropriate reward, surely, for a dip during which a pick-handle barracuda has been identified, along with four-saddle grouper, threadfin butterfly fish, scissor tail sergeant and convict surgeon fish — the latter's silver flanks scored with black lines like the bars of a prison cell.
This sudden piscatorial expertise is the result of rifling through a Field Guide To Coastal Fishes Of Mauritius, produced by Fabrice, head-man in the marine hut, from where he co-ordinates water-skiing from my remedial wobble to 007 standard.
Along from the hut, the lagoon narrows and there's a roped walkway through a canopy of mangrove. As dusk falls, this is starrily lit, delineating the path towards a floating bar and restaurant — a Hollywood touch for guests emerging from their villas, many of which stand on stilts.
I can see only one discernible trophy wife, attached to a chap with a Jason Statham scowl - and a very un-Statham paunch. Perhaps he's here for the golf.
Relax at the hotel's floating bar and restaurant

There are two 18-hole courses, and it's on the Links that Alexandre, the French pro, provides conclusive proof that, at the Prince Maurice, pretty well anything is possible.
He explains that visualisation is the key and, to demonstrate, he instructs me, a complete novice, to close my eyes — then swing. Miraculously, the ball stops a couple of yards from the pin.
Yet even that is eclipsed in the spa, where I submit my feet to Franck for a pedicure. He flicks on an instrument whose howl suggests impending amputation.
But no, it's a nail machine. An hour and a gallon of Sisley products later, and Franck announces: 'New feet.' Good enough, even, to be paraded at open-air yoga.
First published in the Mail Online -  March 2018
More articles below...