Australia is awash with 'must see' destinations, but the Gold Coast was at one time never really one of them. Queensland's formerly brash coastal holiday spot - home of the bikini and dubbed the nation's plastic surgery capital - was long regarded as a kind of Antipodean Blackpool. But boy, have things changed!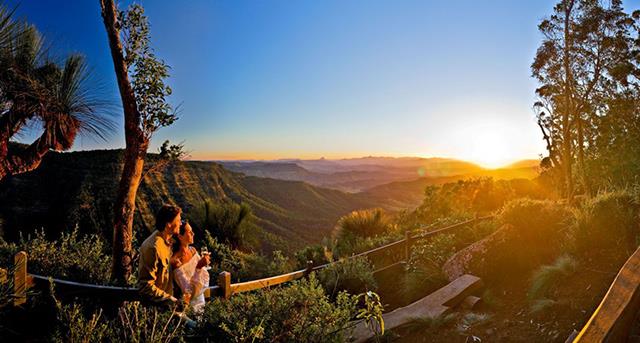 There are several lookouts which offer incredible views
THE NEW GOLD COAST
A thriving film industry has sprung up. Thor: Ragnarok, starring local Chris Hemsworth, and the latest Pirates Of The Caribbean are two blockbusters filmed at the huge Gold Coast Village Roadshow Studios.
Then there's the mega theme parks such as Dreamworld, Wet'n'Wild Water World and Warner Bros Movie World which have helped make the Gold Coast an exciting family holiday destination.
And Spring 2018 will see the region's coastline and glorious rainforest interior beamed on to our screens during the 21st Commonwealth Games, held on the Gold Coast and in Queensland's state capital, Brisbane.
The famous Surfer's Paradise beach
GETTING AROUND
The Gold Coast is actually a collection of vibrant and distinct neighbourhoods fringing 41 miles of breathtaking beaches.
One way to discover them is on the new hop-on, hop-off G:link tram network, which trundles up and down the coast from Surfers Paradise down to Broadbeach, with its elegant concert hall, casino, and huge, designer-label packed Pacific Fair shopping mall.
Just behind the beachfront, neighbourhoods have been turned into island communities by 162 miles of inland waterways.
'We have more canals than Amsterdam and Venice combined,' our captain tells us as we sail off to explore the waterways with family-run Wyndham Cruises.
'We may not have the history, but we have the beauty. And we often see ospreys, turtles and dolphins around these waters. And 17,000 humpback whales migrate past the Gold Coast each year.'
The boat slips around water-ways that have folded the land into lush pleats of acacia, palm and eucalyptus trees. On each pleat sits a lavish house, where his 'n' hers jet-skis spoon on private jetties.
This is ultra-exclusive Main Beach, Hollywood's home from home when on location ('that's Johnny Depp's house, that's Penelope Cruz's').
Hotel Palazzo Versace: the ultimate in luxury accommodation
A TOUCH OF GLAMOUR
When they want to party, the stars head to nearby Marina Mirage: decidedly more Monte Carlo than Blackpool, this is the upscale harbour attached to the swanky Palazzo Versace hotel.
The Gold Coast is bursting with imaginative eateries and artisan breweries, and there's a booming nightlife to go with it. The Collective - a five-kitchens-in-one concept with roof bar at Palm Beach - is standing room only.
It's also standing-room only at Miami Marketta, an old tram shed converted into a mix of bars, street-food stalls and live bands. We eat, drink and dance as if we're at a music festival.
An hour's drive up the coast, Brisbane may be Australia's third-largest city, but parts of it have the feel of an old-fashioned country town with plenty of colonial architecture.
I follow the picturesque Riverwalk footpath along the banks of the Brisbane River to New Farm park. Popular with locals for weekend barbies, the key attraction is the magnificent Brisbane Powerhouse: a former 1920s power station, now an arts complex with terraced bars, DJs and bands.
The 214-mile-long Brisbane River flows through the heart of the city.
AT ONE WITH NATURE
I catch a Miramar Cruise from South Bank - Brisbane's cultural hub - to see more of it. It's a beautiful journey past eucalyptus trees crammed with parrots, and vistas of mangrove lagoons and bat colonies. We disembark at the Lone Pine Koala Sanctuary, a wildlife centre for rescued orphaned and injured koalas.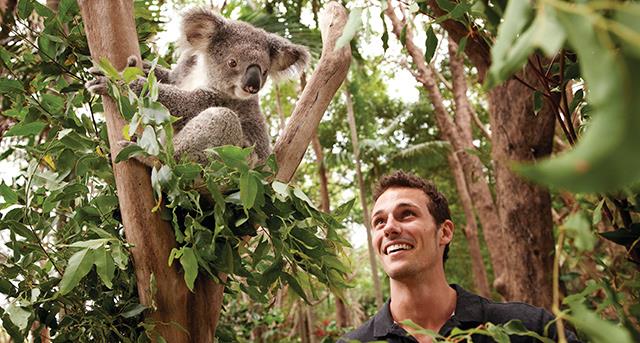 One of Australia's most iconic animals - the Koala

Although they are notoriously lethargic, they are also adorable, and seeing them in all their fluffy-eared cuteness is the perfect end to a trip Down Under.
First published in the Daily Mail -  April 2018
More articles below...