An abundance of activities
There are few other places where you can enjoy such variety in one day and the breathtaking  hinterland, boasting several national parks, is fondly known as 'the green behind the gold'.

There's everything from ancient volcanoes and stunning waterfalls to species of flora and fauna you'll find nowhere else.

Tamborine Mountain, the world's third oldest National Park, is bursting with lush forests, winding walking trails and sweeping coastal views – and even art galleries.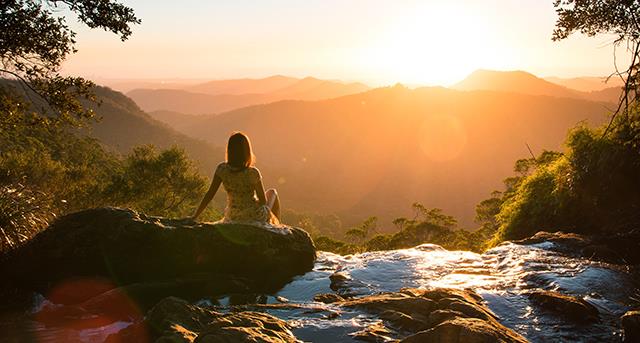 Watch the sun rise from the top of Black Fellow Falls in Springbrook National Park
Dominating the Gold Coast's western skyline is Springbrook National Park, famed for waterfalls and tumbling creeks. At Lamington National Park, part of Australia's World Heritage Area, you can see beautiful and unique Antarctic beech trees, with roots more than 5,000 years old.

Tamborine Mountain's magical Glow Worm Caves glitter with thousands of bioluminescent insects - also found within the Natural Bridge caves in Springbrook National Park.

For hikers, Tamborine Mountain boasts 12 beautiful walking tracks, while Lamington National Park has nearly 100 miles of trails, including the challenging but rewarding 13-mile Border Track.

The beach suburb of Coolangatta has trails leading up to the exotically-named Point Danger - where you can plant one foot in Queensland and another in New South Wales.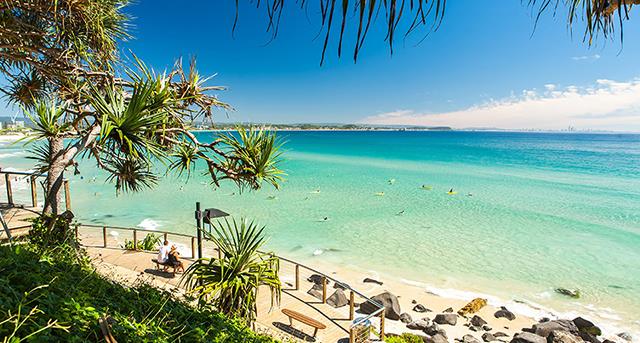 Old school charm at Coolangatta Beach
Events and festivals spring up along the Gold Coast. Burleigh Heads, a suburb trimmed with towering fragrant pine trees, hosts the Village Markets on the first and third Sunday of every month and comprises more than 100 boutique stalls, vintage designer stores, live music and street food.

Not far from here is Broadbeach, which in May is home to Australia's largest non-ticketed music event - the Blues on Broadbeach Music Festival, with international talent across 20 outdoor stages.
Events and festivals
The renowned Swell Sculpture Festival is held in September at Currumbin - a magnificent free outdoor gallery.

For foodies, Broadbeach Mall has an array of gourmet alfresco options, and at the Burleigh foreshore, oceanfront seafood dining is the order of the day.
Tamborine Mountain also has a brewery and Australia's most-awarded distillery, producing liqueurs, vodkas and schnapps.

Experience foodie heaven with a vast choice of restaurants and gourmet alfresco eateries
You can often spot creatures you'll see in no other place on earth. South Stradbroke Island, just 200 yards from the mainland, is a 1,800-hectare conservation park that protects a number of native species; kangaroos, echidnas, koalas and bandicoots among them.

From Coolangatta on the southern end, make your way to Rainbow Bay, a great place for whale watching and snorkelling with turtles. Or in Springbrook National Park, you'll be in the company of more than 100 types of birds, frogs and reptiles.

Lamington National Park is a great spot to discover rare wildlife, as is Tamborine Mountain's Rainforest Skywalk, from which you can see creatures that occupy the tree-tops.

As well as fabulous surfing, the Gold Coast has lesser-known coves and lagoons.

Springbrook's Warringa Pool is the best natural swimming hole on the mountain and nearby Twin Falls tumbles down into three levels of rock pools.
For a laid-back seaside experience, Coolangatta has old-school charm. And Main Beach, popular for its elegant bathing pavilion and Southport Surf Club,  all part of the glittering experience that is the Gold Coast.
First published in the Daily Mail -  November 2018
More articles below...