After wrapping up another Springwatch series, it was time to put on my ruby slippers and follow the yellow brick road to Oz.
My partner Nick is very Afrocentric when it comes to wildlife, so I've made it my mission to introduce him to the wilds of the world. He'd never seen a koala, kangaroo or wombat, let alone heard of a pademelon (smaller than a wallaby) or a potaroo (a nocturnal rat kangaroo), and neither had my 11-year-old son Ollie. 
KEWARRA BEACH RESORT
We flew to Cairns for the start of our three-week holiday, and our first adventure was a boat trip to the Great Barrier Reef.
It's one of the wonders of the world and Ollie found everything fascinating, especially the fact that clownfish are all born males - the dominant male turns female only when the female of the group dies.
We were staying first at the Kewarra Beach Resort, just north of Cairns, and I woke up one morning to the sound of bats. I followed the racket and found the roost of thousands of fruit bats.
With binoculars, camera and mozzie spray to hand, I enjoyed their chitter-chatter for an hour. I was mesmerised.
Later, we went on the Skyrail Rainforest Cableway over the Barron Gorge National Park - an amazing way to view the world's oldest continually-surviving tropical rainforest.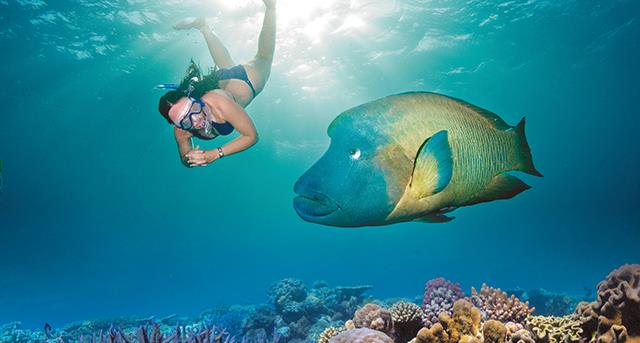 Michaela swims with a Maori Wrasse on the Great Barrier Reef
THALA BEACH RESERVE
We moved on to the Thala Beach Nature Reserve, ten miles from Four Mile Beach. Like Kewarra, the comfortable rooms were set within a rainforest. We kept fit at both resorts: by doing yoga at Kewarra and by walking to breakfast at Thala - it's built on a very steep hill.
We couldn't resist a second visit to the Great Barrier Reef, travelling from Port Douglas.
The marina had a relaxed feel and the weather was sunny and calm.
I saw lots of gorgeous colourful coral and so many fish, and it was a privilege to be in this incredible underwater environment.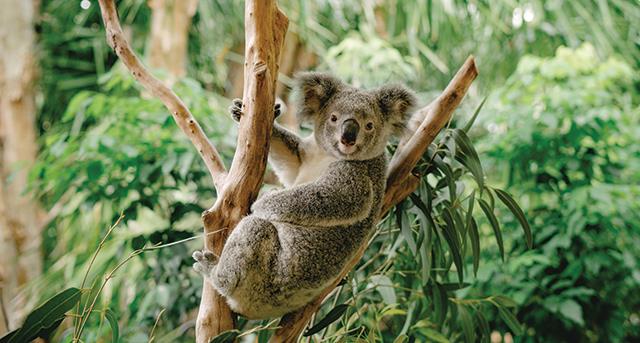 Lazing among the eucalyptus leaves
DAINTREE ECO LODGE
Next was the Daintree

Eco Lodge and Spa, with 15 beautiful treehouse-style rooms set along a river with a forest view. We loved it.
On our way to the Lodge, we'd stopped at Mossman Gorge and did the gorge walk - a two-hour amble through the rainforest, with an Aboriginal guide giving fascinating information about the site. 
We also went on a sunset cruise from Daintree and enjoyed spotting crocodiles, kingfishers and the well-camouflaged Papuan frogmouth (a nocturnal bird related to a nightjar). A full-day tour took us to the remote headland and wildlife reserve of Cape Tribulation, Daintree rainforest, a lunch stop where we hand-fed wallabies - and a visit to a great ice-cream factory!
But a highlight was definitely Jungle Surfing - zip-wiring is surely the best way to experience one of the oldest tropical rainforests in the world.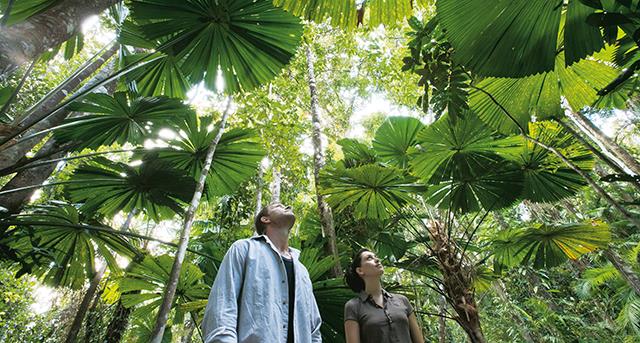 Explore the rainforest around Ellinjah Falls near Daintree
JABIRU SAFARI LODGE
We headed inland to Jabiru Safari Lodge on the Mareeba Wetlands - a totally different experience. It had a real safari feel, with bush tents in open savannah. It really felt like the Outback.
I set the alarm for 4.30am to go on a hot-air balloon ride - so romantic.
After returning to earth we went in search of a wild platypus and with patience saw two in the river at Peterson Creek. They are extraordinary creatures, and we were lucky to spot them as they're nocturnal. We drove to the Nerada tea plantation, where they have resident tree kangaroos - and after a lot of looking we spotted them. That was another big tick considering they are now restricted to a small area of Australia.
I had a special reunion at Tolga bat hospital near Cairns, where I'd filmed at 15 years ago for the Really Wild Show. Staff rehabilitate lots of species but mainly fruit bats.
A relaxing final morning was spent at Jabiru - although we were woken early by a laughing kookaburra. 
We all felt as if we'd followed the yellow brick road and had experienced the wonderful wildlife of Oz. But unlike Dorothy, we weren't ready to tap our ruby-red slippers together and fly home - we could've easily stayed for much longer.
First published in the Mail on Sunday -  June 2017
More articles below...