You're flying half-way round the world to get to Australia so you need at least a couple of months for a proper crack at seeing it, right?
Wrong. It's possible to get a real taste of the country and see lots of sights in a fortnight if you know how.
3 nights in Sydney
Jump on a ferry at Circular Quay for a view of the city from the water - the Darling Harbour ferry takes you under the Harbour Bridge and round the Opera House.
On a four-and-a-half-hour trip with Sensational Sydney Cruises our skipper Margie pointed out celebrity dwellings, from Russell Crowe's house to the place that Nicole Kidman and Tom Cruise used to own. The cruise included a stellar three-course lunch, with time to swim too.
Watch ant-like figures climbing Sydney Harbour Bridge and debate whether you've a head for heights. You also get a great (and much cheaper) view from the Sydney Tower.
Don't just take pictures of the Opera House - you need to go inside. Whether or not you take in a performance, it's worth doing a backstage tour - we were lucky enough to see a rehearsal of the Australian Ballet.
Stretch your legs with a free guided walk through the Royal Botanic Gardens or just walk to Mrs Macquarie's chair, a sandstone rock cut into the shape of a bench by convicts in 1810 for the wife of the governor of New South Wales.
Sydney's most famous beach is Bondi. But Manly is my pick - hire bikes to ride along the pine tree-lined beach and enjoy barramundi and chips.
Ovolo 1888 Darling Harbour hotel is a converted wool store with bright furnishings, modern art and exposed brick walls.


The Blue Mountains offer some of the most dramatic scenery on this whirlwind tour of Australia
3 nights in the Blue Mountains
Its blue haze created by sunlight on droplets of eucalyptus oil from millions of trees, this mountain range is two hours west of Sydney. The scenery is epic, with sandstone cliffs, waterfalls and hidden canyons - and you can ride the world's steepest passenger railway, with 64-degree inclines.
3 nights on the Great Barrier Reef
It's not easy deciding on the best place to see the world's largest coral reef system, stretching more than 2,300km, with 900 islands, especially with warnings of large areas being affected by coral bleaching and mass tourism.
For serious divers, Cairns in Queensland is the gateway to the best of the reef, reached on live-onboard boats - there are day trips from Cairns, but transfers are lengthy.
Heron Island and its easily accesible shipwreck is a magnet for all manner of wildlife
Otherwise, stay on one of the islands. Heron Island is a good choice, a two-and-a-quarter-hour ferry ride from Gladstone, itself a short air hop from Brisbane, which means you can spend nearly a day getting there. There's a strong smell of fishy guano as the island is home to 30,000 mutton birds. But it's worth it, because you swim to the coral reef - or take a boat.
Marine biologist Sue took us for a fascinating reef walk armed with sea periscopes for viewing the amazing sea-life - with zillions of sardine-like fish swarming round us.
Best of all was the channel by a shipwreck, which you can swim in. Here we spotted eight massive rays lying in the sand, one with half-a-dozen small sharks on its back, as well as black-tipped reef sharks, green turtles and a rare loggerhead turtle.
2-3 nights at The Red Centre
It's essential to visit the iconic Uluru, a massive monolith rising 1,142ft above the desert floor, with a six-mile girth. There are many ways to view the rock from the 15km trail at its base - walk, cycle, ride a Segway, or even roar round on a Harley Davidson.
You can also fly over it - and you get great views just flying into Ayers Rock airport, with direct flights from Cairns, Sydney, Melbourne and Brisbane.
Just don't climb up it because it's sacred to the Aborigines - that will soon be officially banned.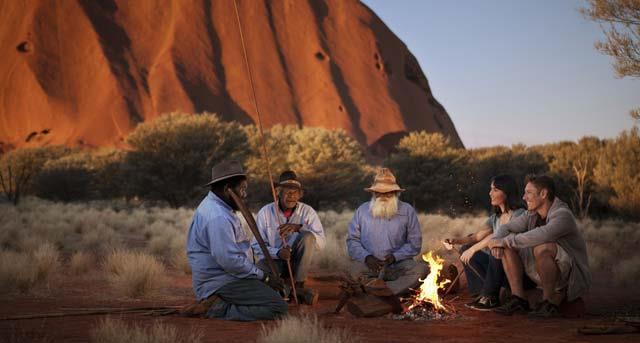 The perfect finale to an epic trip - listening to centuries-old Aboriginal stories
We took in the highlights on the Uluru Sacred Sites and Sunset Tour, whilst our guide pointed out honeycomb erosion on the rock, all the while telling Aboriginal stories.
We visited the spot where the first man known to climb the rock ascended in 1873, saw the Mutitjulu cave, with its atmospheric rock art, and touched and listened to the rock (some say they can feel vibrations or a sense of deep emotion).
If you want to explore the nearby spectacular domed rock formations of Kata Tjuta - it's worth doing - you need to add a night to your stay. And there's no better finale to your trip than Uluru sunsets, when the iron oxide in the sandstone glows best.
First published in The Times - May 2019
More articles below...