You don't have to score a number one album to holiday like a superstar. As many well-heeled Aussies know, the uber-luxurious privately-owned Hamilton Island is a fabulously picturesque place to get away from it all – and is conveniently located just off the Queensland coast.
HAMILTON ISLAND
Hamilton, by the Great Barrier Reef, is also the largest of the inhabited Whitsunday Islands, known for their pristine whitesand beaches and crystal clear water. Taylor Swift is among its greatest fans. Along with her family and 125 members of her crew on tour in 2016, she spent several days at Hamilton's famed Qualia hotel and resort - and she took the opportunity to explore the nearby reef.
We arrived on Hamilton Island after an overnight Reefsleep on a pontoon in the middle of the sea,  so we were eager to hit the island's many gorgeous beaches as quickly as possible.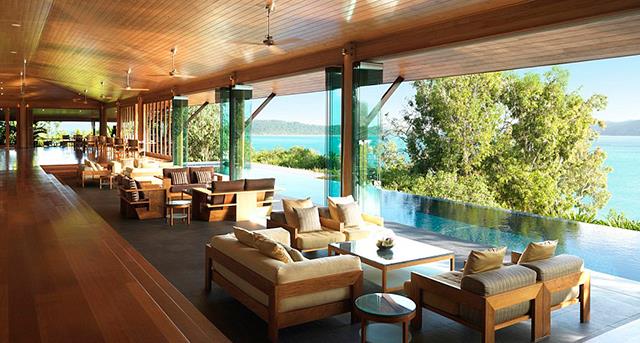 Have a drink at the beautiful bar at the Long Pavilion
LUXURY ACCOMMODATION
However, we first visited Qualia, the island's most exclusive resort, on the northernmost point. It boasts a selection of luxurious villas such as Beach House, Windward Pavilion and Leeward Pavilion. Beach House has an elegant open-air 10-person dining area and a private infinity-edge swimming pool. Designed in an airy open-plan style, the living room has a panoramic vista of the Coral Sea.
The word Qualia means 'a collection of deeper sensory experiences' - and the hotel lives up to its name. Crafted f rom timber, sandstone and glass, it has 60 private pavilions, all discreetly hidden away behind lush greenery and strategic gates.
Fine dining options are available at Long Pavilion or Pebble Beach, where we enjoyed a feast of fresh seafood that included chilled king prawns, local reef fish, seared scallops, oysters and grilled Whitsunday bugs. (For those who don't know, bugs are a type of lobster) Pebble Beach also has a large infinity pool and cocktail bar where concoctions such as banana coladas can be whipped up on request.
Long Pavilion: a romantic fine dining experience for guests at Qualia
THINGS TO DO
Those sandy shores are Qualia's base for a range of watersports, so if you were ever going to opt for a sea-kayaking adventure on the Coral Sea, this is probably the place you'd want to do it Other accommodation options on Hamilton Island include the adult-only Beach Club, on Catseye Beach, which comprises 57 luxurious rooms and a childfree restaurant and lounge. We stayed at the Reef View Hotel, which offers fabulous Coral Sea views, with very comfortable rooms - and friendly cockatoos who visited the balcony daily.  
On our second day on Hamilton, we took off in a golf buggy - the quickest way to get around the five square-kilometre island - to explore. The relatively unmarked roads, however, do offer a bit of a navigation challenge. Still, it was a lot easier getting up to the island's famed lookout point, One Tree Hill, this way than on foot. There's no better place to enjoy a glass of wine at sunset.
There's also a bustling marina, as well as a main street with shops, restaurants and evena nightclub. Here you can buy everything from sun cream to iced coffee - although at much higher prices than on the mainland, so stock up on aloe vera before you arrive.
SOMETHING SPECIAL
One afternoon was spent on a chartered yacht to a private beach, home to a national park and completely secluded. Snorkelling in the area is exceptional - or as an alternative diversion, at the island's Wild Life Sanctuary you can book in to have breakfast with a koala or kangaroo and be photographed with them.  
But it was on the following morning that one of the most memorable moments of the trip occurred. We were invited to meet - and have a quick cuddle - with an adorable koala at the Beach Club resort. It was the perfect end to an idyllic taste of paradise – and also provided me with one of my most-liked Instagram posts of the year.
First published in the Mail Online -  January 2018
More articles below...