It's a sun-drenched morning at the East Perth Terminal and the Indian Pacific train gleams brightly beyond the cool shadows of the station. Two dozen stainless-steel carriages stretch along the boomerang-shaped platform.
Our coaches, dating from the late 1960s and early 1970s, were built in New South Wales by Commonwealth Engineering, which received a licence for the sleek, bullet-like design from Budd, a metal-fabricating company in Philadelphia. 
I know this because John Brinkley, one of three train managers on the 1,860ft-long Indian Pacific (it travels from the Indian Ocean to the Pacific Ocean), is on hand to answer any questions. He also points guests towards their carriage for our 2,700-mile journey.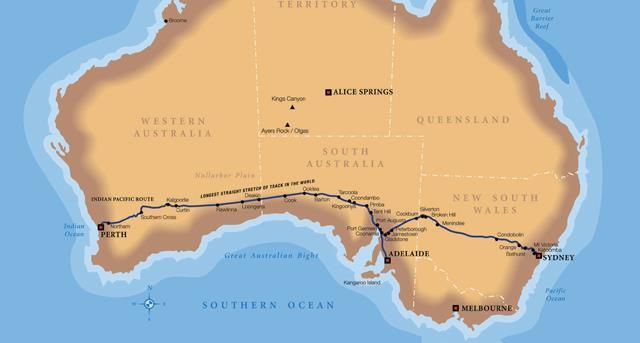 The Indian Pacific train route
We are departing Perth on a Sunday at 11.55am, and are due to arrive in Sydney on Wednesday at 11.07am.
I'm travelling in gold class for two nights (sleeper cabins and a lounge with free drinks, plus free meals in a smart dining carriage) followed by a night in red (reclining seats and a cafe where you have to pay). There's also platinum class - comfortable cabins with double beds, a swanky dining carriage, and a free cocktail bar.
Brinkley tells me the train hit a camel on the way from Sydney to Perth a couple of days ago. 'There was damage to the loco - we had to repair an air pipe. We blow animal whistles and the horn, but it still happens. Kangaroos keep out of the way generally. Kangaroos are pretty smart.'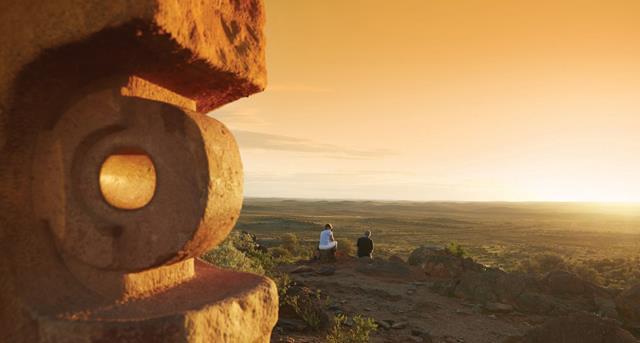 Sculptures in the Outback desert
We roll out of Perth and into the parched countryside with gum trees, shrubs and orange-tinged soil. After dumping my bag in my cabin, I go to the gold-class lounge to meet my fellow travellers. Many are sitting in burgundy leather armchairs and banquettes drinking Crown lager and glasses of Australian wine, while conversations range from Chinese investment in Hunter Valley coal mines to the quality of the train's gin (deemed top-notch).
It's a jolly train. Meals are substantial: three courses, served in booths separated by frosted-glass partitions.
We stop at Kalgoorlie (population: 31,000) at 10.45pm. Coaches take us past darkened sights including a vast working mine; gold was discovered here in 1893. The town has a frontier feel. A guide points out a Woolworths that has the biggest takings in Australia (gold miners have plenty of cash to spend).
I sleep well, to the rhythm of the tracks, and wake to see copper-gold light illuminating wispy clouds above gum trees and dried-out river beds.By mid-morning, the Indian Pacific draws to a halt at Cook (population: four) and I spot a sign saying: 'If you're crook, come to Cook, Queen City of the Nullarbor.' Crook, of course, is slang for 'ill' in Australia, while the Nullarbor Plain is a region that boasts a wild and rugged landscape. A 297-mile section of track running through it is the world's longest straight stretch. Cook is an outpost of rundown buildings. However, it's a good place to stretch our legs.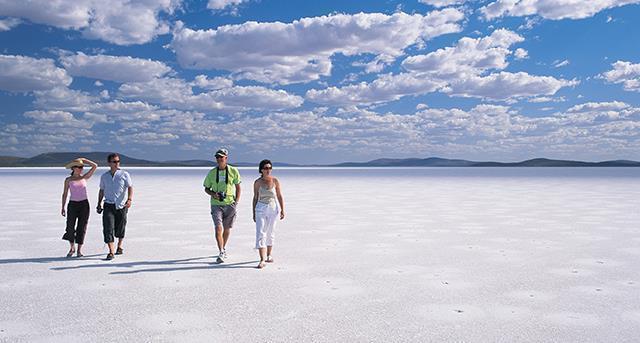 As far as the eye can see: wandering across vast salt flats in the Nullarbor Plain
Early next morning we pull into Adelaide, and passengers join coach tours of the South Australian city. We are taken to Mount Lofty, though it's shrouded in cloud. We see the Adelaide Oval, where there's a statue of cricket legend Sir Don Bradman.

Back at Adelaide Parklands Terminal I buy a battery-powered beer-bottle cooler that makes train sounds when lifted.
Now I have to switch to red class, towards the front of the train. It comprises 48 seats that look as though they belong in a plane's business-class, but filled with backpackers and retirees.

Our duty manager recommends the breakfasts that he personally cooks. 'I've had phone calls from Gordon Ramsay and Jamie Oliver saying, "I've heard about your breakfasts". I reply, "No, I can't come to work for you. I want the twenty bucks an hour Great Southern Rail is paying me".' Not far out of Adelaide, I glimpse my first and only kangaroos, far in the distance. I also spot an eagle high above.
That evening we reach Broken Hill, a lead and zinc mining town, and I make my way to the Palace Hotel. The venue featured in the 1994 film The Adventures Of Priscilla, Queen Of The Desert,  about the unlikely subject of drag queens in the Outback.
I discover a reception area with bright murals, stuffed birds and cabinets displaying leopard-print high heels. On the wall is an advert for the Broken Heel Festival. Its motto? 'Life in the Outback is never a drag.' Back on the train, we clatter through the night and wake to see cows munching grass in the foothills of the Blue Mountains. I eat our carriage manager's Gordon Ramsay-quality breakfast and sit back as we snake into Sydney's Grand Central station. We're a mere 13 minutes late - not bad when you've just covered 2,700 miles.
First published in the Mail on Sunday -  September 2016
More articles below...