A city book-ended by vineyards and beaches, with quaint Victorian houses sitting alongside tidy parkland, Adelaide is Australia's emerging hot spot.
A favourite haunt with Britons relocating Down Under, this lovely city with its Mediterranean climate is home to one of the world's most prestigious art and culture festivals.
Which is how I came to find myself  blindfolded in a theatre being accosted by a group of young Belgians - all in the cause of cutting edge drama at the Adelaide Festival.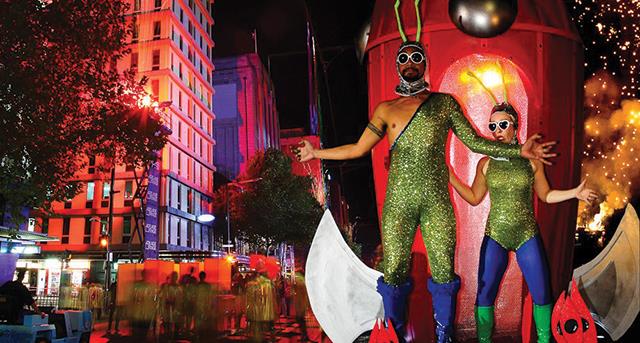 Visit the Adelaide Fringe Festival for the wildest ride of your life
ENDLESS VARIETY
As well as the festival this South Australian city boasts entertainment such as the Adelaide Fringe, the WOMADelaide world music concerts and the Adelaide 500 road-racing extravaganza.
At the festival's writers' week, Booker Prize winner Thomas Keneally, author of Schindler's Ark, explained why the jewel of the south has been attracting him since his first appearance at the festival in 1968.
'It's a beautiful place,' he told me. 'It has this wonderful dry heat and the citizens exist among a torrent of wine, flowing out of the Barossa Valley and out of the McLaren Vale. 
'Foreign writers love this because it's so warm in the middle of the northern European winter. It's hard to move in my hotel without tripping over some great British novelist or biographer.'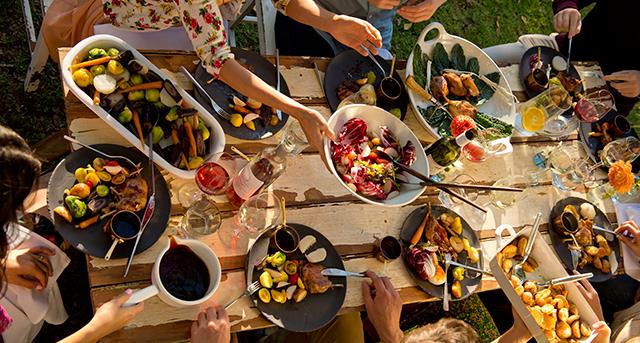 In South Australia exceptional food and wine are a way of life
WINEMASTERS
The area is also the country's grape capital, bursting with boutique wine makers, but the giant Jacob's Creek dominates.
I'm treated to a wine master class by Jacob's Creek expert Sacha Bown. The Sensory Experience is billed as an interactive workshop that helps increase your knowledge and enjoyment of the complexities of wine. As a complete wine novice, that isn't hard. It's great fun putting my smell and taste to the test with a strange tray of treats, from petrol-scented balls to a strawberry dipped in black pepper.
After a delicious lunch on the balcony of the Creek's award-winning restaurant, I whizz off to Penfolds winery.
The 'make your own blend' experience makes you feel like a winemaker for an hour. It involves mixing three different types of wine in an oversized test tube - you also consume far more wine than you realise. 
The Barossa may get the lion's share of tourist attention but one of South Australia's other wine regions, the McLaren Vale is a hidden treat.
Ben Neville, who set up his own tour company  after leaving the corporate rat race in London, showed me the secrets of the Vale. 
Ben is beyond passionate about the area – while providing a rip-roaring four-wheel drive adventure starting with a quick 'snack' in the middle of the bush. 
A snack involves a table, chairs, gingham tablecloth, china plates, champagne, a view of untouched bush that's to die for – and an array of mouthwatering canapés freshly prepared that morning by his friend, chef Nigel Rich. 
Etan takes a 4x4 tour of deserted beaches and lofty lookouts
ADVENTURE TIME
We hop back on the vehicles and cruise through Yankalilla and Onkaparinga districts via superb off-road tracks offering vistas across the Fleurieu Peninsula. 
We even speed along the mesmeric Silver Sands beach before lunch on a secluded hilltop encapsulated by some (more) breathtaking scenery. Sandwiches on a picnic blanket? 
No. Chef Nigel, who trained in some of London's top hotels before setting up his restaurant, The Elbow Room, in McLaren Vale (and, incidentally, whose English mother went to school with Margaret Thatcher) is cooking up a surprise.
The feast is being prepared on the back of his 'ute', before being smoked with a curious gadget and some apple chips. It is complemented by wine served by Thomas O'Donnell, who works at the nearby Samuel's Gorge vineyard.
And in case I was in any doubt about how laid back these people are about their fine product, the owner of Samuel's Gorge, Justin McNamee sets me straight.
'In the McLaren Vale, we're not in a hurry and never have been to tell the world we are the best. 
'I think because we don't overtly jam it down people's throats, when people actually finally discover it, they go "holy bloody Nelly". And when you drink great wine here and then you go to the beach and you see great art, and then you see the sunset - people are forever saying "I don't want to leave".' 
Holy bloody Nelly, he's right, I don't want to go anywhere. 
First published in the Mail Online -  September 2017
More articles below...