Sydney can be summed up by one of its best loved sports - surfing. This city is athletic, daring, dazzlingly sunny and always a breath of fresh air.

We Britons have a long affinity with Australia but it's only when you arrive in Sydney that you appreciate why Charles Darwin said in 1836 that 'ancient Rome in her imperial grandeur would not have been ashamed of such an offering'.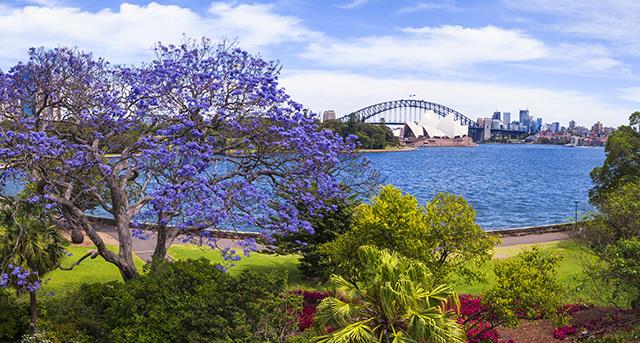 Sydney's harbourside Royal Botanical Gardens offer a peaceful haven from the energetic city
For all Australia's vast spaces and extraordinary wildlife, it is Sydney that leads the way when it comes to iconic architecture, world-class dining and unabashed rivalry with the Old Country. Still, its renowned love of the outdoors is everywhere. On morning runs from our extraordinarily well-sited waterside hotel, the Park Hyatt, we spot power-walking retirees and joggers out in force.

Exertion is a pleasure when it involves such scenery as the spiky Sydney Opera House, the parakeet-filled Royal Botanical Gardens and the smart gastro-wharf at Woolloomooloo.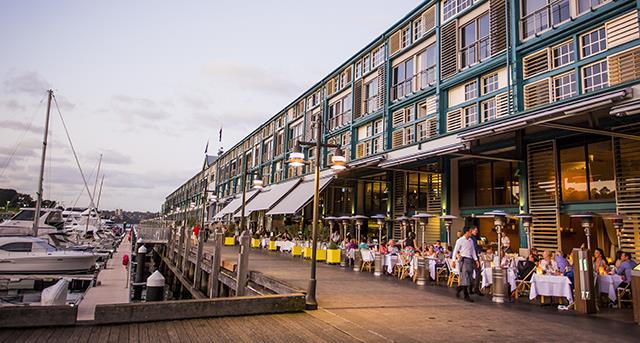 The smart gastro-wharf at Wooloomooloo is the perfect lunch venue
For less cosmopolitan views, you can walk Sydney's coastline and get some idea of just why Port Jackson is one of the world's greatest harbours. Zipping about on one of the many inexpensive ferries or catching a pricier water taxi from Circular Quay West is a good place to start.

This will take you from the swish waterfront to where you can follow a coastal path wending from Spit to Manly - named after the indigenous manly bearing, according to my guide Ian Wells, of Sydney Coast Walks.

Highlights of our walk include ceremonial aboriginal engravings, more than 1,000 years old, the view of the gap through which British sailors entered the harbour in 1788, and a curious water dragon lizard, which joins us for lunch.

Next day we guide ourselves from one of Sydney's landmarks - show-stopping Bondi Beach - along the Pacific facing east coast to Coogee. It's Anzac Day, a national holiday, and everyone is celebrating, surfing, swimming, loafing. We have a splurge of prawns in the Bucket List cafe behind the beach.

It's an easy walk to Coogee, but we take all afternoon, enjoying the skilful paddle boarders and the swimming pools built into the rocks.

Climbing Sydney Harbour Bridge is hard to beat if you have the head for it. A £20 bet that I won't make it (I'm scared of heights) keeps me on track - just about.

Enjoy a picnic whilst taking in the enormous and stunning panorama of the Blue Mountains
Combining a city break in Sydney with a couple of days in the Blue Mountains, a mere 45 miles away, is a wonderful way to see just some of Australia's hugely varied landscapes. As we toil up Bell's Road, which links Richmond to Mount Tomah, Bell and Mount Victoria, it sounds like the car has developed a worrying whistle. Not at all. It's the bell birds, which make the most enchanting tinkling tones – even more so when we hear them in situ at Emirates One & Only Wolgan Valley Resort.

Surrounded by prairie grasses, rocky plateaus and forest, it's a fine base. We hear a wombat outside our room at night. Wallabies and kangaroos are just a short cycle ride away, and you can take dusk or night safaris.

On our way back to the city, we stop off to gasp at the Three Sisters rock formation in Katoomba. The Queen came here on her 1954 tour and you can gaze at the three rocks from what is called Elizabeth Lookout.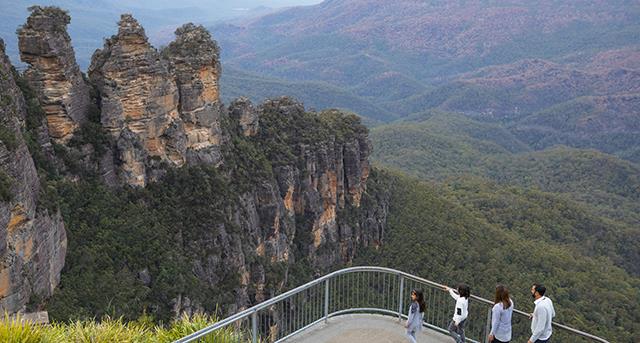 Majestic views of the Three Sisters rock formations from the Elizabeth Lookout
Another great excursion from Sydney is to the Hunter Valley, home to more than 150 wineries and awash with gourmet restaurants and spa retreats.
This area of lush rolling hills is a two-hour drive north of Sydney. While wine tastings are the big draw, the vineyards also organise an array of events throughout the year, including topline concerts and food, music and art festivals.

Also big attractions are rides on the Hunter Valley steam trains and scenic cruises on the Hunter River.

Our final Australian adventure is a seaplane ride in a Cessna Caravan, arcing down Sydney's west coast to Jonah's restaurant overlooking Whale Beach.

After thudding across the waves, we are off into clear sky, looping across the city, which gleams gloriously below. It is a fitting and thrilling final hurrah.
First published in the Daily Mail -  October 2019
More articles below...