To millions of film fans, it will always be the romantic place where Meryl Streep embarked on a passionate affair with Robert Redford's big-game hunter in Out Of Africa.

The Oscar-winning movie was set in Kenya's breathtakingly beautiful Masai Mara, a place teeming with wildlife. And the views? Simply majestic.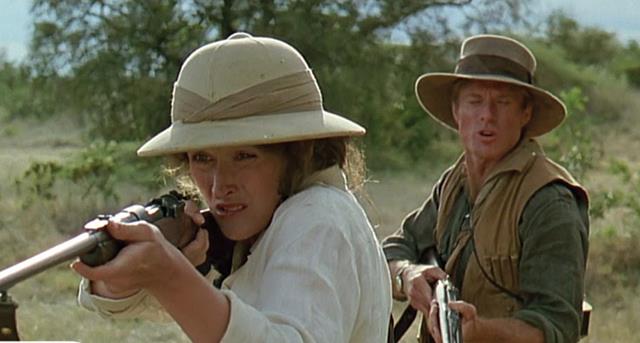 An oscar-winning performance
And it's here, in the Mara's Olpurken Plain, that a new safari lodge dubbed 'the ultimate in Africa' has opened. That may seem like a bold assertion - but Steve Fitzgerald is more entitled than most owners to be brazen.

Steve and his wife Nicky are well known in the high-end safari industry after running the Conservation Corporation, which later became andBeyond.

They stepped away from andBeyond in 2009, and Nicky was enjoying being 'very good at doing nothing'. But in 2013, Steve got a call from Kenya that changed everything: Ol Kurruk, that 'ultimate site in Africa', had become available.

Steve and Nicky had long coveted Ol Kurruk - perched high on three rocky hills called kopjes. With its links to Out Of Africa and the amazing location, it's not difficult to see why.

The lodge the couple have now built is called Angama - Swahili for 'suspended in mid-air' - and with its eagle's-eye view of the plain, guests agree that there are few camps to compete. The lodge design itself would have to be something special to match this jaw-dropping environment - and it more than meets the challenge.

Together with South African architects Silvio Rech and Lesley Carstens, in just a year, and from one single, simple sketch doodled on a napkin, Steve has built a quirky, beautiful safari camp.

Angama is divided into identical twin lodges, each comprising 15 tents, to ensure intimacy and privacy. The architecture of the lodges might remind a well-travelled guest of Mali's whimsical mud buildings, or Zimbabwe's iconic ruins; for a film buff, they might resemble the buildings of Luke Skywalker's home planet Tatooine. But the wholly original concept owes most to an outright flight of fantasy and imagination.

To inhabit this space is to experience pure luxury. The delight and comfort of guests takes priority. The gym, infinity pool, fire pit and every single tent boast undisturbed views of the vast plains below.

The interiors are playful, original and stylish. Recliners, chairs, benches, beds and baths have all been created by top designers - and mixed with South African shabby chic style.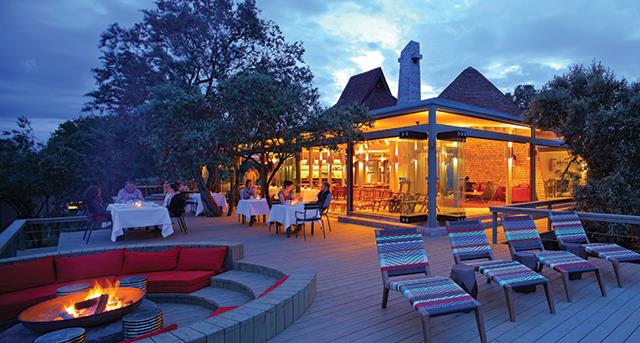 Dining under an African sky
Privacy is prized. Even honeymooning guests are encouraged not to sleep with their tent blinds closed, all the better to enjoy the breathtaking sunrise upon awakening. They are secure in the knowledge that no one will peer in, save black fish eagles soaring past, or perhaps a curious zebra that has been brave or foolish enough to navigate its way up the steep cliff face.

Waking before sunrise, as one must on safari for a game drive, is both a privilege and a joy. The view of the sun rising over the plains, as multi-coloured balloons from Governors Camp drift by, makes every morning a feast of photo opportunities, and delivers memories to last a lifetime.

Once guests have wound their way down the steep mountain road from the camp to the plain (stopping respectfully to wait for zebras and elephants to cross, or just enjoy the view), the game experience offered by the Masai Mara remains as superlative as even the most picky visitor could demand.

And because the lodge is situated on the more exclusive north side of the Mara River, in an area known as The Triangle, there are considerably fewer lodges and hotels in the vicinity, meaning there are also significantly fewer vehicles to contend with when viewing the animals.

Whether you choose to visit during the fabled migration ?(July to October,) or at other times, there is wildlife in huge numbers around every corner.
Fascinating safari experience for young and old
Angama offers a flexible approach to game viewing. There is, of course, the option of that magical balloon flight launched from Governors Camp, or a guided walk or bird safari with the camp's knowledgeable and charismatic resident Masai.

Guests are not tied to a routine of a three-hour game drive in the morning and another in the evening. At Angama you can set off with both breakfast and lunch picnics packed, to explore for as long as you wish. Our record was nine hours out at one go.

Nicky has opened many hotels, restaurants and lodges over her long career, and her credo has always been: 'Will our guests love this?' As a guest who has just returned home, and who still finds her thoughts turning to balloons drifting over plains teeming with wildebeest, zebra, hippos, rhino, giraffe, leopards and lions (not to mention dreaming of a certain dashing blond American movie star hurtling over the horizon in a small plane), I can answer categorically: 'No question. Yes.'  
First published in the Mail on Sunday -  March 2016
More articles below...