Gone are the days when Crosby Stills and Nash rode the Marrakech Express (although they spelt the city with an 's'). A mind-trip fuelled principally by unusually fat cigarettes which rarely took you further than your imagination's outer limits.

Today's journey to the Moroccan city is a more conventional flight, coming down to earth at an unexpectedly modern airport.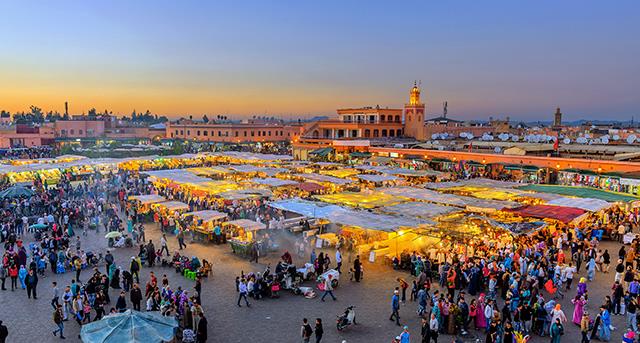 Visit Jemaa el-Fna square and marvel at the perfect stacks of spices

Two sides to the city
There are actually two Marrakechs. One is modern with chain stores, shopping malls and coffee shops. The other is the one the tourists come for – the souk that starts at Jemaa el-Fna square and stretches into infinity with largely factory-made sandals, belts and other bits of leather which are fun to haggle over.

If the haggling and elbow-tugging begin to get you down, you can head to fixed-price shops at Souk Cheifia, where you can find sensibly priced high-quality rugs, textiles, spices, kaftans, raffia bags and baskets, and leather everything.

As we've done before, we headed out to the Majorelle Gardens to spend a relaxing hour. This little oasis of cool and colour is not to be missed if only to enjoy the lemon-yellow and cobalt-blue planters and the gleaming white of the water lillies - all a tribute to French painter Jacques Majorelle's homage to the plant world.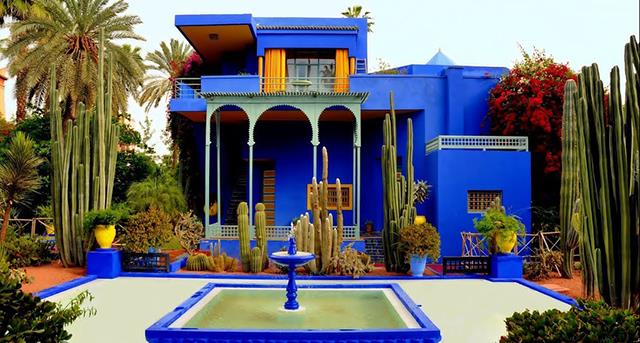 The Majorelle Gardens: an oasis of colour and cool elegance

Majorelle was a noted Orientalist painter, but is most remembered for constructing the villa and gardens of the Majorelle Gardens.

If, like me, your knees usually fail to deliver on your expectations, jump in a taxi to take in the Koutoubia mosque, a real look-at-me attraction topped with four gleaming copper globes and towering over the town.

A local ordinance forbids any neighbouring building being higher than a palm tree, which means the mosque retains its imperious dignity. It remains a place of worship, and non-Muslims are not allowed to enter.

You can duck between both old and new Marrakech without difficulty, and if you fancy a spot more shopping, I'd recommend the less exotic but more rewarding Ensemble Artisanal, a bit like a department store but selling only handicrafts that are slightly more expensive than the souks but also elegantly made.
5 Star luxury at The Fairmont
This is really kaftan and jewellery heaven. And yes, there are camel rides to be had in the streets and squares, and you can take a charming tour by horse and carriage (for which you should offer no more than two-thirds of the asking price).

We stayed at the elegant, beautifully-designed five-star Fairmont Royal Palm, seven miles out of town - after travelling to a location so close to a mountain range it seemed a good idea to stay where the air is at its freshest. 

The Fairmont had one of the elements I like most in a good hotel - space, space and more space. And not just in the communal areas but in the rooms too - you sometimes felt you were the only guests in the hotel.

Our giant suite had a huge balcony looking straight at the distant Atlas mountains, a massive tiled bathroom, soft carpets and sink-in easy chairs.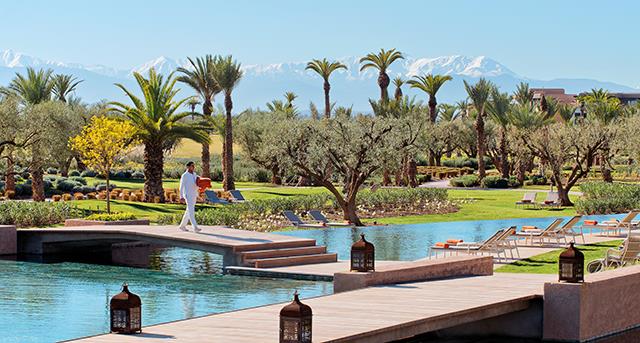 At the elegantly designed Fairmont Royal Palm the spacious pool is more akin to a tiled lake

The hotel must also have the largest man-made swimming area on the globe. It's not a pool, it's a tiled lake. You could have every citizen of Marrakech swimming in it and still have plenty of space left over. Not only that, but all that water is pleasantly heated. 

The hotel is very child-friendly, with a kids' club and plenty of available nannies. It also has a country club area and a beautiful 18-hole golf course.
I'm a cyclist and have to say that belting around the hotel's spacious grounds on a warm, sunny morning in the shadow of the Atlas mountains with the breeze filling your lungs, and the first warm rays of the sun on your face, is a bike ride to remember.

This, then, may not be the Marrakech of Crosby Stills and Nash. It is, however, delightful.

There's no Marrakech Express - although Graham Nash, formerly of The Hollies, did write his song Marrakesh Express about a train journey he made from Casablanca to Marrakech - but there are plenty of flights. And they're all non-smoking. 
First published in the Mail Online -  November 2018
More articles below...