South Africa is one of the most remarkable places you'll ever visit and with the pound strong against the rand, now is the perfect time to see this beautiful and rewarding rainbow nation.
As a South African and animal lover, it's always the wildlife that draws me back to my home. This time I'm on the hunt for the Big Five: lion, elephant, Cape buffalo, leopard and rhino. 
And there is no better place to spot all these in their natural environment than at Sabi Sabi Private Game Reserve - a National Geographic 'Unique Lodge of the World'.
Adjacent to the Kruger National Park, the animals are free to roam the non-fenced boundary between the national park and 65,000 hectares of the Sabi Sands. I plan to drive from Joburg's O.R. Tambo airport to Sabi Sabi before heading to the Drakensburg Mountains, a World Heritage site, and on to Durban, where I grew up.
The reserve does do its own transfers and has a landing strip for guests but what I enjoy most about SA is the vast landscape and the interesting sites along the way, so I've chosen the five-hour drive.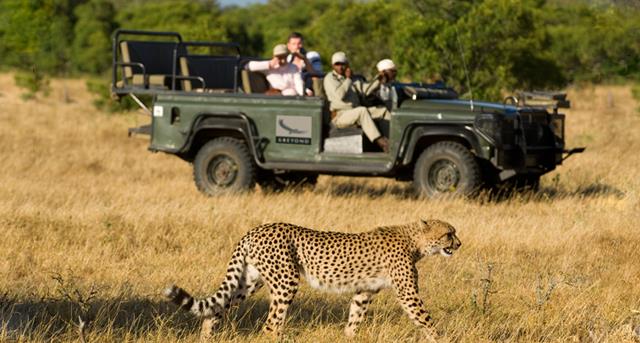 Guests at Sabi Sabi have a chance to see one of the Big Five
LUXURY LODGING
I'll be staying at Sabi's Earth Lodge, which is simply out of this world. When I arrive, welcomed by a cool drink and a smiling member of staff, I can see exactly why. It's surrounded by lush vegetation and is chiselled into the landscape to make it invisible from afar.
It also has the wildlife and on my first morning at sunrise I'm lucky enough to watch a large herd of elephant making its way through the camp.
The lodge has 13 luxurious suites, each with a plunge pool and stone bath. It's late afternoon when I arrive and I've missed the usual departure of 3.30pm for an afternoon drive, but my ranger Justin and his tracker Petro still offer to take me for some sundowners where we can hopefully catch sight of some wildlife.
We drive barely a few miles before we come across a herd of elephants and in no time we're surrounded. As they rumble past, manoeuvring their trunks through the trees, my heart feels like it's going to burst.
I was lucky enough to grow up in South Africa and have spent time in the bush before but I've never been quite so close to a herd as large as this. 
But my main request for Justin and Petro is that they find me a leopard and a few days later, I'm lucky enough to spend a good hour with one.
Maxabeni is a powerful and confident young male leopard  who allows us to follow him. Watching his sleek body move through the vegetation makes me realise just how powerful and nimble these cats are. And they're smart, adapting and using their environment to hunt.
Justin explains that Maxabeni had become so comfortable with the safari vehicles that he had learned to use them as cover before pouncing on unsuspecting impala.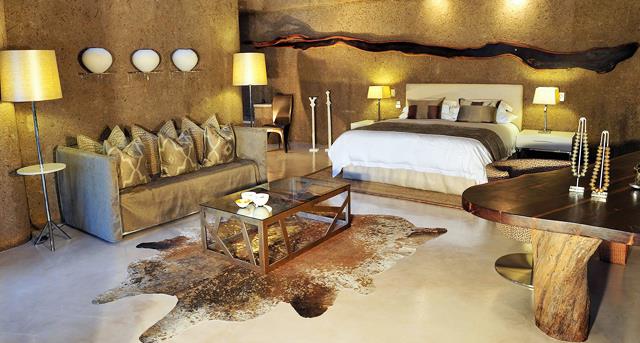 The earth lodge suites offer space and luxury
RELAX AND REFUEL
Sabi Sabi knows how to feed its guests. As soon as you wake, you're given a selection of pastries and yoghurts, before being taken on a morning drive. While out you stop for hot drinks and rusks – a twice-baked bread, popular with South Africans – before returning to the lodge for a full breakfast.
You get a few hours to relax before lunch is served - followed shortly by afternoon tea. 
At around 3.30pm you're taken for a drive before returning to dinner – usually six courses
Be prepared to put on weight! After four days my waistline is screaming to leave, but I want to stay longer. There's nothing like going to bed with the sound of lions reverberating through the night. 
And as I wave goodbye to Justin and Petro, I feel I'm leaving old friends. I drive to a hotel in the Drakensburg Mountains – a four-hour trip – but stop at Joburg along the way, the perfect place to stop for lazy lunches and curio shopping.
Unwind at Amani Spa
FINAL DESTINATION
Driving through the long, winding roads makes you realise how vast the country is and you get the chance to glimpse the lives of locals. Villages are bustling with schoolchildren who dance and wave at you.
I'm staying at Cathedral Peak Hotel, perfect to relax for a weekend with its golf course and swimming pool. It's a splendid base for hiking, off-road biking or horse riding.
After a few days in the mountains I head to Durban for some sun and surf. The combination of centres has made for one wildly brilliantly trip. 
First published in the Daily Mail -  June 2017
More articles below...