When his daughter stepped on to a plane to Kenya and waved goodbye, the King was too British to tell her he was dying.

The film The Crown takes us back to 1952, when 25-year-old Princess Elizabeth was asked to carry out a Commonwealth tour with Prince Philip for the ailing George VI. She escaped Buckingham Palace for Treetops, a rustic treehouse in the Aberdare forest of Kenya.

Her stay had its dramas, with wild animals sometimes on the rampage below her room and the Princess filmed it, agape at waterbuck goring a rival to death and rhino charging each other.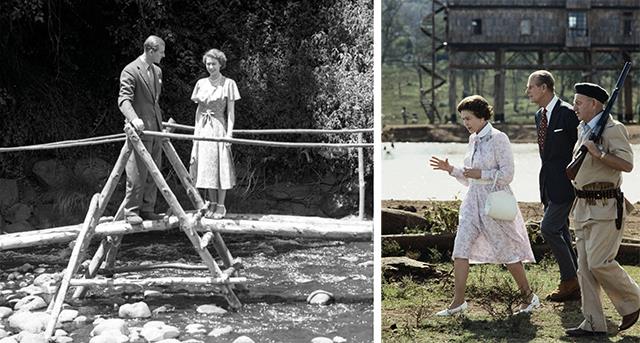 Queen Elizabeth and Prince Philip visiting Kenya in 1952 and again in 1983
When Elizabeth was told it was time to come in for tea, she asked to take it on the balcony, saying: 'I don't want to miss one moment of this.' The next morning, she said she'd had such a good time in Kenya that she couldn't wait for her father to visit. In The Crown, she is seen writing a letter to the King requesting that she and Philip live in Cyprus like a normal husband and wife. Then Palace aides track her down to her remote location to tell her that the King has died and that she was now Queen.

Personally I'd have stayed in the tree-house and pulled up the ladder with me.

I  set out in the couple's footsteps. Kenya's safari parks still bring British visitors the same blast of friendliness and fresh air, and floating above the green Aberdare, Treetops still looks like a giant bird hide on stilts.

The original shack was commissioned by war hero Eric Walker, who had it built to satisfy his aristocratic wife's desire to have a treehouse like Peter Pan's hideout.

The original treehouse was burned down during the Mau Mau crisis in1954 and the present version has showers and a ramp. But it is very much a tree-house; my gin rested on a giant twig thrusting through the bar's polished wooden floor.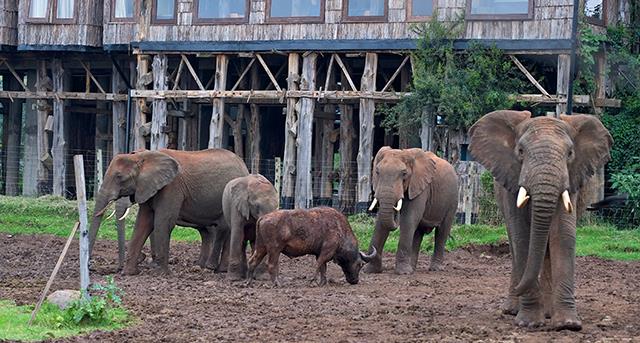 Elephants gather at the waterhole in front of Treetops
It floats above a watering hole - directly below my room. As the sun dropped, I was unpacking when I saw grey shapes just a few feet below. Dozens of elephants were in a row, drinking. The mums were hiding a baby elephant so small it could probably ride in my car.

As I ran downstairs to get even closer, I passed a huge skull. An elderly regular who died last year, said a guide -  it's not impossible he was one of the youngsters putting on a show for the Queen all those years ago.

'When he died the other elephants came to mourn,' the guide said.
'Elephants always do. If they're his relatives, they stand facing away from him, their backs just touching him. For half an hour they stand in silence, then they leave.'

We saw buffalo, warthogs, giant forest hogs and colobus monkeys. The baboons, I suspect, were barred from the animals' pub, so they broke in through the fence.

Amos Ndegwa, 64, is a seasoned Treetops guide, carrying a 100-year-old Winchester rifle that guarded the Queen in 1952. He took us up hills with runways of bare red earth from the top to the bottom. 'The elephants make the tracks,' said Amos. 'They like to sit on their backside and slide down for fun.'

After Treetops, we headed south to Nairobi. At the five-star Sarova Stanley hotel, there's a photo of the Queen and Philip's lunch there with the white-glove set.

The Stanley is named after the man who tracked down explorer Dr Livingstone. Ernest Hemingway sat where I sat in the Stanley's Thorn Tree cafe, writing The Snows Of Kilimanjaro. 'I never knew of a morning in Africa when I woke up that I was not happy,' he also wrote.

I spent Sunday at Ngong racecourse, where Princess Anne once came to watch the turf fly. Princess Margaret was another Royal to visit this area and she headed for the anything-goes Kenyan coastal town of Mombasa.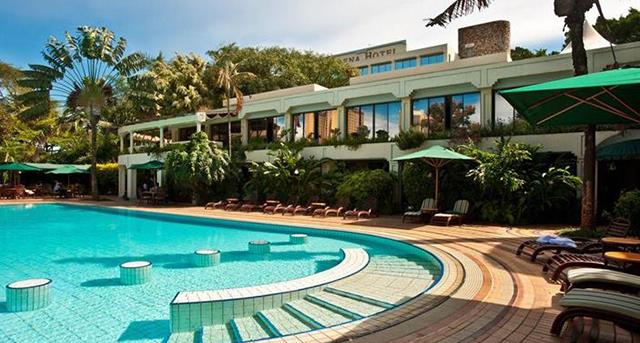 the beautiful Serena Beach hotel in Mombasa on Kenya's Indian Ocean coast
I did too and stayed at the Serena Beach hotel, with its fabulous lobby where Moorish chandeliers refract the sun under a sweeping 25ft ceiling. On the beach, blue lizards sunbathed.

We dined in the Jahazi Grill, listening to the night animals. The following day I walked along the beach to watch seabirds and enjoy a drink in the Moonshine bar. I had a daiquiri served in a pineapple. The Dawa (the Swahili word for medicine) featured local honey with vodka.

On my last day I woke to the dawn chorus. It starts in the haze with birds, then other animals join in until it's a wall of sound. I was right back in the animal kingdom.  
First published in the Mail Online -  October 2018
More articles below...